How To Be Smart While Spending the Minimum Spend Requirement To Claim a Credit Card Bonus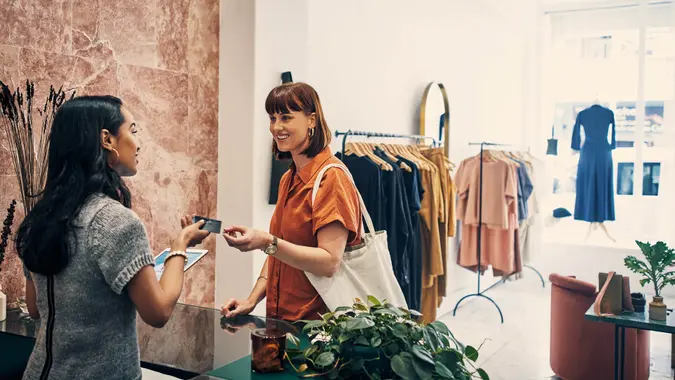 pixdeluxe / Getty Images
Update: Some offers mentioned below may have changed or are no longer available. View current credit card offerings from our partners at CardCritics here or on the issuer's website.
For many Americans, $1,000 could mean the difference between taking their family on vacation or not. One top travel credit card is currently offering that impressive stack of cash to new customers in one of the best signup bonuses on the market.

See: 5 Reasons Why You Need a Credit CardRead More: The Quickest Ways To Pay Off Your Credit Card Debt
In 2021, Chase Sapphire Preferred was offering 100,000 bonus points (currently 80,000 points after $4,000 spent within the first 3 months), said John Eringman, a personal finance coach whose 1.2 million combined Tiktok and Instagram followers know him as johnefinance. "It [was] the largest credit card bonus I've ever seen." Now, it is set at 80,000 bonus points, which is still a pretty hefty amount worth $1,000 in value.
But there's a catch — to get the cash, you have to make $4,000 in qualifying purchases in the first three months. While that's perfectly doable for some households, a bonus so juicy might compel others to spend irresponsibly in the pursuit of a windfall. 
Sapphire Preferred is hardly alone. Minimum spending requirements baited with bonuses are commonplace across the industry. Here's how to walk away with the bank's money without winding up on its hook. 
Learn: The Top Purchases You Should Always Make With a Credit Card
Never Spend Money That You Weren't Going To Spend Anyway
The classic minimum-spend trap is that the lure of big bonuses combined with the time-limit pressure of spending deadlines can compel people to buy things that they wouldn't have otherwise. 
See: What Happens When You Get Denied for a Credit Card — And What To Do Next
"If you apply for a new credit card that offers bonus rewards for minimum spending during a promotional period, it's a terrific opportunity to rack up points quickly," said Laura Adams, a personal finance expert for Finder. "However, if you can't pay off the card balance, that strategy hurts your finances. You're likely to end up owing more interest than the value you get from the rewards."
The antidote is to charge only the items you would have purchased anyway — no exceptions.
"For instance, if you have upcoming travel or need to replace your laptop, take advantage of the promotional period and buy what you need," Adams said. "But have a plan to pay it off."
See: Why It's Still Better To Use Your Credit Card Over Your Debit Card
Never Sign Up Just To Get the Bonus
Another trap is pursuing the bonus because you need money or signing up just to get the reward. 
"Credit card bonuses can be substantial, but you should not let a signup bonus be the sole reason you sign up for a credit card," said Trae Bodge, a shopping expert and founder of TrueTrae.com. "Applying for a new card means a hard pull on your credit, which is something you should do only when necessary," Bodge said. 
Travel writer and Brit on the Move founder Nikki Webster, who tallies tens of thousands of miles per year, recommends devising a plan to meet the card's spending requirements before you apply. 
"The key here is not to sign up for a new card unless you already know how you're going to meet the spend," she said. "You have to be strategic about it. You can't just apply. Determine how you'll meet the minimum, then apply."
Check Out: 90-Second Moves To Raise Your Credit Score 200 Points
Wait Until It's Time for a Big-Ticket Purchase
Several experts GOBankingRates consulted cited the same strategy — applying when you have to buy something expensive anyway.  
"One of the best ways to take advantage of a card bonus is to sign up for a credit card when you know you'll be making a big purchase for which you've saved," said Jared Beilby, a credit card analyst with MerchantMaverick. "That way you won't be spending unnecessarily, and you can knock out a large chunk of the bonus' spending in one go."
Webster used a bonus as an opportunity to give her household a tech upgrade, replacing routers and laptops, which put her well over the card's $3,000 minimum spend.
"Another example is when I added the Ring security system to my home with 10 cameras and window sensors," Webster said. "I knew it was going to be over $2,000. I waited until I had a new card to meet the minimum spend and get the bonus."
Read More: This Easy Trick Will Improve Your Credit Score and Avoid Late Payments
Open an Account Before an Expensive Life Event
Danielle Harrison, CFP, a fee-only financial planner and founder of Harrison Financial Planning in Columbia, Missouri, offers the effective strategy of applying for your card before a milestone life event. 
"For example, my husband and I both took advantage of introductory credit card reward bonuses when we were getting married and having our first child," Harrison said. "These were times when we were already going to be spending more than usual and would have no issue reaching the minimum spending requirements. We also took advantage of these offers when we had the opportunity to pay for our first child's daycare bills by credit card. The daycare bills alone nearly met the spending requirements."
Discover: 10 Credit Score Myths You Need To Stop Believing
Prepay Recurring Expenses
Most subscription services offer deep discounts to customers who can pay for a year or at least a few months in advance. From Amazon Prime and your VPN service to cloud storage on your phone, you can work toward your card's minimum spend while locking in long-term savings on your subscriptions at the same time. 
"You should prepay any recurring expenses," Eringman said. "You can prepay rent, vacations, or subscriptions to hit the spending limit."
Options: 10 Credit Cards To Consider for Travel Rewards

Buy Gift Cards
Some credit cards don't award points for gift card purchases, so read the fine print, but many do and that provides a unique opportunity to chase your introductory bonus wisely. 
"You can also go to your local grocery store and buy a bunch of gift cards for gas, groceries, restaurants, etc.," Eringman said. "Put all those gift cards on your credit card to hit the spending limit and boom — you just got free travel points and you have 'free' gas and groceries for the next few months."
More From GOBankingRates
Last updated: Oct. 8, 2021