How to Use Your Credit Cards to Travel Like a Pro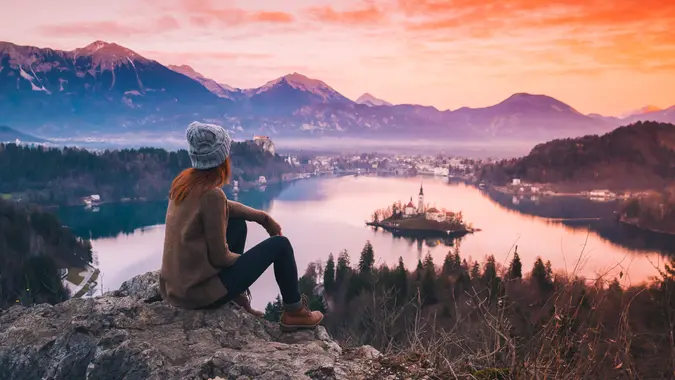 NataliaDeriabina / Getty Images/iStockphoto
Update: Some offers mentioned below may have changed or are no longer available. View current credit card offerings from our partners at CardCritics here or on the issuer's website.
For most people, travel can be a really frustrating experience, but it's rarely that way for me. I arrive at the airport mere minutes before boarding starts. Then I speed through security and go straight to my seat on the plane without a single hassle.
No, I don't own a private jet or have any kind of special access that's not available to anyone else. My secret is that I make my living writing about credit cards and travel — so I know nearly every trick for using my credit cards to make my trips faster and more enjoyable.
Here are four tips that can help you use your credit cards to travel like a pro:
Get Fast-Track Access Through Security and Immigration
Lines are the enemy of speedy travel, and the lines for the Transportation Security Administration and immigration are the slowest and least predictable. To bypass those lines, you need to get something called Global Entry, which is a trusted traveler program operated by U.S. Customs and Border Protection. You have to pay a $100 application fee to join, but once accepted, you get to bypass the lines when you return to the United States. Global Entry also includes eligibility for TSA Precheck, which is a special line at security that in my experience lets you leave your jacket and shoes on, and your liquids and laptops in your bag. It also usually features an old-school X-ray machine rather than those newfangled full-body scanners.
Thankfully, there are several credit cards that will reimburse you for your $100 Global Entry application fee, including:
American Express Platinum
Capital One Venture
Bank of America Premium Rewards Credit Card
AAdvantage Aviator Silver World Elite Mastercard
Chase Sapphire Reserve
The Ritz-Carlton Rewards from Chase
Citi / AAdvantage Executive World Elite Mastercard
IHG Rewards Club Premier Credit Card
U.S. Bank FlexPerks Gold American Express Card
U.S. Bank Altitude Reserve Visa Infinite Card
United Explorer Card from Chase
Related: Credit Cards That Help You Speed Through Airport Security
And if you have more than one of these cards, you can use your fee credit to pay the fee for family or friends.
I also belong to CLEAR, a service that works at many airports to verify your identity with a fingerprint or iris scanner, and then escorts you to the front of the line. Normally, this services costs $179 per year, but Delta SkyMiles members can get it for $99. With both Precheck and CLEAR, I typically spend just a minute or two going through security, even when the regular line is over an hour long.
Use the Right Credit Card to Give You Priority Check-In and Boarding
The other lines at the airport that you have to worry about are at the ticket counters and the gates. But here again, the right credit cards will allow you to skip those lines as well. When flying with American Airlines, use the Citi / AAdvantage Platinum Select World Elite Mastercard for priority boarding, and the Citi / AAdvantage Executive World Elite Mastercard to enjoy priority check-in and lounge access as well. When flying Delta, their SkyMiles Gold and Platinum cards from American Express offer priority boarding, and the SkyMiles Reserve card also features priority check-in and discounted lounge access. The United Explorer card from Chase offers you priority boarding, and the premium United Club card features lounge access and free checked bags.
Don't Miss: Best Credit Cards for Airport Lounge Access
Get Elite Status With Rental Car Companies
It doesn't help to exit the plane quickly, only to wait in line at a rental car counter, but you don't have to. Pros know that joining the rental car loyalty program in advance lets you bypass the counter. But also, if you have any World or World Elite Mastercard, you can get Executive status with National Car Rental, which allows you to skip the counter, pick the car you want and get upgrades. And if you have the American Express Platinum card, you can get elite status and free upgrades with Hertz, National and Avis.
Enjoy Hotel Elite Status
You've made it to your hotel and you're about to cross the finish line in record time, but how infuriating is it when there's a big convention in town and a long line to check in? Not to worry, as you can also bypass this line by having virtually any hotel credit card. Nearly all of the cards co-branded with Hilton, Hyatt, Marriott/SPG, IHG, Wyndham and other brands include basic hotel status. This means you can get priority check-in, late checkouts, room upgrades and even free breakfast. My favorite card for these benefits is the American Express Platinum, which offers Gold status with Hilton and Marriott/SPG.
See: 5 Awesome Vacation Destinations You Didn't Know You Could Afford
Travel can be a maddening experience if you don't know all of the tricks that frequent flyers use, but here's the good news — you don't actually have to travel often to take advantage of these shortcuts. By having the right credit cards, you too can skip the lines and speed your way to your destination and back, and actually look forward to your next trip.
Use budget tips from globe-trotting pros to find out how to turn your travel dream into a reality.
More on Travel
We make money easy. Get weekly email updates, including expert advice to help you Live Richer™.