Medical Credit Card Practices Could Cause Patients Financial Harm, Warren Warns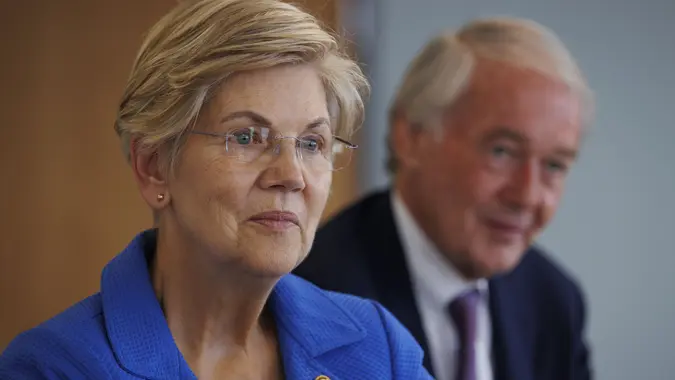 CJ GUNTHER / EPA-EFE / Shutterstock.com
An advocate for change with strong policy goals, Senator Elizabeth Warren (D-MA) looks for opportunities to make a difference, and once she gets the bit between her teeth, action follows. In her latest campaign for cause, Warren and several other legislators raised concerns over medical credit card companies' practices and picked up their pens to protest.
In a letter targeted to Synchrony Bank and Wells Fargo signed by Warren and fellow Sens. Edward Markey (D-MA), Bernie Sanders (I-VT), Chris Murphy (D-CT) and Sherrod Brown (D-OH), the lawmakers claim vulnerable customers signing up for medical credit cards may become potential victims of misleading practices by their lenders.
"(T)he current structure of our healthcare system often requires that patients enter into medical debt in order to access services they need," reads the letter. "Within that context, patients — often under duress because of concerns about their medical care — are being pushed into and then locked into medical credit cards despite the availability of alternative payment options that might be more beneficial and offer lower interest rates."
Medical credit cards are credit cards that can only be used to cover health-related costs at specific partner hospitals or providers, who actively promote these credit options to patients trying to cover their medical expenses. Synchrony offers a medical credit card called CareCredit, as well as Wells Fargo with Health Advantage, according to Bloomberg.
"Many medical credit card companies have lured patients with pitches of 'no interest' periods ranging from six to 24 months, which are actually deferred interest promotions that are controversial and allegedly inherently deceptive," wrote the lawmakers. "These promotions tout 'no interest' but actually interest is accruing during the promotional period and will be retroactively charged if the entire balance is not paid off by the end of the promotional period."
Another point of contention is that these types of cards adversely affect customers' credit scores as they cover the cost of a specific medical service, "meaning the card is maxed out immediately, damaging card holders' credit scores," per Warren's site.
The group of senators has requested information from the lenders by Jan. 12, 2023. As Bloomberg reported, the Stamford, Connecticut-based Synchrony is "working with the senators and other public officials on gathering information in response to their request," per a company email statement.
"CareCredit works hard to ensure our products are offered responsibly and with clear, simple, transparent terms so consumers can make well-informed decisions about financing their care," the statement read.
In Dec. 2013, the Consumer Financial Protection Bureau (CFPB) ordered GE Capital Retail Bank (now known as Synchrony Financial) and its subsidiary (CareCredit), to pay $34.1 million to more than one million customers who were lured similarly into "interest free" credit cards that were accruing interest that was retroactively charged when the balance was not paid off by the end of the promotional period.
More From GOBankingRates