4 Best Credit Cards To Use for Medical Expenses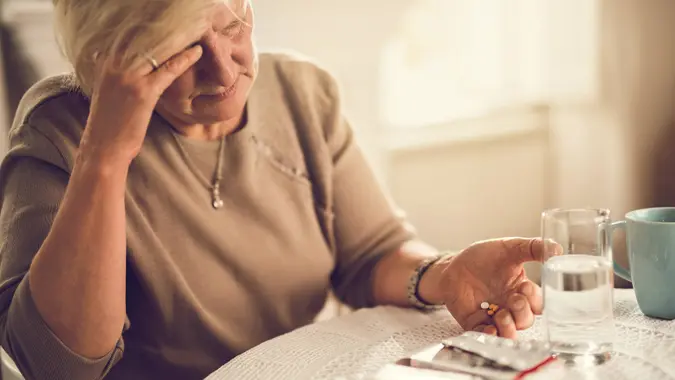 BraunS / Getty Images
Medical expenses can really add up, especially in case of an emergency. It's ideal to have a rainy day fund or a health savings account to cover the unexpected. Another option is a medical credit card to help you cover healthcare expenses as they come. The following medical credit cards are some of the best options to keep handy in case of a large expense.
Best 4 Credit Cards for Medical Expenses
You can use any credit card to cover your medical bills, as long as you have the available credit. But some offer more benefit that others. Here's a quick look at the top four.
Best for introductory APR:
Best for specific medical use: CareCredit
Best for consolidating debt:
Best for everyday use:
Best for: Long-lasting introductory APR
If a healthcare emergency fund is out of reach, the U.S. Bank Visa Platinum card comes with no annual fee, which makes it easy to keep around for an occasional medical expense without having to worry about an upcharge each year, regardless of whether you use it.
What makes this card an ideal medical credit card is the interest-free period for balance transfers and new purchases — 20 billing cycles at 0% APR. The introductory offer gives you some breathing room to pay off any large medical expenses for nearly two years interest free. Be sure you do —  once the period is up, the card has a APR.
CareCredit
Best for: Specific medical use
For a dedicated medical credit card, CareCredit is a good option and comes with no annual fee. It's only accepted at a wide selection of medical or dental offices. However, many of the participating healthcare professionals offer attractive terms, including 0% financing for 6 to 24 months.
Depending on your credit, you may be able to extend the repayment period on purchases of at least $1,000 for 24 months at 14.90% APR, 36 months at 15.90% APR or 48 months with a rate of 16.90% APR. Larger medical expenses of $2,500 or more could qualify for 60 months at 17.90% APR.
The key to leveraging the CareCredit card is to take advantage of the introductory financing offers and pay your balance off in full before the term is over. Otherwise, you'll be slapped with deferred interest — and it can be high. This means back interest will be charged for the full, original amount, even if most of it is paid off.
Best for: Transferring balances to consolidate debt
The Wells Fargo Reflect card is one of the bank's credit card offerings. It also provides a long repayment term and no annual fee. Considering the cost of healthcare these days, having a card with a drawn out interest-free period could be a lifesaver if you're hit with thousands of dollars in medical expenses.
If you're approved, a 0% introductory APR is available for 18 months from account opening on all purchases and qualifying balance transfers made within the first 120 days, after which there is a APR. This means you could consolidate your credit card debt. And if you make your payments on time, Wells Fargo could extend the interest-free period an additional three months, for a total of 21 months to avoid the variable APR.
Best for: Everyday rewards
For a versatile, all-around card, the Chase Freedom Unlimited Visa can't be beat. You can benefit from a zero-interest period while earning cash back on your purchases.
An introductory period of 0% APR for 15 months applies to new purchases and balance transfers. After the intro period ends, the card has a APR.
If you have high medical expenses, you could see some significant rewards accrual. Earn 5% cash back on travel when it's purchased through the Chase Ultimate Rewards portal. You'll also earn 3% cash back on dining, eligible delivery services and drugstore purchases. All remaining purchases accrue 1.5% cash back.
Takeaway
Setting money aside in an emergency fund is essential for life's unexpected curveballs. However, the cost of medical treatments or hospitalization are often far more than the average person can save. Having a credit card set aside for medical expenses may be the solution, especially if you choose one with a long promotional period for interest-free payments.
FAQ
What credit score is needed for a medical credit card?

Most credit cards require fair to good credit as a minimum. The better your FICO, the lower the interest rate you could receive.

Is a medical credit card worth it?

Having a credit card set aside simply for medical expenses could be a good way to supplement your emergency fund. In most cases, you could receive a no-interest period that allows you to pay off the balance over time without any finance charges.

What are medical credit cards?

There are cards specifically designed to finance medical expenses, such as CareCredit. In addition, you could choose a standard credit card with a low to no annual fee and a long interest-free offer that gives you the breathing room to pay off your balance without additional finance charges.

What can you use a medical credit card for?

Medical credit cards often have restrictions on what they can be used for. They're generally only accepted at participating health centers or medical/dental offices. Before you sign up for a medical credit card, read the terms carefully to ensure it's right for you.
Rates are subject to change; unless otherwise noted, rates are updated periodically. All other information on accounts is accurate as of Sept. 14, 2022.
Editorial Note: This content is not provided by any entity covered in this article. Any opinions, analyses, reviews, ratings or recommendations expressed in this article are those of the author alone and have not been reviewed, approved or otherwise endorsed by any entity named in this article.
The information related to the Chase Freedom Unlimited card was collected by GOBankingRates and has not been reviewed or provided by the issuer of this product/card. Product details may vary. Please see the issuer's website for current information. GOBankingRates does not receive commission for this product.