Chase Points Value: How Much Are Chase Ultimate Rewards Worth?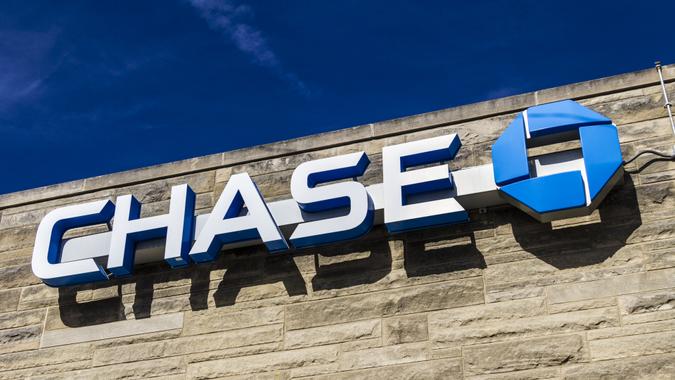 Jonathan Weiss / Shutterstock.com
Chase credit cards come with different rewards offerings that can be redeemed to save money on everything from lifestyle and dining to shopping and entertainment. Depending on how you use them, Chase Ultimate Rewards points can be worth a lot. 
How To Earn Chase Ultimate Rewards Points
You can earn Ultimate Rewards Points on many Chase credit cards. 
Chase Southwest Rapid Rewards Plus Credit Card: With this card, you get 30,000 points after making qualifying purchases. Plus, cardholders earn 2x points on Southwest purchases and 1x points on other eligible purchases. 
Chase Sapphire Reserve: Chase Sapphire cardholders earn 50,000 bonus points after spending $4,000 on purchases in the first three months of opening the account. Plus, cardholders earn 5x points on flights and 10x points on car rentals and hotel bookings.
Chase Sapphire Preferred Credit Card: Cardholders earn 80,000 bonus points when they spend $4,000 on purchases in the first three months of card ownership. That gives them $1,000 when they redeem rewards. Plus, they get 5x points on travel purchases and 3x points on dining, including takeout, dining out and delivery services. 
Southwest Rapid Rewards Priority Credit Card: Cardholders earn 30,000 points after qualifying purchases. They also get $75 worth of travel credit and 7,500 points on Southwest's anniversary every year. 
If you have these or other qualifying Chase credit cards, you can earn points through new member welcome bonus promotions, cash back promotions, participating in loyalty programs and purchasing in select categories. 
What Are Chase Ultimate Rewards Points Worth?
When you use Chase credit cards for purchases, you get one point for each dollar you spend. For example, if you spend $100, you will get 100 Chase points. Each point equates to $0.01, which means you earn $1 for each $100 you spend. 
For the first $1,500 spent on purchases in quarterly bonus categories, you earn 5% in cash back. It means you get 4% additional cash back on the 1% you're already getting. 
Thus, you get $0.05 on each dollar you spend, or 5 points per dollar spent. 
Suppose you spend $100 in the first quarter on bonus categories. You get 100 points, but you earn $5 rather than the $1 you normally earn. You get extra points because you spent money in bonus categories.
Besides bonus categories, there are also select merchants eligible for bonus rewards. If you shop from these merchants, you'll get 4% extra rewards purchase. After you've spent $1,500 in combined purchases during each quarter, you go back to earning $0.01 or 1% cash back rewards on each dollar spent. 
What Are Reward Categories? 
Chase has certain reward categories that are offered by different merchants.
Merchants that accept Mastercard and Visa credit cards are given a merchant code by Chase. Although all merchant codes are typically included in the reward categories, some merchants may not have a code for a particular category despite them selling a product that qualifies for bonus cash back. 
In this case, you will only get one point per dollar spent rather than five. 
Good To Know 

If you have multiple Chase credit cards or your family members also use Chase cards, you can maximize your rewards by combining your points. For instance, if two members of your family use Chase credit cards, you can combine your points to cover a large purchase, such as an electronic appliance or even a domestic flight. You can also do this if you don't have sufficient points in your account to cover a purchase. 
How To Use Your Chase Points
You can benefit from your Chase Ultimate Rewards Points in different ways. Some options include cash, gift cards, pay with points and travel. One hundred points can be redeemed for $1 when you use your points for gift cards, cash, travel or third-party products and services. 
Cash 
You can redeem your points for cash via an electronic deposit or account statement credit into a savings or checking account in the US. You can request your cash by calling the number on the back of your credit card or visiting a Chase bank branch. 
Travel 
You can use your Chase points for car rentals, cruises, travel activities, hotel accommodations and airline tickets. Book your tickets online through Chase's website or call the number on the back of your credit card to get in touch with the Chase Travel Center. 
If you don't have enough points to pay for your whole booking, the remaining amount will be charged to your card. 
Suppose you have 50,000 bonus points on your Chase Sapphire Reserve card. You can redeem them for $500 and buy a domestic ticket. However, if the ticket costs $600, the remaining $100 will be charged to your credit card. 
Additional travel costs, such as the ones mentioned below, are at the cardholders' expense: 
Hotel energy surcharges
Resort fees
International entry or departure fees
Baggage fee
Seat fees
Passenger facility charges 
Pay With Points 
Chase points allow cardholders to save money on their online shopping purchases. When you use your Chase points at checkout, each point is worth $0.008. Thus, 100 points will equate to $0.80 when you're using your points at Amazon or any other online retailer. You also can use your points on purchases when you're checking out with PayPal. 
Gift Cards 
You can also get gift cards and certificates through Chase points. Call the number on the back of your credit card to order a gift certificate or gift card. Be aware that gift cards have terms and conditions set by the issuer. You must comply with these guidelines. 
Combine Points With Ultimate Rewards
You also can combine your Chase points with the Ultimate Rewards of another Chase card you have or of a Chase cardholder in your household. For instance, suppose you use up all your points for a bigger purchase. You can cover the whole purchase by combining your points with a family member's rewards instead of charging your credit card for the remaining amount. 
Transfer to Chase Partners 
Chase has an extensive partner network of hotel chains and airlines. You can transfer your points to the loyalty programs of these partners at a 1:1 ratio. Thus means that you'll get one point in the respective loyalty program for every one Chase point you transfer. 
Some notable Chase Partners include Hyatt Hotels, United Airlines, Southwest Airlines and Marriott. 
Chase Experiences 
Chase also offers dining and experiences, such as sporting events. You can redeem your points for events of your preference or on culinary experiences through reservations or takeout. 
Pay Yourself Back Program 
Chase introduced the Pay Yourself Back program during the Covid-19 lockdown in 2020. The program applies to Ink, Sapphire and Freedom cards. You can get a statement credit on one or more purchases. 
Final Take
On the whole, the Chase Ultimate Rewards points value is quite attractive. You can save money on online purchases, hotel bookings and flights. Plus, Chase partners with widely used services, including PayPal, so you'll be able to use your rewards pretty much anywhere. 
The best way to redeem your points is to transfer them to one of Chase's hotel or airline partners. Alternatively, if you're an avid online shopper, you can use your points to pay for the purchases you make through PayPal. 
FAQs on Chase Ultimate Rewards
Here are some frequently asked questions about Chase points value.
Which stores does chase online grocery category include?

Chase's online grocery category includes purchases for delivery and grocery pickup from all grocery stores -- excluding Walmart, wholesale clubs and Target. It also includes meal kit services. If you're ordering from a pharmacy inside a supermarket, you will not earn any rewards.

Do Chase points expire?

Chase points don't expire if your account is still open. However, you lose your points if your account is closed due to failure to pay, fraudulent activities or program misuse. Your Chase points also expire in the event of bankruptcy.

How do I redeem chase points for travel?

If you've earned the points through traditional credit cards, you can redeem them through designated booking websites. But, if you've earned points through a hotel or airline credit card, you have to redeem your points directly from the brand in question.

What is Apple Ultimate Rewards Store?

Chase lets you pay for Apple purchases using your rewards points. However, it may not be the best option -- many Reddit users have reported that when you buy Apple products through Chase's rewards center, you don't get Apple's 14-day return policy. Thus, you can return your product only if it's damaged or defective. A good alternative is to use Chase's Pay Yourself Back and send the money to your account. Then, you can use this money to buy the product from Apple's actual store.
Editorial Note: This content is not provided by Chase Ultimate Rewards. Any opinions, analyses, reviews or recommendations expressed in this article are those of the author alone and have not been reviewed, approved or otherwise endorsed by Chase Ultimate Rewards.