5 Moves To Make To Save Money Once Your Credit Score Hits 800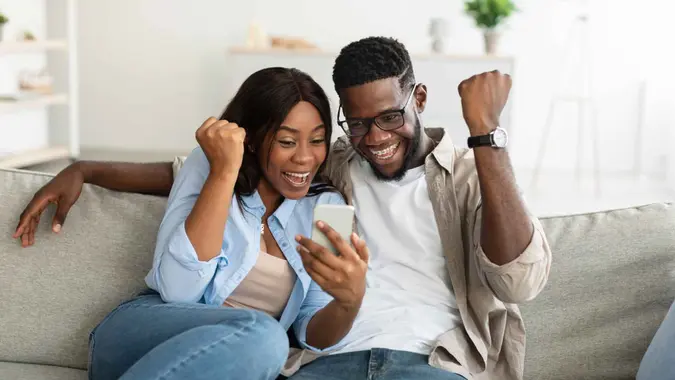 Prostock-Studio / iStock.com
If you've worked hard to improve your credit and finally achieved an 800 credit score, that puts you in the Fair Isaac Corporation's "exceptional" range and significantly above the average of 716. In addition to helping you more easily qualify for future credit, your 800 score can land you better deals from both insurers and creditors.

See: Pocket an Extra $400 aMonth With This Simple Hack
Here are five moves you can take to put your excellent credit to work and save you money.
1. Look Into Cheaper Car Insurance Rates
While creditors use your score to indicate your risk of default, auto insurers may include your credit score as one factor for determining your claims risk. The exception is if you're in certain states, such as California and Hawaii. Elsewhere, a lower credit score can lead to higher premiums.
If your policy is coming up for renewal, talk to your car insurer to see if you can qualify for lower rates with your higher credit score. You might also get quotes from other insurers if you don't mind considering a switch to save money. Just keep in mind any discounts you'd lose or other factors, such as a poor driving history, that could work against getting cheaper premiums.
2. Negotiate Credit Card Interest Rates
Credit cards are known for having higher interest rates than other credit products, and the cost especially adds up with subpar credit. Now that you have an 800 credit score, it's worth calling each creditor and trying to negotiate a better interest rate.
Along with explaining your excellent credit, you could mention the competitive rates for any recent credit card offers you've received. Speaking with management may be helpful if the agent doesn't seem receptive.
3. Seek Better Credit Card Options
Having excellent credit can give you access to credit cards that not only have better rates but also sign-up bonuses and ongoing perks. While you should be careful applying for new credit, shopping around for a new card can make sense when it offers enough financial benefits.
If you have a necessary purchase coming up or want to transfer a high-interest balance, consider seeking cards with 0% introductory rate offers. You might also benefit from new cards that earn you cash back on your purchases or provide travel benefits. Just be careful about any annual fees and know that applying for new credit can lower your score.
4. Consider 0% Vehicle Financing Offers
If you're in the market for a new car, you might worry about the currently high interest rates. However, major car manufacturers such as Ford, Chevrolet and Nissan have 0% financing programs for certain vehicle models. A strong credit score is a key requirement, so you're at an advantage for saving money.
But before taking one of these offers, there are a few things to consider. You'll have fewer vehicle options to fit your budget, and these financing offers can involve shorter loan terms, meaning potentially high monthly payments. Missing a payment could trigger a high penalty interest rate for the duration of the loan. Plus, you might have to pay full price, or even an inflated price, for the car, according to J.D Power.
5. Decide Whether Mortgage Refinancing Makes Sense
Right now, the mortgage interest rate environment probably isn't favorable for refinancing to get a better rate. But when interest rates eventually go down, you might look into refinancing if your home hasn't lost value, you plan to stay there for a long time and you could cut your rate by 1% or more.
A mortgage refinance calculator, such as this one provided by Freddie Mac, can show you your savings based on different interest rates and loan terms. Just make sure you account for all the refinancing-related costs, which can add up to several thousand dollars. Your potential savings should exceed the costs enough that it makes sense to go through the process.
More From GOBankingRates