Nearly 30% of Young Americans Have Over $1K in Credit Card Debt — Here's How They Can Fix It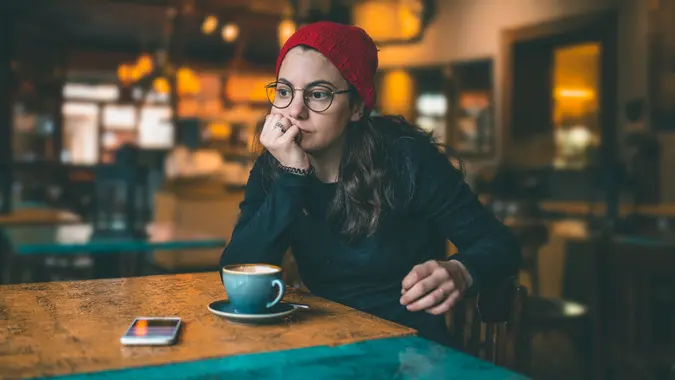 FluxFactory / Getty Images
If you feel like you're drowning in credit card debt, you are not alone. It can be financially overwhelming to stay on top of all the card fees, bills and personal expenses on your plate. A recent survey conducted by GOBankingRates discovered that nearly 30% of Americans under the age of 24 have more than $1,000 in credit card debt.
The Future of Finances: Gen Z & How They Relate to Money
More: If Your Credit Score Is Under 740, Make These 4 Moves Now
If you fall into this category or you're looking for new strategies to overcome the credit card debt you owe, keep reading to find out best practices from financial experts.
Young Americans and Credit Card Debt by the Numbers
Younger consumers and those newer to owning a credit card are not exempt from credit card debt. According to the GOBankingRates survey, 28% of Americans under the age of 24 have over $1,000 in credit card debt.
Of those under 24 with credit card debt, 16% have debt between $1,001-$2,500, 10% have debt between $2,5001-$7,500 and 2% have debt of over $10,000. Fortunately, there is also a healthy proportion of those under 24 with lower amounts of debt — 32% have debt between $1-$500 and 10% have debt between $501-$1,000.
Advice from CardCritics: Pay No Interest Until 2024 While You Rack Up Rewards With These Top-Rated Cards
When comparing younger Americans' credit card debt to the general population, young Americans are more likely to have higher amounts of credit card debt, as just 24% of all Americans have credit card debt over $1,000.
In the general population across all ages, 11% of Americans have credit card debt between $1,001-$2,500 and 8% of Americans have credit card debt between $2,501-$5,000. Out of the Americans who have credit card debt over $5,000, 4% have debt between $5,001-$7,500 and 4% have debt between $7,501-$10,000. Five percent of Americans have debt over $10,000.
A greater percentage of younger Americans have under $1,000 in debt (42%), however, as compared to the general public (40%).
Live Richer Podcast: How To Get Rid of Your Student Loan Debt
How To Get Rid of Credit Card Debt
Regardless of the number, maintaining credit card — particularly debt you can't pay off — is not good for your long-term financial health. Let's take a look at the best ways to eliminate credit card debt completely.
Lock Credit Cards
It's challenging to get out of credit card debt if you are still accumulating more. By locking your credit cards, you can focus on taking steps to eliminate the debt you have and prevent it from building up in the future, according to Jay Zigmont, Ph.D., CFP and founder of Childfree Wealth.
Set a Goal
After you lock your credit cards, it's important to set an attainable goal for handling the debt you have in a timely manner.
"For example, if you are looking to pay down $6,000 in debt this year, you would budget $500 each month toward paying down the debt," Zigmont said.
Many people opt to pay off their credit card debt using the snowball method. Zigmont explains how this strategy works: "In the snowball method, you pay the minimum monthly payments on everything, and then put everything else on the smallest debt first. Once you pay off your smallest debt, take the time to celebrate and then put everything on your next-smallest debt, building the snowball."
Cut Back on Spending by Separating Your Wants and Needs
If you are inundated with credit card debt, it's important to cut back on your spending in order to prioritize the debt you currently owe. An easy way to cut back on spending is to divide your spending into two categories: wants and needs.
"For example, you might call coffee a need, but buying it from a nice coffee shop is probably not a need — you could save money by making it yourself at home or work," said Ryan Duitch, co-founder and CEO at Arro Finance.
Your "wants" is the category where you should cut back. Whether that means choosing just one television streaming platform and getting rid of another for a few months, or eating out once a week instead of every day, every little change you can make to save will add up in a major way over time.
"Remember that once your debt is gone, you will have some money to put back into your budget since you won't be charged interest anymore," Duitch said.
Avoid Running Up Your Credit Card by Tracking Your Spending
It's easy to lose track of where your money is going and how much you are spending. To avoid accumulating debt inadvertently, consider downloading your bank app or checking your accounts online regularly to stay on top of your spending.
"Most financial institutions allow you to easily check your balance and set up alerts online or through a mobile app," Duitch said. "Build a habit of checking your balance often, even daily, if needed, and set up alerts to remind you when your balance crosses a certain threshold. This will help keep you on top of your spending and let you know how you're trending for the month if you use multiple methods of payments."
More From GOBankingRates
Methodology: GOBankingRates surveyed 1,003 Americans ages 18 and older from across the country between Sept.19 and Sept. 20, 2022, asking 12 questions: (1) Which of the following is the most important to you when it comes to picking a new credit card?; (2) How do you handle your credit card bill each month?; (3) Do you know your credit score?; (4) At what age did you get your first credit card?; (5) What is your primary purpose for using your credit card(s)?; (6) Do any of the following statements apply to you? (Select all that apply); (7) Which credit card fees do/would you hate the most?; (8) How many credit cards do you own?; (9) What is your total current credit card debt?; (10) How long do you think it will take you to pay off your credit card debt?; (11) Have you ever hit the credit limit on your credit card?; and (12) Have you ever charged any of the following to your credit card? Select all that apply. GOBankingRates used PureSpectrum's survey platform to conduct the poll.