4 Biggest Target RedCard Mistakes To Avoid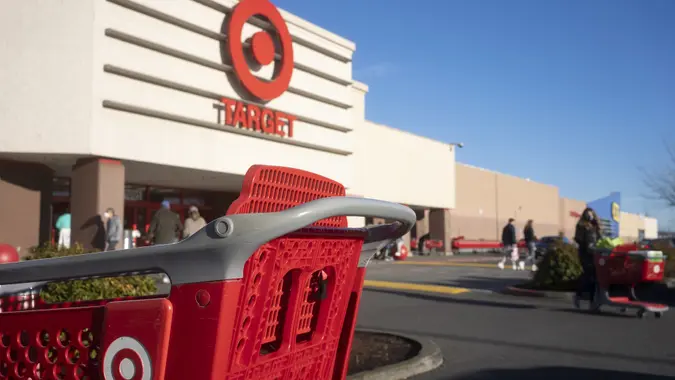 hapabapa / iStock.com
Everyone appreciates Target for the fact that you can go in for a gift card and come out with $300 worth of cashew butter, diapers, cleaning supplies and home decor. It is the joyful black hole of spending and no one seems to mind because "Oh look that's a cute yoga set." If you are one of many who frequent Target enough to own stock in it, the Target RedCard could be a good fit for you, but beware of how not to use it. 
4 Things To Avoid Doing With the Target RedCard
Though there are many RedCard benefits such as an extension on the return policy as well as a 5% discount and free two-day shipping, there are also some downsides. It may look like a normal credit card but there are things you should consider avoiding with your Target RedCard.
Using your Target RedCard outside of Target.
Not making timely payments.
Dipping into your savings to make payments.
Maxing out your Target RedCard account.
1. Using Target RedCard Outside of Target
The RedCard Target Mastercard can be used anywhere Mastercards are accepted. This is not to say you can't use it outside of Target, it just may not be worth dealing with its high APR without being able to offset that with the 5% off you get on in-store purchases. Though it's a credit card, it is designed to work as a loyalty program and should be used thusly to ensure you get more benefits for your buck.
2. Not Making Timely Payments 
As with any credit card, not making timely payments for your credit bill will cost you. This doesn't just refer to the interest you'll pay but it can hurt your credit score as well. Even though Target makes it very easy to spend your money, especially with the RedCard loyalty program, make sure you don't bite off more than you can chew.
3. Dipping Into Savings To Make Payments 
Unless absolutely necessary, it is a good idea to not wrack up a credit card bill that would require you to dip into a long-term savings plan to pay it off. The following are examples of types of savings you should avoid using when paying your Target RedCard bill. 
Emergency funds: These savings accounts, as the name suggests, should be used for unexpected expenses such as medical bills or car repairs.
Retirement plan: This type of savings account is to be left untouched for day-to-day spending to serve you better in the future.
4. Maxing Out Your Target RedCard
As shopping at Target is usually non-essential, make sure to budget for your bill wisely and keep your spending within the realm of normal monthly expenses. You could even try budgeting out your expenses by percentages. For example, the 50/30/20 rule of budgeting is when you save 20% of your income every month and allocate 50% for needs and the remaining 30% for discretionary spending. 
This is not to say you can't treat yourself once in a while at Target, but just because you get a discount doesn't mean you should spend more than your budget allows to begin with. 
How the Target RedCard Works
Essentially the RedCard program from Target is a loyalty program that works for Target or Target.com eligible purchases or special items. This means it is better to use this credit card at Target as that way you'll get the 5% discount as well as free two-day shipping. Though you can use the RedCard outside of Target stores or Target's website, it may not be worth it as it has a high APR. 
When looking to open a Target RedCard account, you will have three options to select from:
Target Mastercard: This is an open loop card and can be used anywhere Mastercard is accepted.
Target RedCard in-store credit card: This credit account is specifically to use for in-store purchases or shopping online at Target.
Target RedCard debit card: The debit card is linked directly to your checking account.
Final Take To GO
The Target RedCard loyalty program is great for those who shop frequently at Target. The discounts and special offers Target caters to you through your collected data feels personalized because, well, it is. If you use Target's RedCard, make sure to do so wisely to avoid the high-interest rates and late payment fees. 
FAQ
Here are answers to frequently asked questions about the Target RedCard credit card.
Can I use the Target RedCard anywhere?

Yes, you can use the RedCard Target Mastercard anywhere Mastercards are accepted.

How do you pay your Target RedCard?

If you have a Target RedCard debit card, the money will come directly from your checking account. If you have the Target Mastercard or in-store credit card you can pay your bills online.

Is the Target RedCard a credit card?

Yes, the Target RedCard has three card options including the RedCard Target Mastercard, the Target in-store credit card and the Target RedCard debit card.

How does Target's debit RedCard work?

The Target RedCard debit card works as a traditional debit card in that it is linked directly to your checking account.

How do you log in to your Target RedCard account?

You can access your Target RedCard account by clicking on "Manage My RedCard" on the Target website. From there, you'll need your username and password. If you can't remember those details you can request a reset option to be sent to the email address you have on file in your account.
Editorial Note: This content is not provided by any entity covered in this article. Any opinions, analyses, reviews, ratings or recommendations expressed in this article are those of the author alone and have not been reviewed, approved or otherwise endorsed by any entity named in this article.