Survey Shows Most Keep Only 1 or 2 Credit Cards: 5 Reasons You Should Have More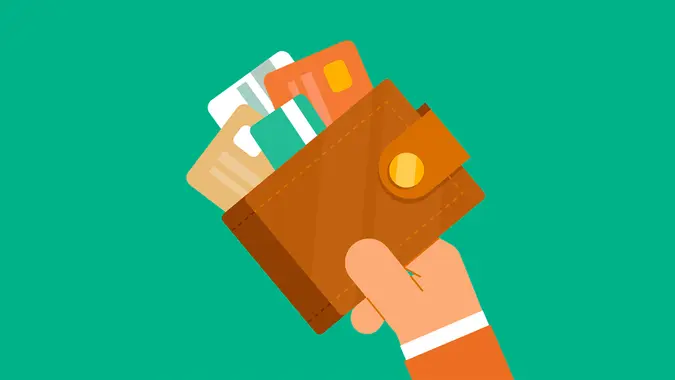 sesame / Getty Images
Update: Some offers mentioned below may have changed or are no longer available. View current credit card offerings from our partners at CardCritics Here or on the issuer's website.
The more credit cards you have, the more likely you are to get into trouble. Sticking with one great card and using it responsibly, after all, is always the best bet — right? Not so fast. The are many scenarios, actually, where you'd be better off with a whole suite of cards to choose from. Even so, America is mostly a one- (or two-) card country. 
For Most People, Just a Card or Two Will Do
GOBankingRates surveyed more than 1,000 American adults about their credit card use, and the results were striking. For a country so closely associated with credit card debt, you might assume that the average person has a wallet full of plastic. But the overwhelming majority of respondents reported having only one or two cards — with nearly identical percentages in both groups.
More Findings: 44% of Americans Pay Off Full Balance of Bill Each Month, But Should They?
Here's a look at what the survey revealed about the number of credit cards people are most likely to own:
1 card:

28.64%

2 cards:

29.34%

3 cards:

19.92%

4 cards:

9.12%

More than 4 cards:

12.98%
As you can see, nearly two out of three respondents own either one or two cards — about three times the percentage of those who use four cards or more.  
Revealed: What Americans Hate Most About Credit Cards
Americans Tend to Grow Into Big Card Collections as They Age
Women were more likely than men to have three or more cards, but not by much. The biggest variable dealt not with gender, but with age. 
Fewer than 5% of 18-24-year-olds had four or more cards and fewer than 10% of both 25-34-year-olds and 35-44-year-olds reported the same — but with age comes plastic. 
The oldest sets (45-54, 55-64, and 65+) were as likely to have many cards as they were to have just one or two. 
In short, people tend to have fewer cards when they're younger and more when they're older and — hopefully — more responsible. So, does that mean it's better to have more credit cards? 
In some cases, you bet it is. 
Read: Jaw-Dropping Stats About the State of Credit Card Debt in America
See: Why It's Still Better To Use Your Credit Card Over Your Debit Card
1. More Cards Give You More Open Credit
Accounting for 35% of your score, nothing is more important to your credit than on-time payments. The other biggie — coming in at No. 2 with 30% of your score — is your credit utilization ratio. 
That's the percentage of your available credit that you're using. High credit utilization ratios can make it appear that you're overextended, which makes you a risky bet for the bank. Generally, lenders prefer borrowers who are using less than 30% of their available credit — although less than 10% is even better. A new line of credit increases your open credit and lowers your credit utilization ratio, which makes adding a new card one of the fastest and easiest ways to boost your score.
Find Out: The Quickest Ways To Pay Off Your Credit Card Debt
Learn: The Top Purchases You Should Always Make With a Credit Card
2. Good Store Cards Offer Free Financing
Many store cards have earned their reputations for high fees and lousy rewards. Others, however, give the gift of free financing — and that can open a lot of doors. 
For example, if you don't have the cash to buy a new iPhone, but you don't want a two-year contract to lease one from Verizon, AT&T, or T-Mobile, you might apply for an Apple credit card. Apple lets its cardholders finance many of its products interest-free for 24 months. That means you can switch to a cheaper carrier like Mint while paying off your phone interest-free for the same two years you would have spent locked in with the telecoms.
Discover: 5 Reasons Why You Need a Credit Card
See: Why It's Still Better To Use Your Credit Card Over Your Debit Card
3. More Cards Can Help You Maximize Your Rewards
Having more than one card can help you leverage the rewards that different cards offer. 
For example, one card might give you 5% cash back in categories that rotate throughout the year, like the Discover it Cash Back card. When the categories switch seasons or when you reach your quarterly maximum, the rewards rate drops from 5% to 1%. 
When that happens, you might switch to a flat-rate card like or , both of which deliver 2% unlimited cash back on all purchases — unless you're buying from Amazon. In that case, you might switch to your Amazon Prime Rewards card, which always delivers 5% cash back to Prime members.
Check Out: 6 Cards That Are Great For Holiday Shopping
4. Adding the Right Card Can Buy You Time With Toxic Debt
The best balance transfer cards offer 0% introductory APR for 15 months or more. That gives you a long-term place to park high-interest debt, which you can then service with only the minimum payment until your grace period runs out. Both and offer 21 months at 0% APR — the best in the industry. After the intro period, Citi Diamond Preferred offers APR and Wells Fargo Reflect offers APR.
Discover: What Is a Good Credit Score?
5. Extra Credit Can Offer Financial Flexibility in a Pinch
It's hard to find a credible financial expert who suggests using a credit card as your only emergency fund — but emergencies have a way of bowling over even the best-laid plans. Even if it's not part of your overall financial strategy, the reality of open credit is that it's always better to have it and not need it than to need it and not have it.
Recommended: How to Choose the Right Credit Card for Your Lifestyle
A New Card isn't Always the Answer — and It's Never a Quick Fix
It's certainly possible to improve your credit and your finances with the strategic addition of new cards — but "strategic" is the key word. New credit cards can't solve existing money problems. In fact, adding a new card to a shaky financial situation will likely make things worse. Before you submit that application, keep the following in mind: [8]
Just the act of applying for credit can lower your score, at least temporarily. 

New cards come with new payment deadlines that can make it harder to stay organized.

A new card might come with an annual fee.

Credit-scoring systems reward longevity. The addition of a new card can hurt your score by lowering the overall age of your credit. 

Never open a new card because you hit your credit limit on an old card.

Never open a new card solely for a bonus that requires a minimum spend to unlock.

Never open a new card because you're short on cash and need to make a purchase that you currently can't afford. 
Interesting: 5 Invitation-Only Credit Cards
In the End, It's How You Manage Your Credit That Counts
Each new card comes with a new payment to remember and a new line of credit that could get away from you if you don't keep tabs on your spending. Using too much of your open credit, racking up finance charges, not paying your statement balance in full every month, or — worst of all — missing payments will always lead to financial trouble. That never changes whether you have one card or 100.
More From GOBankingRates
GOBankingRates surveyed 1,009 Americans aged 18 and older from across the country on September 22 through September 23, 2021, asking twelve different questions: (1) Which of the following is the most important to you when it comes to picking a new Credit Card?; (2) How do you handle your Credit Card bill each month?; (3) Which Credit Card company do you trust the most?; (4) What age did you get your first Credit Card?; (5) What is your primary purpose for using your Credit Card(s)?; (6) Do any of the following statements apply to you? Select all that apply:; (7) Which Credit Card fees do you hate the most? Select one:; (8) How many Credit Cards do you own?; (9) What is your total current Credit Card debt?; (10) How Long do you think it will take you to pay off your Credit Card debt?; (11) Have you ever hit the credit limit on your Credit Card?; and (12) Have you ever charged any of the following to your Credit Card? Select all that apply: All respondents had to pass a screener question of: Do you own/use a Credit Card(s)?, with an answer of "Yes". GOBankingRates used PureSpectrum's survey platform to conduct the poll.
The information related to Amazon Prime Rewards card was collected by GOBankingRates and has not been reviewed or provided by the issuer of this product/card. Product details may vary. Please see issuer website for current information. GOBankingRates does not receive commission for this product.