What Is a Black Card? Top 3 Black Cards To Get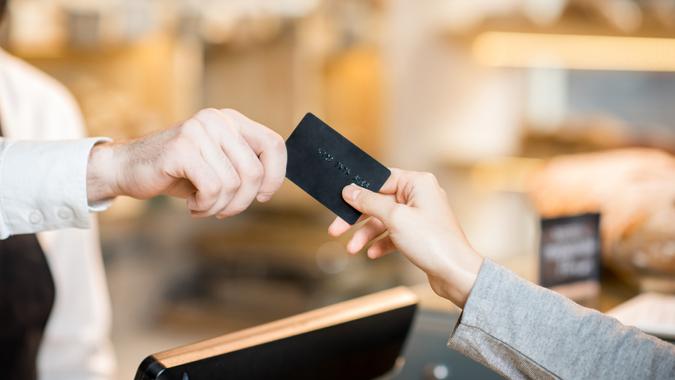 RossHelen / Getty Images/iStockphoto
The financial revolution hasn't left behind banks and other financial institutions. Instead, their consumer approach and products are evolving. One of the tremendous shifts is the introduction of customized credit cards.
Premium cards that target high-end consumers are a good example. These types of cards feature high value in exchange for your financial commitment. They have high bonuses, rewards and special access to certain services.
Above the tier are the most exclusive Black Cards. Unlike their premium counterparts, black cards are not available for all customers. Their qualification criteria remain hidden, making them even more challenging to get. Despite the mystery, there's a lot to say about these cards. So, if you've contemplated acquiring one, keep reading to learn everything you may want to know about black cards.
What Is a Black Card?
A black card is an elite credit card with exclusive, unique, premium luxury features. You can never find its insane perks and rewards with any other cards. In fact, these cards have been deemed a preserve of the ultra-wealthy in society.
Unfortunately, you can only get them through a referral. Only the issuer determines who's qualified and sends an invitation. To qualify, one must be a hefty spender with thousands of dollar-worthy assets.
How Do You Get a Black Card?
Unlike other premium cards, you can't just hop online to apply for a black card. These cards are exclusively referral-based. On top of that, the qualification criteria are kept under wraps. This makes it harder to determine the dollar figure or assets required for one to qualify. There are a few hacks you can employ, though, to help you acquire one.
Advice

One of the best ways is opening an account at a bank that is aware of your assets, income and credit rating. If your wealth meets the threshold, the bank can refer you for a black card right away.
According to past media reports, you can get an American Express black card referral if you spend $500,000 per annum on their credit cards. So, you can aim at this figure in a year and be the next in line for the big table.
You can also choose to focus on building your wealth and bettering your credit score. That way, you'll find yourself in line for a black card without any hassles. So, you don't have to keep knocking on doors asking whether you're qualified or not.
Top 3 Black Credit Cards
Thanks to the wide variety of black cards in the market, you have a large pool to choose from — meaning better features and maximum value for your money. Here are the three most exclusive black cards.
1. American Express Centurion Card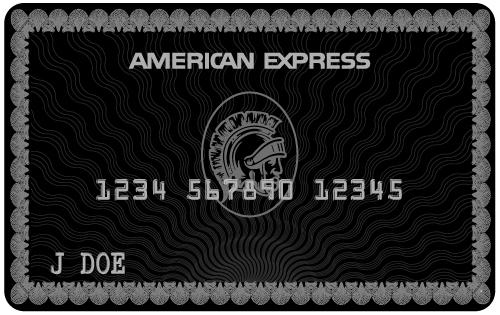 When you mention black cards to most people, the Centurion card is what comes to mind. In short, it's the face of these cards. This invitation-only card is offered by American Express and carries incredible value. Instead of sitting around waiting for an invitation, you can apply for a referral if you think you're qualified.
This card is meant for extremely high spenders who want exclusive access and top-tier services. The card features steep entry fees. To sign up, you must pay a $10,000 initiation fee. You also pay $5,000 as the annual standing charges. This might seem like a huge amount of money to part with, but the card's benefits are worth every penny.
Some of the outstanding features of the Centurion black card include:
Airline status with Delta
Extensive airport lounge access
24/7 concierge program
Elite status with different hotels and rental car programs
1 Membership Rewards point for every dollar, which may increase to 1.5 Membership Rewards points per dollar for purchases above $5,000
Hefty sign-up bonus
2. J.P. Morgan Reserve Card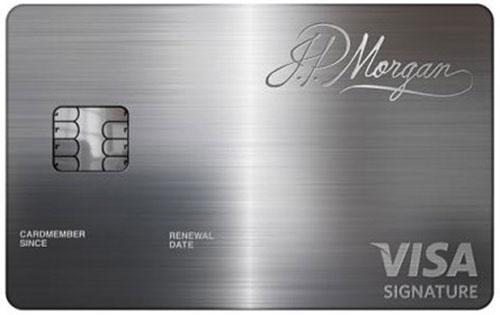 If you're a private client of Chase, you may want to take advantage of their elite card. This is the number one qualification criteria. Additionally, you need at least $10 million worth of assets under J.P. Morgan's management. Unlike some cards which you can apply for, this is an exclusive invitation card. To sign up, you must be ready to pay an annual fee of $595 .
For traveling and all other outdoor engagements, the J.P Morgan reserve card has got you covered. The rewards you get when using this card make it even more exciting. Formerly Palladium, the card has over 5,000 users globally. After its rebranding in September 2016, J.P Morgan added several benefits, including complimentary airport lounge memberships.
Some other benefits you'll get from a J.P. Morgan Reserve card include:
United club access
3X membership points on travel and dining
Free global entry
Annual bonus after certain limits
Priority pass select airport lounge membership
$300 annual travel credit
3. Mastercard Black Card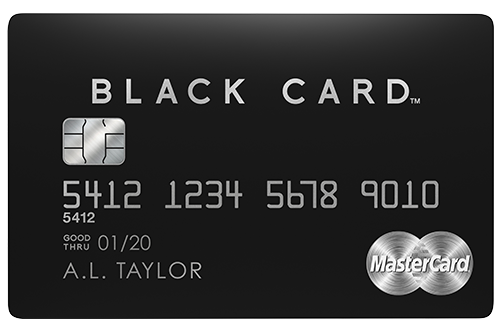 If you want a black card screaming exclusivity, this is an option. Mastercard black card is offered through Luxury card and has a straightforward application process that's digitized. However, just like all the other black cards, it has an annual fee of $495.
Compared to its peers, it is one of the most affordable black cards with immense benefits, including:
24/7 luxury travel concierge
Free access to luxury magazines
$100 global entry credit
VIP lounge access
Mastercard priceless access
Priority pass membership
No foreign transaction fees
Unlimited 1.5% cash back redemptions
1 Membership point earned per dollar
Advantages of a Black Card
You might be wondering if a black card is worth the hype? You may not see much of a difference between a black card and the premium card you already have. While there are some similarities between the functionalities of the two types, like travel, dining or shopping points as well as exclusive lounge access, the black card remains superior.
The privileges of black cards include a 24/7 travel concierge — this alone brings much-needed convenience, especially concerning competitive destinations. Others include upgrades and elite status in certain destinations, which eliminates unnecessary hassles. Some black credit cards are even rumored to include chartered jet services.
Even if you've received an invite for a black card, you may want to reconsider. Given that most cards have high annual fees and initial costs, you may be better off with a standard premium card. So, you need to weigh the options. But if you are looking for bragging rights, a black card will give you exactly that.
Takeaway

If you're looking for an ultimate status symbol, black cards are the way to go. These special, elite cards will distinguish you from the average citizen, offering much-desired convenience during travel and shopping. You also earn points and get unlimited cash back in the process.
Editorial Note: Any opinions, analyses, reviews or recommendations expressed in this article are those of the author's alone, and have not been reviewed, approved or otherwise endorsed by any card issuer.
Editorial Note: This content is not provided by American Express. Any opinions, analyses, reviews or recommendations expressed in this article are those of the author's alone and have not been reviewed, approved, or otherwise endorsed by American Express.
Editorial Note: This content is not provided or commissioned by the bank advertiser. Opinions expressed here are author's alone, not those of the bank advertiser, and have not been reviewed, approved or otherwise endorsed by the bank advertiser. This site may be compensated through the bank advertiser Affiliate Program.
Our in-house research team and on-site financial experts work together to create content that's accurate, impartial, and up to date. We fact-check every single statistic, quote and fact using trusted primary resources to make sure the information we provide is correct. You can learn more about GOBankingRates' processes and standards in our editorial policy.