5 Invitation-Only Credit Cards — And How To Get Invited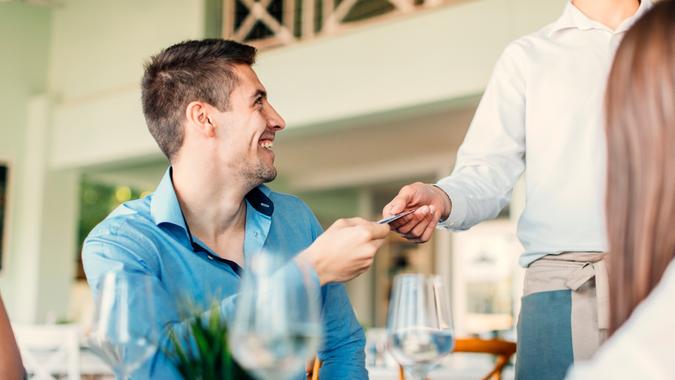 vgajic / Getty Images
You've likely received credit card offers in the mail that are no more than standard marketing ploys from credit card companies that send them out by the thousands. Not all credit cards offers are like that though. The most elite credit cards are invitation-only and sent to a chosen few.
Read: The Best Credit Card for Each Type of Spender
Find Out: Lesser-Known Credit Card Perks You Should Be Taking Advantage Of

"Elite credit cards are often invitation-only because the issuer is looking to build an advantageous relationship with a high-earning individual with excellent credit," said credit card and financial analyst Chris Motola. "By establishing that relationship, the issuer can — they hope — reap some of the profits that come from servicing the wealthy. The wealthy in turn, get a status symbol in the form of a rare card. That means the issuer needs to keep the supply of that card low. Invitation-only credit cards often have enormous annual fees, high credit limits, and perks that can be cashed in for luxury and concierge services."
Here are five invitation-only credit cards and how to get invited — information some consider to be secrets of the rich.
Read: The Top Things To Consider Before Applying for a New Credit Card
How To Get Invited To Apply For an Elite Credit Card
In general, to improve your chances of receiving an invite to apply for an elite credit card, Chris Motola of Merchant Maverick said, "Becoming rich is a minimum qualification. Even if you're rich, however, you'll still need to land on the issuer's radar. While the exact method will vary by issuer, the common theme is that your substantial wealth will need to have touched services offered by the issuer."
John Garner, the CEO and founder of Card Curator, offered this additional insight about what it takes to get invited to apply for an elite credit card, "Depending on the company, the requirements may vary; however, it usually includes some combination of average annual credit card spend and liquid assets. In some cases, being famous or being a celebrity can help you get an invitation to these cards."
Find Out: 10 Signs That It's Time To Ditch Your Credit Card
5 Invitation-Only Credit Cards and How To Get Them
Credit cards reserved for the ultra-rich have requirements, but what they are exactly is often a mystery. Here's what's known about these five invitation-only cards.
Centurion Card From American Express
The Centurion Card from American Express — aka the "Black Card" —  has a $10,000 initiation fee and a $5,000 annual membership fee. You may request up to two additional Centurion Cards. Each additional card you request also incurs a $5,000 annual membership fee.
"To increase your chances of getting an Amex Centurion Card, you'd charge hundreds of thousands of dollars on a lower-tier American Express card per year," Motola said.
If you're interested in being considered for an invitation to the Centurion Card from American Express, you can submit your information online.
Check Out: 10 Credit Cards To Consider for Travel Rewards
Citi Chairman American Express Card
The Citi Chairman American Express Card is only available to people who have a significant amount of money invested in a Citigroup brokerage account. It's rumored that the annual fee for this card is quite a bit less than some of the other elite cards at only $500.
Garner said that an invitation for this card requires an estimated $10 million minimum of liquid net worth.
Stratus Rewards Visa
Also known as the distinctive "White Card," the requirements to receive an invitation for the Stratus Rewards Visa are largely unknown. However, it's rumored that you must be referred by a Stratus Rewards Visa cardmember or one of the Stratus Rewards partner companies. The card's annual fee is $1,500.
J.P. Morgan Reserve Card
The J.P. Morgan Reserve Card is unique in that it's made from palladium, a platinum-colored precious metal. Even so, the card has a rather modest annual fee of $595, as compared to other invitation-only credit cards. The card is only available to clients of J.P. Morgan Private Bank who have at least $10 million in assets under management.
Dubai First Royale Mastercard
"For the Dubai First Royale Mastercard — which comes complete with an embedded diamond — you'll need to live in the United Arab Emirates," Motola said. However, if you're eligible, it's rumored that the sky's the limit when it comes to how you want to use the card. It has no credit limit, no restrictions and all charges are guaranteed approval. The initiation fee is reportedly the equivalent of roughly $2,000 USD. But don't count on getting an invitation — even if you're a multimillionaire. It's rumored that only around 200 people worldwide are cardholders.
More From GOBankingRates
Last updated: Oct. 6, 2021