Free Money: Ways To Use Your Credit Card Points for Everyday Items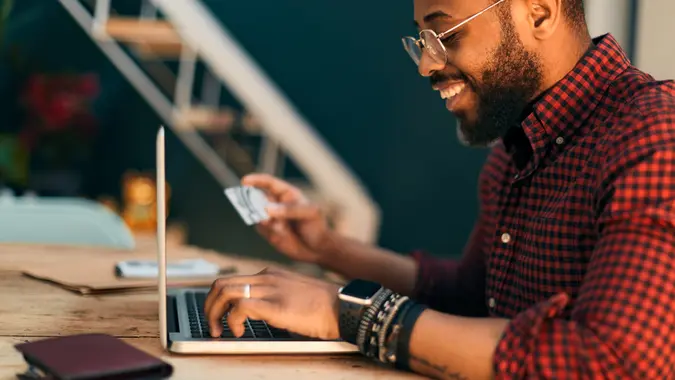 Tempura / Getty Images
When the bank collects interest payments from people who don't use their credit cards responsibly, they turn some of it over to people who do in the form of rewards. Whether they come as points, cash back or travel miles, those rewards all mean the same thing for the cardholders who collect them — free money.
Explore: GOBankingRates' Best Credit Cards for 2023
See: If Your Credit Score is Under 740, Make These 4 Moves Now
Here's a look at how to get it and use it. 
Cash Back: Earn Money for Spending Money
Cash back is the simplest and most direct way for lenders to pay cardholders back. When you charge a purchase on a cashback card, the bank puts some percentage of that purchase into your rewards account, where your free money accumulates over time.
When you decide to cash in, you can redeem your rewards as a statement credit to pay down your card balance or as a direct deposit right into your bank account. Cash back is literally free money — and there are different ways to earn it.
Flat-Rate Cards Pay You Less, but They're Stress-Free
With this kind of rewards structure, simplicity is the name of the game. Flat-rate cards pay a fixed percentage of every purchase you make, and it never changes no matter what you buy or where you buy it. 
The exchange for that simplicity is that the rate tops out at around 2%, which is what you'll get from the and the , which consistently rank among the top flat-rate cards on the market. The PayPal Cash Back Mastercard gives 3% back on PayPal purchases and 2% for everything else.
Take Our Poll: Are You Struggling To Keep Up With Your Utility Bills?
Tiered and Rotating-Category Cards Pay More, but They Make You Work for It
Some cards offer 4%, 5%, or even 6% cash back — double or triple what the best flat-rate cards pay — but they're harder to keep up with. 
Tiered cards pay more cash back for some kinds of purchases than others. , for example, pays 5% for travel purchases, 3% for dining and drug store purchases and 1.5% for everything else.
Rotating-category cards pay high percentages for certain types of purchases that change throughout the year. With Discover it® Cash Back, for example, you get a hefty 5% cash back on these rotating categories:
January-March: Grocery stores and fitness clubs
April-June: Target and gas stations
July-September: PayPal and restaurants
October-December: Digital wallets and Amazon.com
The tradeoff with tiered and rotating-category cards is that you have to keep up with which card to use depending on what you're buying, where you're buying it, and even what time of year you're making the purchase. Many also come with limits and caps that drop your cashback rate down to a lower percentage after you collect a certain amount of rewards. 
However, if you can keep up with it all, free money quickly accumulates. Many people save it up for big purchases, like holiday gifts, major appliances or down payments.
Some Cards Let You Convert Points to Stuff
The second type of credit card rewards come in the form of points. They're a different kind of currency than cash, but you can convert them into things you buy anyway, so the end result is the same — free money.
Points rewards might be flat-rate, tiered or structured through rotating or bonus categories, just like cashback cards. But instead of collecting dollars, you collect points, which you can then cash in for things like:
Gift cards or gas cards
Merchandise
Tickets to concerts or sporting events
Shopping credits through specific sites or stores like Amazon or Target, or through payment services like PayPal
Statement credits
Travel Rewards Put Your Next Vacation Within Reach 
The third and final kind of credit card perks are travel rewards, which focus their benefits on travel-related purchases and let cardholders redeem those rewards in ways that pertain to travel. That includes things like: 
Flights
Hotel stays
Car rentals or rideshare services
Dining
Shopping 
Entertainment
The best travel cards don't have foreign transaction fees and offer niche-specific extras like travel insurance and access to airport lounges. In most cases, you have to book your travel or redeem your rewards through the lender's travel division to get top-tier benefits.
For example, the gives 5x points for travel booked through Chase Ultimate Rewards and 2x points for all other travel purchases. Chase increases your rewards by 25% when you redeem them for travel.
More From GOBankingRates
The information related to Chase was collected by GOBankingRates and has not been reviewed or provided by the issuer of this product/card. Product details may vary. Please see issuer website for current information. GOBankingRates does not receive commission for this product.