9 X1 Credit Card Benefits You Don't Want To Miss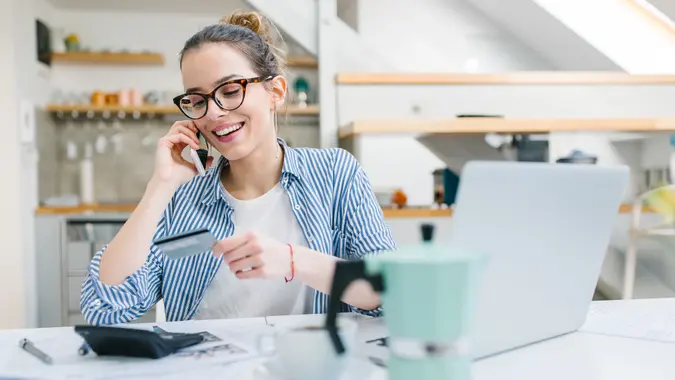 Astarot / Getty Images/iStockphoto
There's not a lot of innovation in credit cards these days, but the X1 Card claims to be different. And it does have a wide array of benefits, including some that other cards don't have.
The X1 credit card is a Visa card issued by Coastal Community Bank, so it can be used anywhere that accepts Visa — which is just about everywhere. X1 is not a bank — it is a financial technology company. This seems to have influenced the benefits the card offers since there's a lot of emphasis placed on the technology and on security.
Here's what you need to know about the X1 credit card's benefits.
1. Three Kinds of Cards in One
If you get the X1 credit card, you'll get a metal card with your account number on it. But you can also get single-use virtual account numbers that you use one time for an online purchase, and then they disappear, so no one can steal your account number. Plus, you can use your card right away — even before your metal card arrives.
There are also numbers that are specifically generated for signing up for free trials. These account numbers are automatically canceled in 24 hours, so you won't get charged for a membership or subscription if you forget to cancel after the free trial ends.
2. Points — Lots of Points
X1 credit card holders earn 2 points for every dollar they spend on any purchase. You don't have to opt in or choose categories — it's just 2 points per dollar all the time. If you spend $15,000 or more on the card in a year, you get 3 points for every dollar, retroactive to the first dollar you spent that year. Note that the year is based on your anniversary of getting the card, not on the calendar year.
You can also get a referral bonus if you invite others to apply for a card. If someone you refer is approved and activates their card, you'll get up to 10 points per dollar on all your purchases for 30 days from the time your friend activates their card. Note that it's up to 10 points because X1 calls it a "mystery reward multiplier" — you can get 4, 5 or 10 points per dollar spent. Not surprisingly, most people will get 4 or 5 points per dollar, not 10, but that's still a bonus.  
In the X1 app, you can get Boosts, which are special offers for extra points. They offer a higher number of points in certain categories for a limited time.
You can redeem your points for cash back as a statement credit, or for purchases from X1 rewards partners. Your points never expire as long as your account is active and not delinquent.
Plus, the points you earn are awarded as soon as you make the purchase. You don't need to wait for points to be awarded, or for the next statement period to redeem them.
3. Add Cardholders for More Points
You can add up to five cardholders to your account. Everyone gets their own card, with their own number, so you can keep them all straight. And every purchase on every card earns points.
This is a great benefit for married couples who share an account, or for parents with college-aged (or even older) children. Sometimes having their own credit card is a little too much responsibility for a college kid, but having their own card on a parent's account can help build credit and good credit habits. And you can set a limit on each card so kids don't overspend.
4. Your Credit Limit Is Based on Your Income
When checking whether you qualify for the X1 Card, X1 takes into account your current and future income. Your credit limit will be based on credit approval and underwriting.
Your interest rate is based on your creditworthiness and is variable. As of Nov. 3, APRs ranged from 16.50% to 27.00%.
5. No Hard Credit Pull Until You Accept
Applying for the X1 results in only a soft credit pull, which will not impact your credit score. Once your application is approved, however, X1 will do a hard credit pull when you accept the card.
6. No Annual Fee
This one speaks for itself. You don't get charged for the privilege of carrying this card in your wallet. If you don't carry a balance from month to month, you pay nothing. Nada.
7. The X1 App
Since X1 is a financial technology company, it's obvious that a lot of thought went into the app. You can get notifications of each purchase, find any transaction, dispute a charge, and request a replacement for a lost card — all in the app. It will even tell you how much interest you'll owe before you make a payment.
8. Travel Benefits
Those who have the X1 credit card get trip interruption reimbursement, an auto rental collision damage waiver benefit, and travel and emergency assistance. You also get roadside dispatch, at home or away. You're also entitled to Visa Signature concierge service to help with travel planning, reservations and more.
9. Purchase Protection Benefits
X1 credit card holders get cellphone protection, purchase security, extended warranty protection, return protection and zero-liability protection.
Takeaway

There are so many credit cards available that it's hard to know which one has the benefits you need. But if your priorities include security, cash back, and a credit line that's based on your income, not your credit score, the X1 credit card is well worth a look.
Information is accurate as of Nov. 4, 2022.
Editorial Note: This content is not provided by any entity covered in this article. Any opinions, analyses, reviews, ratings or recommendations expressed in this article are those of the author alone and have not been reviewed, approved or otherwise endorsed by any entity named in this article.