Whatever Happened to the Diners Club Card?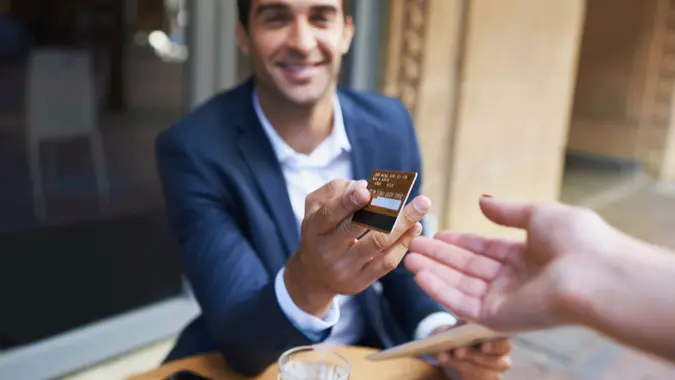 PeopleImages / Getty Images
When you approach the door of a restaurant, you often see the logos of the credit cards the establishment accepts. Visa and Mastercard typically are there. Often, the Discover and American Express logos grace the door, too. But Baby Boomers remember the prominent card that made up the fourth decal on the door, before the birth of the Discover card in 1985.
Read: The Top Things To Consider Before Applying for a New Credit Card
See: Signs That It's Time to Ditch Your Credit Card
Diners Club.
In the late 1940s, businessman Frank McNamara couldn't pay the bill at a New York City restaurant because he'd forgotten his wallet. Fortunately, his wife could cover the tab. But the embarrassing incident sparked an idea, and in February 1950, McNamara and his business partner returned to the restaurant with a cardboard card and paid the bill that way. It was the maiden voyage of the Diners Club Card, which represented the first charge card that could be used at multiple outlets and not with just one vendor or retailer.
In 1951, Diners Club reached a domestic membership of 42,000, and appeal quickly spread across the globe. By 1959, the membership of Diners Club hit 1 million. Diners Club International was sold to Citicorp in 1981, and Discover Financial Services bought it in 2008.
Still thriving in foreign countries, Diners Club was overtaken domestically by the competitors who followed in its footsteps. It's part of the evolution of the credit card industry, which took hold in the 1920s, according to the Smithsonian. The first cards actually were tokens engraved with a customer's information issued by department stores to preferred customers, who were tasked with paying the balance by month's end.
Check Out: 4 Discontinued Credit Cards That We Miss
Discover: Why an Annual Fee Card Is Worth It
While Diners Club was revolutionary, today's consumers are interested in cards that provide multiple benefits, said Christopher Morgan, a personal finance expert and founder of Credit Help Info.
"Consumers are totally better off with today's credit cards. Reward systems have been revised and upgraded to match consumer expectations and needs," he said. "Cash-back offers are now offered according to what consumers actually need, and this is why modern credit cards are so popular. There are many unique rewards available now like free shipping, price protection and free hotel nights. Some cards even offer exclusive gifts on the anniversary of the credit cards."
But with the plethora of cards, how do you choose one to best suit your needs?
More: How To Pick the Right Credit Card for Your Spending Habits
Learn: How Many Credit Cards Should You Have? And More Credit Card Questions Answered
"When looking for a modern credit card, it's important to look for a card that provides payment flexibility and a strong loyalty program offering," said Len Covello, the chief technical officer of Engage People, which develops such programs. "You want a card that participates in a loyalty network partnership that provides you with the ability to earn points quickly and easily across channels and then the flexibility to use these points for coffee, in store for groceries, or on any e-commerce site — just like any other payment option, at checkout."
Another key to look for when choosing a card is a low interest rate, which is vital if you carry your balance from month to month. If you pay off your card monthly, the interest rate isn't a key concern, so look for the best rewards to fit your lifestyle.
And just as we've evolved from the basic beginnings of Diners Club and other trendy cards, expect the credit card industry to continue to change over the next few years with technological advances. In fact, the day is coming in the United States that you won't even need to carry your card — just tap your phone at the point of sale.
Explore: How Many Credit Cards Do You Need To Get a Higher Credit Score?
Find Out: Should You Cancel a Discontinued Credit Card?
*Contactless and tap payments are rising with credit cards, minimizing the need to swipe and insert a chip when making a payment," said Julien Brault, the CEO of Hard Bacon, a Canadian personal finance management app. "This is due to the integrated technological upgrades in the credit card industry, allowing cardholders to track their transactions and cancel any pending transactions that they did not conduct. Canada has fully integrated tapping credit cards in society, whereas the United States has just integrated the chip. The chip will be phased out universally in the next few years and tap payments will be the norm."
More From GOBankingRates
Last updated: Sept. 8, 2021