Have Credit Scores Become an Outdated Way To Qualify for a Loan? An Expert Weighs In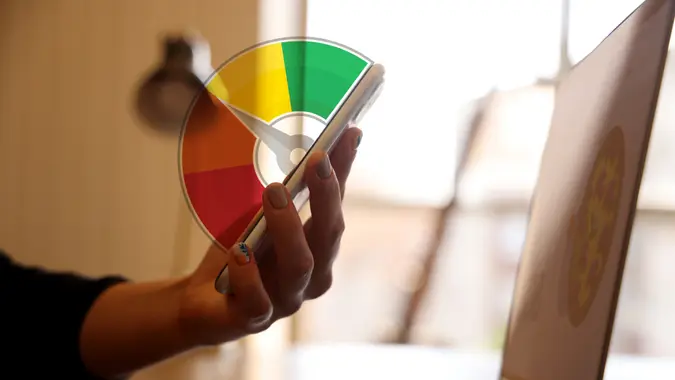 tolgart / Getty Images/iStockphoto
Whether you're looking to access a new line of credit, find housing or even land a job, credit scores have become a prominent part of the application process. In fact, CNBC indicated as of Jan. 31 that FICO scores are used in 90% of lending decisions in the U.S.
See: Record Number of Millionaires Betting Against Stock Market in 2023 — Here's Why
Find: If Your Credit Score is Under 600, Make These 3 Moves ASAP
But are they the most telling, or fair, piece of information about a person?
Not so much, said Sasha Ramani, director of strategy for fintech company MPower Financing. MPower has done away with using credit scores to evaluate a person's worthiness to borrow money.
"The MPower philosophy is that people are complicated human beings that have a lot of nuances in their life and how they interact with the financial system, so we're going to need some more information than a single number to evaluate how you will perform," Ramani said.
Founded in 2014, MPower has a mission of democratizing access to higher education and does so by offering scholarships and no-cosigner loans to students in almost every country around the world. "Education is expensive for you and me, but imagine how expensive and often unattainable it is for students from developing countries like India and Mexico," Ramani added.
He stated that MPower's executive team is made up mostly of international students and immigrants who have all "at some point struggled to access U.S. financial systems, especially U.S. credit markets."
Ramani provided a plausible example of a financing candidate — perhaps a woman from India who comes to the U.S. to study engineering at Stanford. Without a U.S. credit score or even a Social Security number, "the question becomes what do you do for somebody in that situation?" said Ramani. "In the lending industry these people tend to be called 'thin files' because they have a thin credit file. The way we look at it, though, is that there's actually a lot of data to be uncovered for these traditionally underserved populations that are better [indicators] than what does exist today in the market."
Credit Scores May Not Tell the Whole Story
Not only that, Ramani explained, but there are real institutional problems with credit scores. "We know for example that credit scores are highly correlated with race but they also inherently discriminate against immigrants and those with shorter credit history."
In 2021, Forbes reported that where credit bureaus often consider total debts owed, payment history and length of credit to determine a score, "that data may be influenced by generational wealth that many Black and Hispanic borrowers did not have equal access to." Another issue is that homeowners' mortgage payments can be a huge contributor to a credit score, whereas rental payment history has traditionally not been taken into consideration. Forbes noted a rate of Black homeownership at the end of 2020 of 44%, whereas the non-Hispanic white homeownership rate stood at 74.5%.
Because of these disparities, and due to the fact that international students don't really have credit scores, MPower has created a different set of metrics to evaluate who they will loan to.
"We issue loans based on our evaluation of the student's future earning potential," said Ramani. Their comprehensive application may include GPAs and test scores, the school they are attending and degree they are pursuing among other non-traditional data. This is done to "have a holistic estimation and forecast of how successful that student will be after graduation," he added.
So far, it seems to have paid off. "It's been tremendously successful," said Ramani, noting his company has a unique Path to Success Program to provide resources and support to clients. While he wasn't able to share proprietary information, the way MPower compares the merit of their systems is to put them up against more formal lending strategies for federal loans as well as private loans (like Sallie Mae). "We have historically outperformed both pretty dramatically. That really goes to show there is virtue and value in being able to use some of these alternatives, and I'd say better, sources of data that are available," he concluded.
Take Our Poll: Do You Have a Second Job or Backup Plan in Case You Are Laid Off?
More: Why Did My Credit Score Drop? 10 Common Reasons for a Sudden Decrease
Ramani indicated that, soon, more organizations will move beyond credit scores as well. He suggested that rent payments are starting to have a positive impact on credit scores, and cited last year's news that TransUnion, Equifax and Experian have now removed qualified medical bills from credit reports.
That's great news to Ramani, who said: "The fact that these changes are happening just shows that people are at least more aware of the challenges with [credit scores] and distilling a person down into a single number."
More From GOBankingRates