4 Hidden Consequences of Ignoring Your Credit Score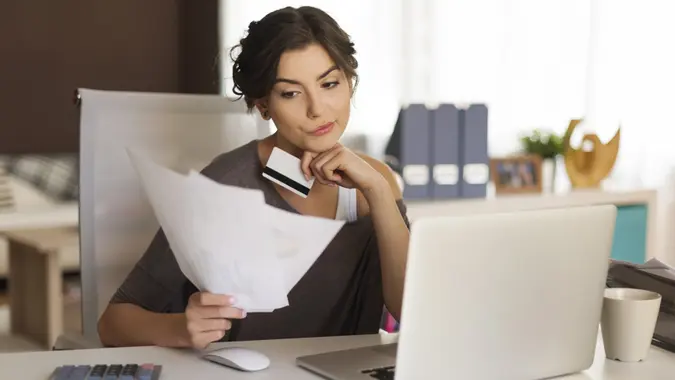 ©Shutterstock.com
When it comes to financial priorities, checking your credit score probably doesn't rank very high when there are bills to pay and budgets to maintain. But ignoring your credit score can have negative consequences you might not even be aware of.
If you don't check your score regularly, you're not alone. A recent GOBankingRates survey of 1,021 U.S. adults found that more than one-third of respondents fail to check their credit scores at least every few months. Nearly one in five (18.51%) rarely or never check their credit scores, while 10.28% only check it once a year and 5.58% only check it before a major purchase or financial decision.
Failing to check your credit score regularly means you might not be aware of negative events that limit your ability to get loans and other types of credit. You might also miss out on the chance to use credit-building tools that can build your score back up.
"You may be on the cusp of getting a lower interest rate or better credit card or loan terms," said Erik Beguin, founder and CEO of Austin Capital Bank, which offers a suite of credit-building products through its CreditStrong division, including its popular CreditStrong Revolv tool.
Even if you don't check your credit score regularly, you can be sure that plenty of others do — and it's not just the usual suspects such as lenders and creditors, either. The list might also include your landlord and even your employer.
The main function of a credit score is to let lenders and creditors know your creditworthiness. The two main credit scores are the FICO score and the VantageScore, though the FICO score is the preferred choice of most vendors. Here's a quick look at how FICO scores break down, from best to worst:
800 or higher: Exceptional
740-799: Very good
670-739: Good
580-669: Fair
579 or lower: Poor
The higher the score, the better your chances of being approved for a loan — and for getting favorable loan terms. Your chances of getting approved fall dramatically for scores below 670.
FICO lists five factors that contribute to your credit score, each of which is weighted differently:
Payment history: 35%
Amounts owed: 30%
Length of credit history: 15%
New credit: 10%
Credit mix: 10%
It's a good idea to check your credit score every so often even if you're not actively looking for a loan. An unexpected drop in your score could indicate possible fraud or a mistake on your credit report. Regular credit score monitoring can help you catch and correct these issues before they have a chance to worsen.
Here are four hidden consequences of ignoring your credit score.
Your Score Might be Hurt by Incomplete or Inaccurate Information
It's not uncommon for your credit history to have incomplete or inaccurate information — both of which can ding your score through no fault of your own. By not checking your score, you'll miss out on the opportunity to dispute information with the credit bureau that furnished the report. The three major credit bureaus are Equifax, Experian and TransUnion.
If you do see negative or inaccurate items on your credit report, you should contact each of the credit bureaus, according to Rohit Arora, co-founder and CEO of Biz2Credit, an online small business financing platform.
"Be prepared to submit proof of your payments and request that the information be corrected," Arora told GOBankingRates.
You Are More Vulnerable to Fraud
One of the biggest risks of not checking your credit score is that you won't see fraudulent activity that not only lowers your score but could also threaten your financial security.
"You may be the victim of identity theft and never know it," said Beguin.
Checking your credit score means you can spot suspicious activity and report it to a credit bureau.
You Won't Know About Hard Inquiries
Hard inquiries occur when a potential lender reviews your credit history to determine whether it will approve you for a new account. They typically happen after you apply for credit, whether it's an auto loan, student loan, credit card or mortgage. Each inquiry has the potential to lower your score.
You'll Miss Out on Chances to Improve Your Score
Your credit score will follow you around the rest of your life and determine who you get loans with, and at what terms. Without checking your score regularly, you won't know whether it needs to be improved and which specific areas you need to improve on.
If you check your score and find that its lower than you'd like, you can build it back up by focusing on the FICO score factors. You can choose to go about it on your own, or you may want to use a credit-building tool. How do they work? CreditStrong's Revolv, for example, is basically a savings account in which your regular deposits get reported to the major credit bureaus as on-time credit payments. (Remember, payment history tops the list of credit score factors.) Over time, CreditStrong may also increase your "credit limit," effectively lowering your credit utilization ratio — the amount of available credit you're using.
However you go about boosting your credit score, you'll likely find that those increases lead to better rates, more credit opportunities and a stronger overall financial picture.
More From GOBankingRates