How Long Does It Take To Raise Your Credit Score From 500 to 700?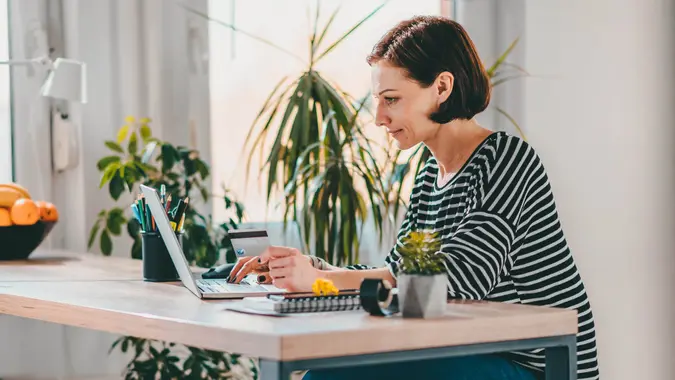 Kerkez / Getty Images/iStockphoto
A 500 credit score usually means that a consumer has struggled with credit, perhaps missing multiple payments, defaulting on loans or claiming bankruptcy, according to Experian. Recovering from those hardships takes time, but the right strategy could raise your score to 700 within 18 months.
See: Pocket an Extra $400 a Month With This Simple Hack
How Bad Is a 500 Credit Score?
FICO credit scores, which are the scores used by most creditors, and VantageScores both range from 300 to 850. That long span is divided into several ranges of scores, each of which is labeled according to how good or bad scores in that range are. Under both scoring models, a 500 credit score is in the lowest category. FICO calls it "very poor" and VantageScore calls it "subprime."
A 700 credit score can seem out of reach when you're starting at 500, but it's not an all-or-nothing process. You'll pull yourself out of the "very poor" or "subprime" category long before your score reaches 700. With FICO, a 580 is "fair," and with VantageScore, a 601 score is "near prime." Setting your sights there first will help you build the momentum you need for the final push to 700.
How Is a Credit Score Calculated?
Credit scoring models look at several categories of credit management and assign each a value according to the impact it has on your score. FICO, for example, uses the following categories and values:
Payment history: 35% of your score
Amounts owed: 30% of your score
Length of credit history: 15% of your score
New credit: 10% of your score
Credit mix: 10% of your score
While VantageScore categorizes these factors differently and assigns them different values, making improvements in the FICO categories will improve your VantageScore as well.
What To Do If You Have a 500 Credit Score
A 500 credit score can be frustrating, but you can recover from it and go on to achieve a score of 700 or higher. Here are some ideas to help you get there.
Review Your Credit Report
Credit report errors can harm your score, especially if they involve erroneous account information, such as accounts that aren't yours or that are current but being reported as past due. You can get a free credit report at AnnualCreditReport.com and review it for mistakes.
In the event you find some, you can dispute them with each bureau that includes it on your report. The Consumer Financial Protection Bureau has a useful guide for reporting errors. It includes links to the bureaus and sample forms you can use to prepare your disputes.
It's also a good idea to contact the creditors that are reporting the erroneous information. The CFPB guide has instructions plus a sample letter to help you compose your own.
Correcting damaging errors is one of the fastest ways to improve your credit. The bureaus only have 30 to 45 days to investigate error disputes. Your score could improve within days of the correction.
Be an Authorized User
If you have a friend or family member whose credit card issuer reports the credit activity of authorized users on the account, ask them to sign you up — assuming they have good credit and pay their bill on time. Being an authorized user lets you benefit from the other individual's positive credit history and can raise your own score.
Catch Up on Late Payments
Late payments are devastating to your credit score because payment history is the most important factor scoring models consider. Although how much your score drops depends on how high it was to begin with — higher scores see bigger drops — it can take about 1.5 years after you get your account current before your credit score fully recovers, according to VantageScore. However, you'll see improvement sooner than that because the impact of late payments lessens over time.
Paying off collections can also help your score. Some FICO score versions disregard paid-off collection accounts entirely.
Resist the urge to cancel your cards once you've caught up on the payments. The longer you've had your accounts, the more they help your score.
Make On-Time Bill Payments
Making your payments on time is the best way to improve your credit score. That's easier said than done if your bank balance comes up short now and then, but there are ways to help ensure that the cash is there when you need it, and that it gets to your creditors on time.
Budget debt payments. From each paycheck, set aside what you need to pay for necessities like food, housing, utilities, medical care and transportation to and from work. Then put aside the funds for debt payments. A budgeting app can make this process easier.
Get a side hustle if your paycheck doesn't cover at least your minimum payments due.
Schedule payments from your checking account.
Set reminders on your banking app.
Use Your Credit Cards Strategically
Credit utilization — the amount of your total available credit that you've used — makes up 30% of your score. Using all of your credit cards while keeping your utilization to 10% of your total available credit — and staying within 10% on each card — maximizes the number of credit score points you can earn for the "amounts owed" category.
Pay Down Debt
Reducing your debt increases your available credit, which boosts your credit score. It also makes your debt more manageable so you're less likely to miss payments or max out your credit cards.
If you're having trouble getting a handle on your debt, consider asking a nonprofit credit counseling agency for help. One of many services credit counselors provide is to create a debt management plan that can reduce your interest and lower your payment amount to help you pay the debts off faster.
Get a Credit Builder Loan
A credit builder loan is a type of bad-credit loan that opens an account in your name and reports your payments to the credit bureaus. Some credit builder loans, or even some credit cards, are secured by a deposit you make when you open the account. Your credit line is generally the amount of your deposit.
Other credit builder loans help you build savings by advancing your "payments" toward a loan into a savings account you can access once you've paid off the loan. CreditStrong offers three varieties of this type of product. One is a revolving account and the others are installment loans — one of which adds up to a $25,000 loan to your credit history.
Credit builder loans tackle low credit scores from multiple angles — they can improve your credit mix, plus they add payments to your credit history, decrease your credit utilization ratio by increasing your available credit — and in the case of CreditStrong's loans, help you build savings while you work toward that 700 credit score. Fees can be steep, but if you stand to save money by increasing your credit score faster, they could be well worth the cost.
Get Credit for Rent and Utility Payments
If creditors have canceled your credit cards because of missed payments, you might not have payments being reported to credit bureaus. Without those payments — 35% of your score — it'll be difficult, if not impossible, to reach a 700 score. One way around that is to get your rent and utility payments added to your credit report. Again, you'll pay a fee, but the costs could save you money in the long run.
Self is one company that gets any combination of rent, cellphone and utility bills added to your credit report. However, check with your landlord before you pay to have rent added — they might already subscribe to a service that will allow you to add your rent for free.
How Fast Can My Credit Score Go Up?
You can start to see improvement very quickly once you've taken steps to improve your credit score. A white paper by VantageScore found that consumers with a starting score of 300 to 500 who improved their score over a three-month period did so by an average of 26 points. The average increase was 44 points after 12 months. But you don't have to wait that long to see a difference. Activities like paying off a collection account or adding to your available credit can give your score a small lift in 30 days or less.
Our in-house research team and on-site financial experts work together to create content that's accurate, impartial, and up to date. We fact-check every single statistic, quote and fact using trusted primary resources to make sure the information we provide is correct. You can learn more about GOBankingRates' processes and standards in our editorial policy.