Where Can I Borrow Money ASAP?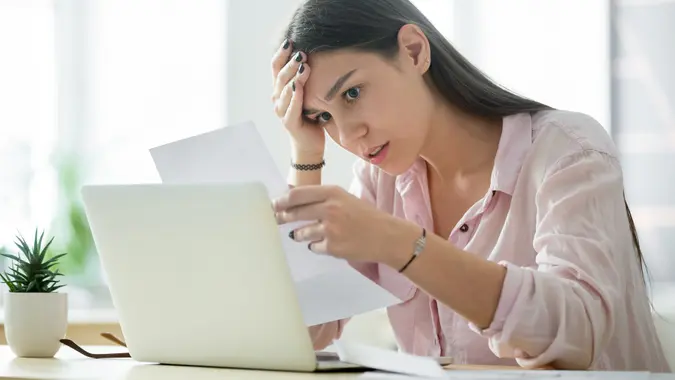 fizkes / iStock.com
Once upon a time, the average expense for an emergency was about $400. Nowadays, the average consumer emergency expense is over three times that amount at $1,400. Unfortunately, many American consumers live paycheck to paycheck and don't have extra cash set aside, which leaves them reeling financially when an emergency occurs. 
You need options when you find yourself asking "Where can I borrow money ASAP?" Keep reading to learn more.
7 Ways To Borrow Money ASAP
Here are seven options for borrowing money quickly. However, before taking a loan or a cash advance, take the time to understand the potentially high fees and interest you'll pay, as well as other risks. 
1. Credit Card Advance
Lending and consumer finance expert Kyle Enright, president of Achieve Lending said that a credit card advance is generally not recommended, as interest rates for cash advances are so high. "However, for some people and some situations, it may provide an option if they have a careful program designed to pay off the debt quickly — ideally at the end of the month," he said.
Getting a credit card cash advance is something you can do from an ATM, but you'll pay for the convenience. To give you an idea, typical cash advance fees are the greater of 5% or $10. If you took a cash advance of $500 and your credit card had a cash advance APR of 24%, you would pay $59.40 in interest charges plus the cash advance fee of $25 if it took you six months to pay back the balance.
2. Personal Loan
Personal loan interest rates will be lower than those attached to credit cards, with the best rates going to those with the best credit scores. "The loan will come with a set payment schedule, a limited term of payment and no risk of adding to the balance with additional charges," said Enright. "Depending on the lender, funding can take place in just a few days."
Independent lenders often use less strict criteria than banks or credit unions. If you have a lower credit score, you might want to apply through an independent lender. 
3. Friend or Relative
A loan from a friend or family member comes with a good interest rate and no credit check. But you will want to prioritize payments to avoid putting strain on the relationship. It is smart to put this agreement in writing so both parties are clear on expectations.
4. Home Equity
How fast you can get a home equity loan will vary on the lender so before going this route, you should take the time to call and find out the details "Though it can be risky and requires enough equity in one's home, homeowners who qualify may be able to obtain funds through a home equity loan or home equity line of credit," Enright said.
One thing to keep in mind is that home equity loans often have fixed interest rates while home equity line of credit rates are often variable.
5. Vehicle Title Loan
If you need to borrow money ASAP, a vehicle title loan might be an option. "It may be possible to take a loan on a vehicle with a clear title," said Enright. "Rates can be extremely high and terms can be strict. You risk losing the vehicle if you miss a payment."
According to Lending Tree, the average title loan charges $1,200 in fees for a $1,000 loan. If you opt for this type of loan, it is typically short-term — from 15-30 days — but some states might allow longer terms. You can expect to get a loan that is equal to 25% to 50% of your vehicle's value. 
6. Retirement Account
Typically retirement account funds are saved for you to use later in life. But if you are in a pinch and need to borrow money, you can tap into the funds.
Different employers have different rules for 401(k) withdrawals and loans. You might qualify for a hardship withdrawal from your 401(k) if you need the money for things like medical or funeral expenses, tuition costs or to prevent foreclosure or eviction. However, you can also take a loan from your 401(k).
The difference between withdrawals and loans is that a hardship withdrawal permanently removes 401(k) funds from your account and is usually taxed as ordinary income and often includes a 10% early withdrawal penalty if you're under age 59.5. A 401(k) loan allows you to borrow money and pay it back over time with interest.
7. Life Insurance Policy
Your life insurance policy might let you borrow funds if you need them. "While there's no requirement to pay it back, the amount will be deducted from whatever goes to beneficiaries," said Enright. 
You have to have a whole or universal life insurance policy to borrow from it. Term life insurance policies do not have a cash value component. You might wonder whether borrowing cash from your life insurance is a good idea. Speak to the agent or a representative of the company who sold you your policy to understand what impact it will have. 
Borrowing Money ASAP: Other Options

If you're in a tight spot and are finding yourself asking where you can borrow $50 instantly or if you can borrow $200 from Cash App, you're in luck. There are plenty of cash advance apps, and some will allow you to borrow money on the spot.

But these are short-term loans for small amounts of money that require you to pay the amounts back with possible fees, on your next payday. Before taking out a loan, make sure you read all the fine print to understand what you are getting into. 
Final Take
Sometimes, it's necessary to borrow money instantly, but it's important to consider any interest, fees and other risks involved. For example, vehicle title loans should be avoided due to their short term and exorbitant fees. If you're considering a personal loan, shop around for the best rate and compare any fees between lenders. The fees and interest for a credit card cash advance can add up, so don't take this option unless you have a solid plan for paying it back quickly.
The bottom line is to find the best, cheapest option with the least risk to your personal property when borrowing money ASAP. 
Our in-house research team and on-site financial experts work together to create content that's accurate, impartial, and up to date. We fact-check every single statistic, quote and fact using trusted primary resources to make sure the information we provide is correct. You can learn more about GOBankingRates' processes and standards in our editorial policy.