How to Get Your Free Credit Score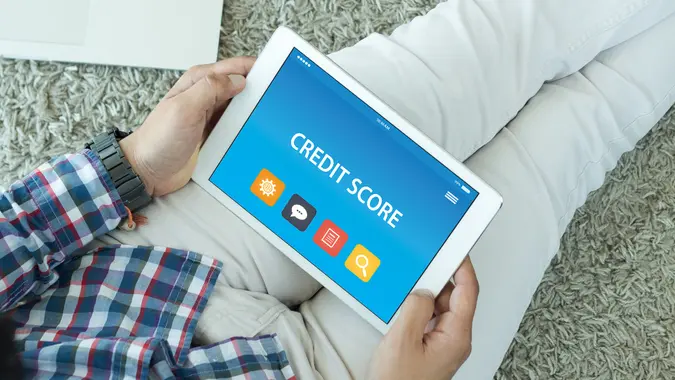 ©Shutterstock.com
When you fill out an application to borrow money, lenders ask to see your credit score — a numerical indication of the likelihood that you will pay back the money you borrow. Your credit score also influences what interest rate you will be offered.
To find out how lenders view you, you can initiate a free credit score check to find out whether you're seen as a high- or low-risk borrower. Additionally, monitoring your credit score can also help you can stave off identity theft by alerting you to credit problems caused by unauthorized individuals. Here's what you need to know about getting your free credit score.
Steps to Getting a Free Credit Score
Regardless of the path you take — with the possible exception of visiting a credit counselor — the steps to getting a free credit score are essentially the same:
Sign up for an account with the free credit score provider. You'll typically need this step even if you're already a customer of the bank or service providing the score.
Enter the required information, which will usually include your date of birth and Social Security number, to verify your identity.
Review your score and any additional information provided.
Not all credit scores are the same. Check to see which score your vendor is providing so you can make accurate comparisons. Also, read the fine print to ensure that the service you're signing up for is totally free — some services might require you to sign up for a subscription after a free trial.
Learn More: FICO Score vs. Credit Score — What the Difference Means for You
Where to Check Your Credit Score for Free
You can pay the Fair Isaac Corporation $19.95 each time you want to view your credit score from one of the three major credit bureaus — Experian, TransUnion and Equifax. You can get your score for free, however, without having to go to the credit reporting agencies. Here are six options for where to check your credit score for free:
GOFreeCredit Website
Sign up for a seven-day trial of the subscription-based credit monitoring service from GOFreeCredit and you'll receive your free TransUnion credit score and a $1 credit report. After your trial period ends, you'll be billed $19.95 per month and receive monitoring and alerts from TransUnion, Experian and Equifax.
Discover Bank Website
Even if you're not a Discover Bank customer, you can get your free FICO score from the bank's website. In addition to your true FICO score, Discover will provide you with information on your recent credit inquiries, your revolving credit utilization and whether you've missed any recent payments on the bank's credit scorecard.
CreditWise From Capital One
Not to be outdone, Capital One offers its one free credit score service known as CreditWise. As with Discover, the Capital One offering is free to all, even non-customers. You'll have to sign up on the bank's website to create a CreditWise account, but you don't have to open a credit card account with Capital One. One difference with the Capital One product is that you'll be provided with your VantageScore 3.0 from credit bureau TransUnion, rather than a FICO score as with Discover.
Banks
Discover and Capital One aren't the only banks offering free credit scores, although you'll typically have to be a bank customer to get one. JPMorgan Chase offers customers access to its Credit Journey service, which requires a separate enrollment. As with Capital One, the credit score provided by JPMorgan Chase is the VantageScore 3.0 from TransUnion.
Find Out: Does Opening a Savings Account Affect My Credit Score?
Online Credit Monitoring Sites
Sites such as Credit Sesame and Credit Karma provide information from your credit report, including your credit score, if you open an account and provide personal information. These sites provide your Vantage Score 3.0 rather than a FICO score.
Credit Counselors
The Consumer Financial Protection Bureau suggests visiting a credit counselor to get a free credit score. Visiting a HUD-approved housing counselor or a nonprofit credit counselor is a good way to review your credit and can often be an avenue to getting a free credit report and score.
Up Next: 6 Credit Report Red Flags You Don't See — But Your Lender Does
Editorial Note: This content is not provided by Chase. Any opinions, analyses, reviews, ratings or recommendations expressed in this article are those of the author alone and have not been reviewed, approved or otherwise endorsed by Chase.