What Are Patriot Bonds?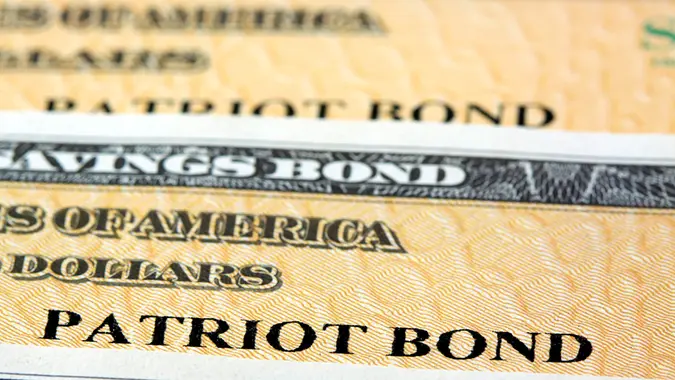 larry1235 / Shutterstock.com
A Patriot Bond is a physical Series EE savings bond that was created in direct response to the Sept. 11 terrorist attacks. All regular Series EE savings bond rules and regulations apply to Patriot Bonds, which simply have "Patriot Bond" printed on the top half of the certificate. You can consider these types of bonds to be Patriot Bond Series EE bonds.
What Is A Patriot Bond And How Does It Work?
Patriot Bonds, which were sold from December 2001 to December 2011, are paper EE bonds that offered Americans a way to support their nation's anti-terrorism efforts. Proceeds from Patriot Bond sales were deposited into a general fund that was used for anti-terrorism purposes.
Beyond that distinction, Patriot Bonds function just like Series EE savings bonds. Interest is added to the bonds every month and compounded semiannually. Interest is taxable at the federal level but not at the state or local level. However, you can avoid federal tax as well if you use the bond money to pay for certain qualifying educational expenses. 
What Is the Interest Rate on Patriot Bonds?
The interest rate on Patriot Bonds varies depending on when they were issued. The U.S. Treasury determines the rate for all Series EE bonds, including Patriot Bonds, twice a year: on May 1 and Nov. 1. Whichever fixed rate of interest is assigned applies to all bonds issued during the following six-month period. Bonds issued on Nov. 1, 2011, for example, paid a rate of 0.60%. Those issued on May 1, 2006, earned a rate of 3.70%. 
How Much Is a $50 Patriot Bond Worth?
Patriot Bonds, as with all Series EE bonds, were issued at one-half their face value. So, if you bought a $100 face-value Patriot Bond, you would pay $50 at the time of issue. Interest on Patriot Bonds is paid semiannually but they carry a guarantee that they will at least double in value in 20 years. If the paid interest rate isn't enough to hit that target, the U.S. Treasury will make a one-time adjustment on the 20th anniversary to reach it. Over time, your Patriot Bond value will increase as it moves toward maturity.
How Do I Cash a Patriot Bond?
Patriot Bonds are cashed in under the same terms as any Series EE bond. You can't redeem the bond within the first 12 months after purchase. If you cash in the bond within the first five years, you'll lose the last three months of interest. For example, if you cash in your bond after owning it for 36 months, you'll only earn 33 months of interest. After holding the bond for at least five years, the penalty disappears and you're entitled to the full amount of interest earned. 
The easiest way to cash in a Patriot Bond, and the fastest way to receive your money, is to visit your local bank or credit union. You'll need to provide proof of identity to cash in your bond. 
In the event you can't find a financial institution to cash your Patriot Bond, you can follow these steps to get your money: 
Send the U.S. Treasury a signed FS Form 1522

Get your signature certified

Mail the unsigned bonds with the completed form to the address on the form

Can I Cash a Patriot Bond That Has Been Stolen, Lost or Destroyed?
Even if you no longer have your Patriot Bond in your possession, you might still be able to cash it in. If you have the bond serial number, you can complete FS Form 1048. If you don't have the bond serial number, you'll need the following: 
The month and year of your purchase

Your complete name as it appears on the bond

Your street address, including city and state

The Taxpayer Identification Number or Social Security number that appears on the bond
Each Patriot Bond is registered to a specific owner, so this information should be sufficient to redeem your bond.
How Long Does It Take for a Patriot Bond to Mature?
Because Patriot Bonds are fundamentally Series EE bonds, they mature in 30 years. Buyers do have the option to cash them in before they mature, however, as outlined above.