3 Most Crypto-Friendly States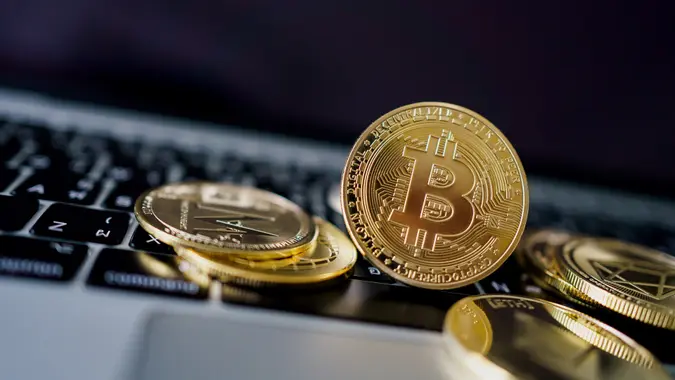 Phira Phonruewiangphing / iStock.com
The laws and regulations around cryptocurrency are ever-evolving, as is common with any industry in its nascent stages. But while most of these regulations at the federal level tend to generally constrain the space, some states have adopted an opposite approach.
"Given the tough regulatory measures taken against crypto of late, I think people tend to forget that there's a lot of positive momentum happening at the state level in terms of helping to foster growth in this emerging technology," said Dan Nissanoff, CEO and founder of Game of Silks.
Indeed, a few states have emerged as being very crypto-friendly. While their reasons and methods of deploying openness toward the space may vary, it all stems from one core principle: the belief in the industry's potential and future.
"There's a number of other pro-crypto states, including Florida, Tennessee and Colorado," said Nihar Neelakanti, CEO and co-founder of Ecosapiens. "But Wyoming and Texas seem to be the trailblazers at the moment, spearheading new and innovative legislation that other states seem to be adopting."
Here is a closer look at three of the most crypto-friendly states in America so far.
Wyoming
Wyoming has been making crypto efforts on several fronts. As Neelakanti explained, Wyoming does not have a state income tax, "so you're already relatively better off in terms of capital gains taxes, or relative lack thereof, if you're a crypto trader."
Beyond this, the state has passed laws, or is in the process of passing laws, that create propitious havens not just for investors in the industry — but also founders.
"Wyoming has led the way in creating a regulatory framework for DAOs (decentralized autonomous organizations), for example, and it also features laws when it comes to trusts and protecting privacy. Wyoming also features specific rules and regulations that make it easier to bank both crypto companies and crypto investors," he said.
David Pope CPA, CGMA, and co-founder of The Wyoming Blockchain Coalition, said that Wyoming — rated seventh in the world and number one in the U.S., according to CoinDesk — has come a long way.
"We accomplished this by viewing crypto and blockchain not as something to limit and control, but as something to nurture with a combination of definitional certainty, appropriate guardrails and incentives," said Pope.
"Along the way, we created a new type of bank — the Special Purpose Depository Institution — SPDI (and are helping in the fight with the Federal Reserve to get them recognized), legislatively defined consumer tokens, created the DAO LLC, provided the ability to register digital assets in Wyoming to help them be subject to Wyoming law, and passed the Wyoming Stable Token Act (which is a breathtaking piece of legislation that directs the State to create its own 100% collateralized stable token)," he added.
Overall, he said there have been more than 30 pieces of enabling legislation passed in just five years. "This, along with our favorable tax and business atmosphere — number one in the US per The Tax Foundation — has led us to become the preferred state for organizing a blockchain based business," he added.
Texas
Texas is also high on the list of most friendly crypto states. Lee Bratcher, founder and president of the Texas Blockchain Council, explained that the state has a history of creating an environment that is conducive to innovation and economic growth.
"We are working to ensure that this trend continues as Texas becomes a global leader in bitcoin, blockchain and digital assets," said Bratcher. "Through the efforts of the Texas Blockchain Council and our allies in the Texas Senate and House of Representatives, we have passed several pieces of legislation that put Texas at the front of the pack when it comes to an appropriate regulatory environment that allows builders to build."
For example, Bratcher explained that bill HN 4474 now recognizes virtual currency and establishes an avenue to perfect one's security interests in digital assets through possession of the private keys.
Meanwhile, HB 1576 created a blockchain working group; while HB 591 is a flare gas mitigation bill that allows bitcoin miners to use formerly flared gas and redirect it to a generator to power bitcoin miners. Finally, HB 1666 is a bill that requires exchanges to provide proof of reserves attestations to the Texas Department of Banking.
Florida
Miami has become a crypto hotspot in recent years, attracting entrepreneurs and a slew of crypto-related conferences that have generated a lot of buzz. Florida also does not have a state income tax.
In addition, the state has "gone out of its way to attract investment and activity from the crypto industry," according to Thomas Hogan, economist at American Institute for Economic Research.
What's more, Miami Mayor Francis Suarez, aka the "Bitcoin Mayor," is a strong proponent of the asset and even put Satoshi Nakamoto's Bitcoin whitepaper on the city's website. Suarez also continues to take his salary in Bitcoin.
"The city of Miami believes in Bitcoin. and I'm working day and night to turn Miami into a hub for crypto innovation. Proud to say Miami is the first municipal government to host Satoshi's White Paper on government site," Suarez tweeted in January 2021.
"But more than this, the governor of the state has taken an explicit stand in opposition to central bank digital currencies, or CBDCs," said Nissanoff.
Indeed, Governor DeSantis passed a bill in May that "prohibits the use of a federally adopted central bank digital currency (CBDC) by excluding it from the definition of money within Florida's Uniform Commercial Code." The bill also "prohibits foreign-issued CBDC to protect consumers against globalist efforts to adopt a worldwide digital currency," according to the text of the bill.
According to Nissanoff, whatever your politics are, this stance also appears to be beneficial to holders, users and innovators of the crypto landscape.
"That's not to say that CBDCs and crypto are necessarily mutually exclusive, but this stance against CBDCs falls in line with other efforts taken by the state to encourage the use of open-source, permissionless blockchains," he said.
In short, it aims to ensure the freedom to transact, especially if we enter a world in which federal authorities try to prohibit the use of cash and privacy as we know it.
More From GOBankingRates