11 Affordable Places to Own Your Dream Secluded Cabin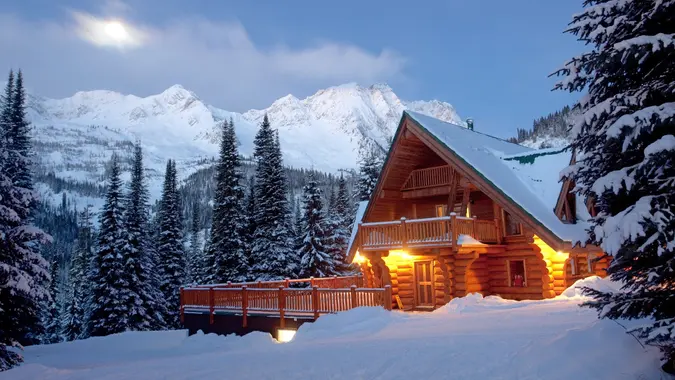 ImagineGolf / iStock.com
The allure of owning a secluded cabin, nestled in nature's lap, where the bustle of the city is just a faint memory, is a widespread aspiration. Fortunately, this dream is more attainable than you might think.
1. Smoky Mountains, Tennessee
The Smoky Mountains are a haven for those seeking tranquility. Gatlinburg and surrounding areas offer affordable cabins with stunning mountain views, all within reach of the Great Smoky Mountains National Park.
2. Adirondacks, New York
New York's well-kept secret, the Adirondacks region, has thousands of lakes and forest acres. The area has a range of cabin properties that are both secluded and affordable, especially when you venture away from Lake Placid.
3. Pocono Mountains, Pennsylvania
The Poconos are known for their natural scenic beauty and outdoor activities. Here you can find a secluded cabin without breaking the bank, especially in the off-peak seasons.
4. Upper Peninsula, Michigan
Michigan's Upper Peninsula is a hidden gem with dense forests and lakeshores, offering solitude at a great price. It's an ideal spot for a cabin, with long winters perfect for cozy retreats.
5. Ozarks, Arkansas
The Ozarks provide a rustic escape with the allure of the mountains and affordability. Arkansas's lower cost of living translates into more cabin for your money.
6. Blue Ridge, Georgia
The Blue Ridge area of Georgia offers the beauty of the Appalachian Mountains and a range of affordable cabins, from rustic to modern. This region also has a strong rental market, making it a smart investment.
7. Big Bear Lake, California
While California might not come to mind for affordability, Big Bear Lake defies expectations with reasonably priced cabins. This area is especially attractive for those seeking a weekend escape from Los Angeles or San Diego.
8. Green Mountains, Vermont
For a cabin with a New England feel, Vermont's Green Mountains offer affordability amidst a landscape of rolling hills and forests, especially in the less-traveled northern regions.
9. Black Hills, South Dakota
The Black Hills are not only rich in history, but also in affordable real estate. Secluded cabins here often come with significant acreage, perfect for those seeking privacy.
10. Sierra Nevada, California/Nevada
The areas around the Sierra Nevada, particularly on the Nevada side, have cabins that offer seclusion without the steep price tag you'd find in California's more famous destinations.
11. White Mountains, New Hampshire
New Hampshire's White Mountains offer a serene retreat, and the state's tax-friendly policies make cabin ownership here both affordable and economically smart.
What Makes These Areas Affordable?
Lower Demand: These areas are often overlooked due to more famous nearby locations.
Rural Settings: Land and property taxes tend to be lower outside of urban areas.
Local Economies: Regions with lower costs of living generally have more affordable real estate prices.
Seasonality: Many of these areas have off-peak seasons, which can affect property prices.
Tips for Buying a Secluded Cabin:
Consider Accessibility: Ensure that your cabin is accessible year-round if you plan to use it or rent it out frequently.
Check Zoning and Regulations: Some areas have strict rules about land use, so do your homework before you buy.
Evaluate Utilities and Amenities: Some secluded cabins may not have easy access to utilities like water and electricity, or internet connectivity.
Inspection and Insurance: A thorough inspection is crucial, and insurance might be higher for remote properties.
Owning a secluded cabin doesn't have to remain a fantasy for the wealthy. These 11 affordable places offer the charm and peace of a private retreat without an extravagant price tag. Whether it's for a vacation home, a rental property, or a permanent residence, a cabin in any of these locations could be the perfect investment for your lifestyle and your wallet.
Editor's note: This article was produced via automated technology and then fine-tuned and verified for accuracy by a member of GOBankingRates' editorial team.
More From GOBankingRates