14% of Americans Don't Believe They'll Ever Be Able To Buy a Home: Why Real Estate Experts Disagree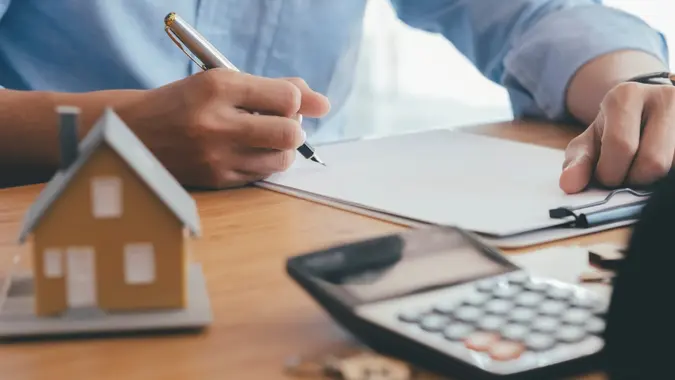 ijeab / Getty Images/iStockphoto
With soaring inflation and aggressive interest rate hikes, many Americans believe that they'll never be able to buy a home. While buying property used to be a normal step in adulthood, with prices going through the roof, becoming a homeowner seems out of reach for some. We've witnessed unprecedented housing price increases in the last few years, which has left many skeptical that they could ever get into the real estate market. 
While many people feel they won't ever be able to afford a home, the good news is that we heard from real estate experts who disagreed.
The Lack of Hope in Homebuying
According to a survey conducted by GOBankingRates, where more than 1,000 Americans were used in the sample, 14% stated they don't believe they will ever be able to afford a home. In comparison, an astounding 27% shared that they have no interest in buying a home.
Key Highlights From the Survey 
Here are some of the notable highlights from the survey on saving up for a home:
Only 8% of all respondents believed they could save for their first home within six months. 
Of the 14% who believe they'll never be able to buy a home, 20% of respondents were in the 55 to 64 age group.
For those who want to buy a new home only, 19% believed they would never be able to afford a home. 
Regarding sex, 16% of male respondents felt they could buy a home within two to three years, while 12% of females responded that they would be able to buy a home within four to five years. 
About 10% of respondents in the 25 to 35 age bracket felt they could never afford a home.
This survey indicates that many Americans aren't optimistic about becoming a homeowner in the near future or possibly in their lifetime. The good news is that we spoke with financial experts who believe that getting into the real estate market is more realistic than many think. 
Why Real Estate Experts Believe That You Will Be Able To Buy Property
Many young people make the mistake of looking at what their parents have accumulated and feeling that reaching a similar status would be impossible. We have to remember that previous generations built up their wealth over time, and it certainly didn't happen overnight. The real estate experts we spoke with disagreed that you could never afford a home. Despite the combination of low inventory and high rates that have kept prices elevated, there are still opportunities for getting into the market. You may not be able to afford the home that you desire initially, but you can find a way in.
Why do the experts believe that you can buy a property even if you don't think you can afford it? 
House Hacking Can Help You Enter the Market 
"If you're ambitious, you can house hack," said Dan from Landlord Horror Stories. "This is where you buy a small multi-family property and live in one unit. While renting the other unit out. This rental income will significantly lower what you pay each month."
Aja McClanahan, a financial writer and real estate agent from Space Coast Move HQ, commented: "House hacking can offset your mortgage payments by renting out rooms or units in your property."
The basic premise here is that you purchase a property and have assistance from tenants with paying the mortgage. This is especially beneficial if you feel you can't afford the mortgage payments because you don't have a substantial enough down payment to qualify for the home loan. While you'll have to put up with roommates, the trade-off is that you can enter the market sooner, and becoming a homeowner doesn't have to be out of the realm of possibility. 
This option is ideal for people of all ages concerned about real estate prices. If you're willing to start with house hacking, you could become a homeowner and start building your equity while having assistance from roommates with your housing expenses. 
You Can Get Creative About Homeownership
"My recommendation would be to get creative," Dan said. "Identify the neighborhood you want to live in and send mailers out. Something simple about you and why you'd love to live in the neighborhood. You might need to compromise on the location. It might not be walkable to the trendy downtown area."
McClanahan added, "Buying a home doesn't have to be out of reach. If you do some research and planning, you might be surprised to find out that there are many options to make homeownership more attainable. This can include low-to-no down payment loans, down payment assistance programs, and even house hacking." 
She then expressed additional options for getting into the real estate market. "Other strategies might include buying slightly distressed properties and fixing them up with affordable renovation loans."
The good news here is that there are many ways to enter the real estate market so that you can start building equity. The trick is to make that first move to get your foot in the door. 
You Can Live in a Low-Cost-of-Living Area
"Choosing to live in low-cost-of-living (LCOL) areas is another excellent way to make homeownership more affordable," McClanahan said. She is a huge proponent of this option, as she moved her family back to a low-income neighborhood outside of Chicago to save money. While living in this community, she listed her place on Airbnb and made a profit. Her family's sacrifices during this time allowed them to pay down debt and build up savings. While they didn't live in their dream community, they made the most out of the situation. 
Homeownership may seem out of reach when looking at expensive listings. Still, it's important to remember that you have many options for entering the market, and there are many markets around the country. Your time spent in this community doesn't have to be permanent. You can relocate for some time as you become a homeowner and build equity. Then when you have enough equity in real estate, you can move to a different part of the country. 
Closing Thoughts
The key takeaway from the real estate experts here is that you have options available if you want to become a homeowner. You may have to sacrifice the location, or you may have to put in some additional effort, but you shouldn't feel like becoming a homeowner is impossible. You can start with house hacking or purchasing a property in an upcoming community. Buying your first property doesn't have to feel like an impossible task.
Methodology: GOBankingRates surveyed 1,091 Americans aged 18 and older from across the country between August 14 and August 16, 2023, asking twenty different questions: (1) Have you had trouble paying your utility (gas, electric, heat, internet, etc.) bills in the last 6-12 months?; (2) Which of the following bills/expenses has been the hardest to keep up with over the past year?; (3) Have you bought a car/truck in the last 6-12 months?; (4) Have you ever been on food stamps?; (5) Have you or would you use artificial intelligence (AI) to earn a passive income?; (6) Where do you shop for the best deals on groceries?; (7) What is your current annual income?; (8) How much were you able to contribute to your savings this year?; (9) How much have your savings/investments decreased over the past year?; (10) Next year's (2024) Social Security Cost of Living Adjustment (COLA) will be 3% instead of the 8.7% it saw in 2023. Will this affect you?; (11) What assets do you have in your retirement portfolio? (select all that apply); (12) How much money do you currently have saved for retirement?; (13) How much personal savings do you currently have?; (14) What's the first step you would take if you were starting a small business?; (15) If given the choice between your current job and starting your own business, which would you choose?; (16) If you have any plans to start a small business, what is the timeline?; (17) How much do you currently spend on rent?; (18) How much do you currently pay monthly on your mortgage?; (19) How much has your housing (rent, mortgage, etc.) gone up over the past year?; and (20) How long do you believe it will take you to save, in order to buy a house?. GOBankingRates used PureSpectrum's survey platform to conduct the poll.
More From GOBankingRates