8 Upgrades Under $35 You Should Make to Your Home, According to Contractors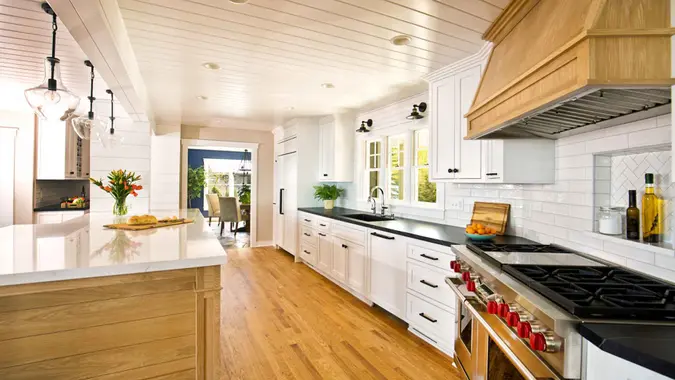 YinYang / Getty Images
Americans spent $472 billion in home improvements in 2022, according to Architectural Digest. That represented a jump of nearly 12% since 2020, and nearly three times the typical growth for home improvements. Inflation caused the prices of building materials and labor to soar, which accounts for some of the massive spending increase.
But in a hot housing market, many people continue turning to home improvements rather than buying a new home.
Not every home improvement has to cost thousands, though. Small changes can make a big difference in the look, feel and energy efficiency of your home. GOBankingRates recently connected with Anna Karp, CEO and co-founder of Bolster.us and a licensed general contractor in New York City, to talk about easy and affordable upgrades you can make to your home without hiring a professional.
Pre-fab Wall Molding ($30 and under)
Karp swore by this stick-on wall trim — one that can provide a "high-end look without breaking the bank," she said. "Have an issue with some trim and don't want to engage a carpenter or GC? In come prefab moldings, which help you with an easy fix."
You'll find trim from Art3D on Amazon for baseboards, walls, and mirrors to give your home a clean, consistent look. Most can be found for under $30, and many under $20.
White Subway Tile ($30)
A big fan of stick-on solutions to refresh a space until you can renovate, Karp also recommended Amazon White Subway Tile backsplash from Art3D. These stick-on vinyl faux ceramic tiles are easy to install and cost just $25 for a 10-pack on Amazon right now, making it easy to cover a small space affordably. "With the right grout, a humble white tile can look amazing," Karp said. "Also, think about a herringbone pattern to make it look more luxe."
LED Under-the-Counter Lights ($25 and under)
For just under $25 on Amazon right now, you can add some light in closets, hallways or under your kitchen cabinets. These motion-activated lights run on AA batteries, which means you don't have to make any pricey electrical upgrades and you can use them anywhere.
For a more streamlined, modern look, consider LED strip lighting. Karp said, "Light technology has changed over the years and as contractors, we have seen a rapid shift into the use of LED strips as under cabinet lighting. It's an easy hack that can certainly change the way you cook!"
Ambient Light Bulbs ($18)
The right lighting can change the entire vibe of your home. "Light and color can have a huge impact on our moods," Karp said. "A very simple hack for feeling better is taking stock of whether our lightbulbs are 'hot' or 'cold.' If they are cold… look for bulbs that are warmer. A replacement should immediately make a room feel more comfortable."
This 8-pack of GE Relax 60-watt soft white dimmable LED bulbs are a tremendous value at under $20. Karp mentioned that switching out energy-intensive bulbs for eco-friendly, dimmable models can also save money in the long run. "Do an audit of what needs refreshing in the house," she recommended.
Smart Light Switches ($30)
Upgrading old electrical outlet plates and light switches can also make your home look more modern while reducing electrical costs. Grab a three-pack of smart light switches that work with Alexa and Google Home for under $30 with your Prime membership on Amazon.
Solar Powered House Number ($30)
Small changes can add curb appeal and convenience to your home. Make your house easy for emergency responders or visitors to find with a stylish solar house number sign. Mount it on the included black cast iron pole or hang it directly on your home. The sign is designed to last 8 to 10 hours through the night after charging in the sun.
Keyless Entry Door Lock ($33)
Don't fumble in the dark with keys. Upgrade to a smart deadbolt door lock with easy keypad entry. You can change the codes to give access to pet-sitters or contractors. Best of all, there is a back-up key in case you forget the code or if the battery dies. This bestselling lock from TEEHO is just $32.78 for Amazon Prime Big Deal Days.
Paint for Refreshing Kitchen Cabinets ($32)
A kitchen remodel can be costly. But if you're tired of the look of your space, you can prolong the life of your kitchen with a fresh coat of paint. "Kitchen cabinets can be repainted before they are thrown out," Karp recommended.
DWIL Premium Waterproof Cabinet Paint is on sale now for less than $32. Choose from an array of colors, including white, gray, Berlin Blue, or black.
"Affordable upgrades can make your home look luxe without breaking the bank," Karp said.
More From GOBankingRates