Could You Afford a Vacation Home in Canada? Check Out the Prices in 6 Major Cities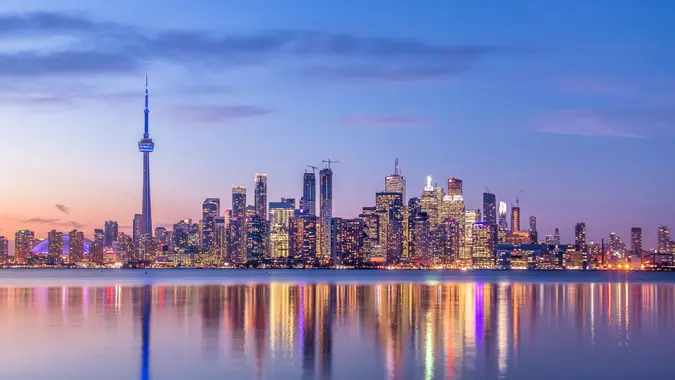 diegograndi / Getty Images/iStockphoto
Canada is a convenient and desirable vacation destination for many Americans. Its vast landscape offers a wide variety of both urban and natural wonders, and it's so enticing that approximately one million Americans actually live there.
If you're considering buying a vacation home, you'll first have to decide if you want a downtown location in a hip city or a more rural setting close to the nature for which Canada is so famous. The next thing you'll have to consider is the price, which can vary widely. Here's a look at the prices of the average home in various Canadian cities, from ones that every American knows to some that may still fly under the radar.
Toronto
Although Toronto is the biggest city in Canada, it is not the capital, as many Americans might believe. That distinction belongs to Ottawa. But Toronto is by far the biggest draw when it comes to immigrants, which could make it an appealing place if you're looking to buy a vacation home.
Toronto is one of the most multicultural cities in all of Canada, bringing with it vibrant culture and world-class cuisine. Coupled with its excellent transportation system and location close to the U.S. border, the city can be an exciting place for Americans to visit on vacation.
Vancouver 
Vancouver boasts a stunning location in the western Canada province of British Columbia, surrounded by both oceans and mountains and the world-famous Stanley Park. The international city is becoming a growing hub for film production, and its more southerly location — just barely across the border from the state of Washington — keeps it weather moderate.
Vancouver is also the hub of the growing Alaskan cruise market, making it easy to enjoy a vacation-within-a-vacation if you happen to own a holiday home there.
Whistler
If skiing is your idea of the perfect vacation, there are few locations as prime as Whistler, Canada. Whistler is legendary in skiing circles, having been named the best ski resort in North America multiple times. It's also the largest winter sports area in North America.
But even if summer is more your jam, there's plenty to do in Whistler while you're on vacation. Summer activities include hiking, biking, golfing, ziplining and riding the gondola. The city's website even advertises "bear watching" as a summer activity.
Banff
Banff is absolutely dripping in scenic wonders, with its national park — the oldest in Canada — making Travel and Leisure's list of "The Most Beautiful Places in the World." The lauded travel publication cites the national park's "staggering peaks, dense pine forests, hot springs, animals (grizzlies, bighorn sheep, and moose all call the park home), and almost eerily azure glacier-fed lakes, such as the postcard-perfect Peyto Lake."
Ski resorts are just 10 to 20 minutes from Banff, and idyllic Lake Louise, the subject of many an Instagram profile, is only about 45 minutes away.
Niagara-on-the-Lake
Niagara-on-the-Lake is yet another beautiful Canadian city with a to-die-for location, on the shores of Lake Ontario at the mouth of the Niagara River, which is the actual border with the state of New York. While not at Niagara Falls, if you wanted to visit that famous destination, it's just a 30-minute drive south to see where the Niagara River forms that iconic landmark.
The city itself is a cultural haven, boasting summer concerts, blooming gardens and theater performances at the famous Shaw Festival. The city is also the province of Ontario's biggest wine producer. Coupled with the lake and the river and its location just across the international border, Niagara-on-the-Lake can be a great vacation destination for Americans.
Charlottetown
Located on immensely charming Prince Edward Island, Charlottetown is one of the more affordable locations for a Canadian vacation home. Charlottetown is actually the capital of Prince Edward Island and was designated by Canadian Heritage as a Cultural Capital of Canada.
According to the city's own website, Charlottetown boasts an embarrassment of riches, from the best golf in Canada to the finest white sand beaches and the warmest waters north of Florida. From its amenities to its relatively low pricing, Charlottetown is an attractive option for Americans seeking a vacation home in Canada.
More From GOBankingRates