Ask a Real Estate Investor: What's the Best Way To Make Passive Income?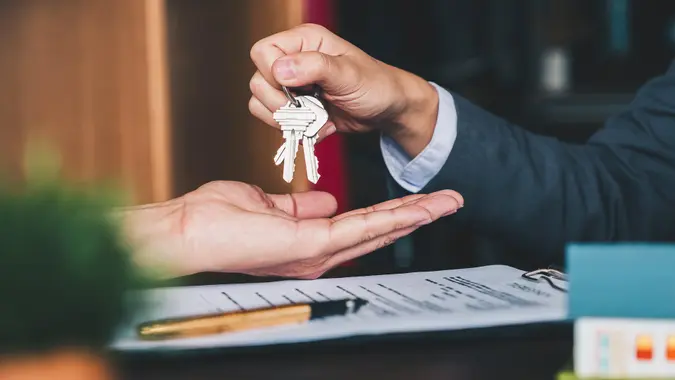 Natee Meepian / Getty Images/iStockphoto
Everyone loves the idea of earning money with the least amount of effort, and real estate is one area where this is quite possible.
Passive income doesn't necessarily mean that you sit back and watch the money roll in without doing anything, though. According to Jon Sanborn, co-founder of Brotherly Love Real Estate in Philadelphia, "A passive income is a real estate strategy through which investors can generate earnings without being actively involved."
It often means having some money to put down as an investment up front before that investment pays off in other ways. Here are 10 ways experts recommend earning passive income through real estate.
Invest in Self Storage Facilities
Storage facilities are in demand and are found almost everywhere in the U.S., Sanborn said, making it an excellent opportunity to bring in passive income.
"Around 39% of real estate investors vouch for this option and prefer it in comparison to rentals or vacation homes. Investing in Class A or B storage facilities by renting them out is a safe and efficient way to increase income." 
Property Rehabilitation
If you're handy at renovating and redecorating, property rehabilitation might be a great road for you. "Fixing and flipping properties requires a more active role but could be quite lucrative," Sanborn explained.
Rent Part of Your Home
This might be an option if you're not quite up for the level of work involved in an Airbnb situation (which requires playing the part of host, plus regular cleaning and maintenance), and you have a large dwelling with unused space. Sanborn recommends renting out "the other part [of your home] either as short-term rentals or as a studio rental."
Take Our Poll: What Do You Plan To Use Your Tax Refund For?
Rent for Events
If a homeowner has access to a second home located in an appealing location like on a beach, then renting it out for events and festivals could rake in a lot of extra income, Sanborn said.
Another example of this comes from Marcia Socas, a real estate investor for over 20 years, who helped her son come up with a creative way to make passive income by renting a home in the Alabama town where he is attending college. After applying for a short-term rental license from the city, on game day weekends he can make as much as $1,250 per night by renting out his home.
"This is a passive way for him to earn great income, which in turns pays the mortgage. It also allows him to have the house all to himself for most of the year without having to rely on other college kids as roommates. It's worked very well for him and by the time he graduates he should have a few years of mortgage paid down, and the house should have appreciated nicely in value."
Land Lease
With land leases, you can make money without having to own a structure, according to Richard Mews, a real estate investor, landlord and CEO of Sell With Richard. "The land under a structure that you rent to the building's developer is your property. A ground lease often entails relatively little risk and produces predictable passive leasing revenue. Land leases provide a lesser prospect for earning in return for a small risk environment."
Offer Mortgage Notes
Another way to make passive real estate income is to act like a bank would, by offering mortgage notes to buyers, Mews said. "When you invest in notes…the buyer gives you a monthly principle and interest payment. The buyer is accountable for upkeep, insuring, and tax payments for the asset. It is your responsibility to collect a check each month and maintain records of the repayments and remaining debt."
Rent Out a Single-Family Home
A good starting place for those who don't have a lot of experience generating income through real estate is to purchase a single home or condo and rent it out to single renter, according to Shad Elia, CEO of New England Home Buyers, a real estate investment firm based in Massachusetts.
"Single-family tenants typically have a greater sense of psychological ownership over the home, which motivates them to maintain it better. However, a single unit will generate zero income if it is unoccupied."
Real Estate Investment Trust (REIT)
One way to generate income without having to purchase or rent out any property is to invest in a REIT. A REIT is a business that owns, finances, or manages high-end or commercial buildings that generate revenue, Elia explained.
"They combine money from many investors and invest it in capital growth. REITs are a fantastic source of passive income for inventors because they pay out high-yield dividend income. You can diversify your portfolio by investing in REITs."
Even if you don't have a lot of money to invest, you can still participate in property investments because REITs own a variety of real estate assets, Elia said. "REITs trade like stocks because they are liquid. When the market opens, you can purchase, and when it closes, you can sell."
Leverage Debt To Buy Income-Producing Assets
Another strategy is leveraging debt to buy income-producing assets, said Colby Hager, owner of Capstone Homebuyers in Texas. "This can be done by taking out a loan to purchase more property, or by refinancing the mortgage and pulling out some of the equity. Either way, the goal is to use someone else's money to buy more property and increase your return on investment."
Lend Money to Real Estate Investor Groups
If you've got some cash to spare but don't want to purchase anything, Melanie Hartmann, owner of Creo Home Buyers in Maryland, recommended lending your money to another real estate investor or group.
"You have the option of short-term lending on fix-and-flips or longer-term lending such as syndications on large commercial properties or apartment complexes and anything in between. There are endless opportunities to invest passively in the real estate space regardless of how much or how little you have to lend."
More From GOBankingRates