I'm a Real Estate Agent in Austin, Texas: Here's What I'm Telling My Clients About the Current Market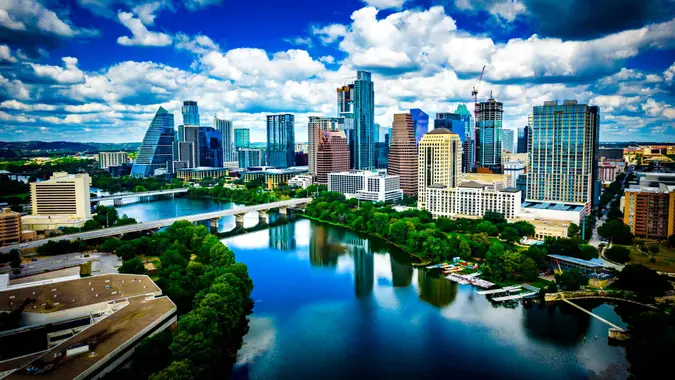 RoschetzkyIstockPhoto / Getty Images
Austin, Texas has been making interesting real estate headlines in 2023. An August 2023 article from Forbes analyzed Redfin housing data for the Austin metro area and revealed the housing market is showing signs of normalization in home prices.
Despite this welcome bit of good news, other news outlets like Business Insider report that Austin is struggling with affordability issues. As the population and demand for housing continues to grow in the Texas capital, there are efforts underway to loosen existing zoning rules and allow for the construction of more dense housing.
GOBankingRates spoke to Realtor Terry LeBlanc to learn more about what's happening with the Austin housing market and overall real estate scene. Here's what LeBlanc is telling his clients about the current Austin market.
Austin Homes: Rising in Price and Selling Fast
It's not surprising given the state of U.S. real estate throughout 2023, but homes in Austin are not exactly cheap. According to LeBlanc, the median home price in Austin is $530,000. 
Even with higher interest rates, Austin real estate agents are telling clients the market is still competitive. "While there have been fluctuations, demand has consistently outpaced supply, leading to home prices continuing to rise. In most cases, buyers should still expect multiple offers and quick sales."
How Do Workers and Retirees Fit Into Austin's Housing Market?
There are several factors working in Austin's favor that attract retirees to the city. LeBlanc said the combination of city and country living, warm climate, vibrant culture and many recreational activities is a major draw to retirees considering relocating to Austin.
This being said, however, LeBlanc said Austin may not be ideal for retirees on a fixed budget. Those who want to relocate there for their retirement may find the rising home prices pose a significant financial challenge.
One group of individuals less likely to encounter this challenge are young working professionals. In addition to Austin's thriving job market, lower cost of living and lively cultural scene, young professionals who reside in the city and decide to purchase real estate there do not have to pay for state income tax.
What about Texas property taxes, which are known for being among some of the highest in America? LeBlanc said Austin homeowners have two factors working in their favor. The first is the absence of state income tax, which can offset some property tax expenses for most homeowners. The other is that Texas is a homestead state, which LeBlanc said can help homeowners save some money on property taxes.
What Austin Buyers Must Prioritize
If Austin buyers prioritize anything when buying a home this year, it should be location. LeBlanc said neighborhoods can greatly affect home prices and amenities. 
LeBlanc also recommends his clients get approved for a conventional loan instead of an FHA. "Conventional loans are much more attractive to sellers and seller's agents because of the more stringent inspection and repair requirements that come with an FHA loan."
Thanks to the competitive nature of the Austin housing market, LeBlanc said buyers should consider budget constraints due to rising prices and be prepared for potential bidding wars. He recommends consulting a local real estate agent to receive professional advice on how to navigate the Austin market.
More From GOBankingRates