Here's the Average Profit You Can Expect Flipping Houses in 2023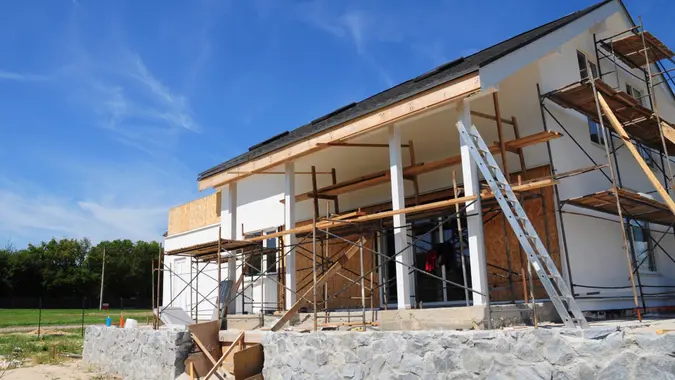 Lex20 / Getty Images/iStockphoto
House-flipping is on the rise, and you're thinking about getting in on it.
On average, the gross profit on flipped homes in the U.S. is $56,000, according to ATTOM data from the first quarter of 2023. This marks a 4.7% increase from $53,500 in the fourth quarter of 2022. House flipping is a major business — 72,960 single-family homes and condominiums were flipped in the first quarter of 2023, according to the data. Impressively, this accounted for 9% of all real estate sales during that time period.
What Does House Flipping Involve?
You've been interested in becoming a flipper for a while now. Whether you're a construction professional, interior designer or investor with serious project management skills, you're thinking this could be a great way to make a lot of money.
Of course, all flip projects are not created equal, so you need to know what you're doing. Sebastian Jania, owner of Ontario Property Buyers, said there are many factors that come into play when figuring out the net profit you can expect on a flipped home.
First, you have to be good at getting a great price on properties. "For most house flippers, they must get the properties at a deep discount from the market value in order to renovate the property and be able to sell for a profit," he said.
Second, financing plays a major role. "If someone is looking to use a hard money lender, well then, that interest and fees are going to stack up fast and that is going to reduce the amount of profit someone can expect," he said.
Finally, he said the contractor renovation costs and timelines are also hugely important.
"If someone is able to manage the property renovation themselves and be very tight on timelines, they can save a large amount of money through that," he said. "Flipping properties ultimately comes down to the three components of the real estate deal — the money, people and the deal."
He said a healthy target for a net profit on a flipped home is approximately 10% of the resale price or expected after repair value (ARV).
"On a $1 million property, this would be $100,000, and on a $200,000 property, this would be $20,000," he said. "It's important to note that for a lot of people, their first few houses will perform poor, as they grasp the business of actually flipping houses."
3 Ways To Increase Profits on Flipped Homes
As a seasoned flipper, Jania knows a thing or two about earning profits in the business. Here's his advice for maximizing profits on your house-flipping projects.
1. Hone Your Negotiation Skills
"The first way to increase profit is to become a better negotiator or create better relationships, so that [you] can get a property at a deeper discount," he said. "Getting a property at a deeper discount creates an even bigger buffer for mistakes or unexpected things that do come up during flips, and it also allows for an even larger profit if things go well."
2. Get Better Access to Capital
Jania said many flippers use hard money lenders that come with both high fees and high interest rates.
"By getting a seller to seller-finance the flip or being able to purchase it [with your] own cash, less money gets paid out to the lender," he said. "More money is kept in the pocket of the flipper, which is ultimately more profit."
 3. Streamline Renovations
"This means having lighter renovations and more strategic renovations, [to] reduce the overall budget," he said.
Additionally, he said it's important to only renovate the things that truly need to be upgraded, as doing extra won't be financially beneficial. "[This] ultimately does not increase the resale value, but just drops the profit," he said.
Takeaway
Ultimately, flipping houses can be a great way to earn money. However, many people mistakenly believe it's a lot easier than it actually is in reality.
As Jania noted, many different factors are involved in ensuring a flipped property is sold at a profit. Your renovation might be beautiful, but if you pay too much for the property, spend too much on updates, take too much time on the project or finance it the wrong way, you could end up with a loss.
Therefore, it's important to be aware of the risks you're taking before purchasing your first home to flip. Learn as much as possible about the business, so you can increase your chance of success.
More From GOBankingRates