7 Best Homebuying Apps To Help With Your New Home Purchase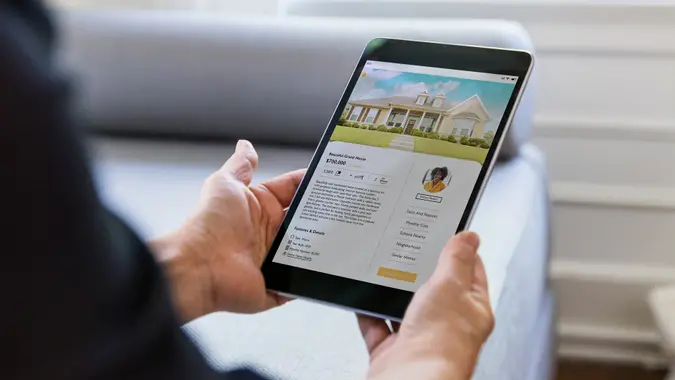 SDI Productions / iStock.com
You can make searching for the perfect home so much easier if you download a homebuying app, but which one should you choose? After all, there are more than a handful available. 

Related: 3 Things You Must Do When Your Savings Reach $50,000
To help you choose a homebuying app that will meet your needs, start by identifying your goals. For example, are you looking for a great neighborhood for families? Or does the ability to view updated listings every 5 minutes sound more your speed? How about one-stop shopping? Whatever you're looking for in a homebuying app, you'll find it based on the advice of the following homebuying experts. 
Here are seven best homebuying apps to help you with your new home purchase. 
Zillow: Best for Selection
App Store: 4.8 stars with 6.9 million ratings
Google Play: 4.7 stars with 1.08 million ratings
Matt Teifke, founder and principal broker of Teifke Real Estate, said that his top pick for the best homebuying app for prospective homebuyers is Zillow due to its extensive selection and features. 
"Users can take advantage of free foreclosure data and pre-approval assistance, as well as customizable search filters, which makes things a lot easier," Teifke said. "With Zillow's app, people have access to over 135 million homes and the ability to tag home features and share favorites with partners and roommates. This helps to make the homebuying process more convenient for literally everyone involved in the buying journey."
Realtor.com: Best for New Homebuyers
App Store: 4.7 stars with over 646,000 ratings
Google Play: 4.6 stars with over 413,000 ratings
Kurtis Forster, real estate agent for Nu-Vista Premiere Realty, said he is a fan of Realtor.com, especially if you're a new and inexperienced homebuyer who wants to keep an eye on a specific area and be able to easily browse through homes on the market. 
"Ideally, you download the app on a tablet and take time each day to browse the map and filter homes that have just recently been listed," Forster said. "Realtor.com isn't fancy, but it does everything you need in order to effectively keep an eye on the market and intake the information you need. You can filter properties accordingly, scroll through a specific area, get all of the information you need easily and see photos in high-quality."
Trulia: Best for Neighborhood Research
App Store: 4.8 stars with 1.3 million ratings
Google Play: 4.7 stars with 249,000 ratings
Shri Ganeshram, CEO and founder of Awning, said Trulia is excellent when it comes to data visualization. "I've found that it offers a more graphical representation of data, with interactive maps that show crime rates, amenities, schools, and commute times," he said. "This is a great help for those who are data-oriented and want to get a quick snapshot of a neighborhood."
Homesnap: Best for Snapping Photos of Homes You Like
App Store: 4.8 stars with 99,200 ratings
Google Play: 4.3 stars with 11,300 ratings
Ganeshram said what makes Homesnap unique is its snap-a-photo feature. "You take a picture of any home, and the app provides you with information about the property," he said. "I love this feature — it feels like magic, and it's incredibly useful when you're driving around neighborhoods and spot a house you're interested in."
Redfin: Best for Updated Listings Every 5 Minutes
App Store: 4.8 stars with 1.2 million ratings
Google Play: 4.6 stars with 115,000 ratings
"Redfin is a solid option, especially because of its up-to-the-minute notifications," said Ganeshram. "It's also a brokerage, which means they can take you through the whole buying process. And let's not forget their Redfin Estimate, which, in my experience, tends to be more accurate than other estimates out there."
Rocket Homes: Best for One-Stop Shopping
App Store: 4.8 stars with 11,800 ratings
Google Play: 4.6 stars with 2,200 ratings
"Rocket Homes offers a smooth interface and partners with Quicken Loans, which allows for a seamless transition from home searching to securing a mortgage," Ganeshram said. "It may not be as comprehensive as others, but the user experience is definitely commendable."
Homes.com: Best for Rent-To-Own Options
App Store: 4.6 stars with 16,100 ratings
Google Play: 4.4 stars with 10,300 ratings
If you might want to rent-to-own a home rather than buy one, the Homes.com app could be helpful. 
"Homes.com is a good option for homebuyers who want to explore rent-to-own possibilities. I've seen that the app does a good job in filtering these specific types of listings, which can be handy for people exploring this path," said Ganeshram.
More From GOBankingRates