Biden Unveils Plan To Increase US Homeownership — How It Benefits Low-to-Middle-Income Families Looking To Build Generational Wealth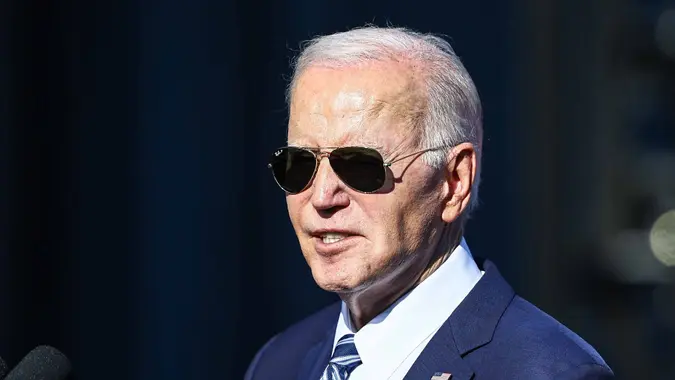 Shutterstock / Shutterstock
While many upper-income individuals in big cities are eschewing homeownership in favor of renting, as recently reported by GOBankingRates, owning a home remains part of the American dream for many low-to-middle-income families.
The Biden Administration is seeking ways to help families make that happen with a number of new initiatives for first-time homebuyers.
Neighborhood Homes Tax Credit Offers Down Payment Assistance and More
The Biden-Harris Administration recently announced the Neighborhood Homes Tax Credit, along with down payment assistance for select first-time homebuyers. The program is designed to create a path to homeownership for first-generation or low-wealth buyers whose parents have never owned a home, either.
The Neighborhood Homes Tax Credit has not yet been signed by Congress. If it does pass, it will allocate $16 billion in funding to build or rehabilitate 400,000 new homes across the U.S., according to a statement from the White House issued on Monday, Oct. 16. Additionally, the package will provide $10 billion in down payment assistance and $100 million to supplement first-time homebuyers.
Policy Changes Could Make It Easier to Qualify for Mortgages at Lower Rates
Additional changes to existing policies could make it easier for some prospective homebuyers to qualify for a loan. The Department of Housing and Urban Development (HUD) would allow lenders to factor in a positive rental history and on-time student loan payments when they evaluate an applicant's creditworthiness.
That means even someone without a strong history of revolving credit, car loans, or personal loans could qualify for a mortgage at a lower interest rate as long as they show that they have paid their bills, including rent, responsibly in the past.
The policy, introduced by HUD through the FHA, also allows homebuyers to use a portion of rental income from Accessory Dwelling Units in the house they are purchasing or building to count as effective income when qualifying for an FHA-insured mortgage, according to the White House release.
If someone builds or buys a home with an accessory apartment, or intends to add-on to the house with an additional dwelling, a portion of that unrealized rental income can factor into their mortgage qualifications.
"The flexibilities will help more first-time homebuyers, seniors, and inter-generational families leverage ADUs to build generational wealth through homeownership while creating new affordable housing in their communities," said the White House release.
Additional Policy Changes Carve a Path to Homeownership
HUD, through FHA, is also updating the 203(k) Rehabilitation Mortgage Insurance Program. The policy changes could make it easier for homebuyers and homeowners to finance repair costs prior to a home's purchase or to refinance their mortgage and tap into their home equity to fund improvements. Under the new policies, they might have more time to complete repairs and improvements prior to purchase.
The USDA, simultaneously, is working on launching a pilot program to expand eligibility criteria for Community Land Trust Organizations through the Section 502 Direct Loan Program. Community Land Trusts are non-profit organizations devoted to making homeownership more affordable. Prospective homeowners can lease, rather than purchase, the land, making the overall cost of their home more affordable since they are only purchasing the house. The homeowners must agree to sell the home at a restricted price in order to maintain affordable housing in the community for generations, according to GroundedSolutions.org.
Building on Past Success
These initiatives are designed to build on the past success of the Biden Administration to expand access to homeownership. Data released by the White House shows that first-time homebuying rates are the highest they've been since 2000.
The FHA has helped 1.8 million homeowners secure mortgages since Biden took office; 1.5 million of those new homeowners (83.6%) were first-time buyers.
In the past year, the USDA provided 7,100 direct housing loans, subsidizing homebuyers with interest rates as low as 1%. The average homebuyer that benefited from the program has an income of just $42,918.
Bottom Line
If homeownership is one of your dreams or a marker of financial success to you, 2024 might be the year it happens. These programs could help lower- and middle-income Americans begin to build generational wealth through a tangible asset — a family home that is likely to appreciate in value over time while providing a sense of security and stability.
More From GOBankingRates