Another Big Drop in Mortgage Rates Just Happened — Will They Keep Falling?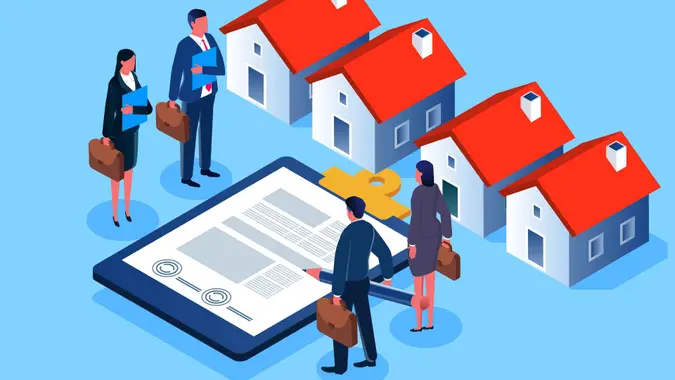 sesame / Getty Images
Mortgage rates continue to decline as the housing market gets ready for the spring homebuying season, extending a recent run of lower rates that many experts expect to continue for the rest of the year.
The average 30-year fixed rate mortgage was 6.28% during the week ended April 6, 2023, according to Freddie Mac. That was down from 6.32% the previous week and below the four-week average of 6.41%. Current rates are still well up from a year ago, when they hovered just below 5%, but have fallen sharply since peaking at 7.08% in 2022.
The rate for a 15-year fixed rate mortgage rose slightly from the previous week to 5.64% — just below the four-week average of 5.7% and well below the 52-week peak of 6.38%.
Buyers Facing Challenges
Freddie Mac noted that home buyers still face a number of challenges — including limited inventory, especially for first-time buyers. But buyers can take comfort in the fact that mortgage rates might already have peaked.
A lot depends on whether the Federal Reserve aims to keep battling inflation through interest-rate hikes. The overall inflation rate has trended lower in recent months, although the most recent rate of 6% is still well above the Fed's target rate of 2%.
Following its March meeting, the Fed said "some additional policy firming may be appropriate" to bring inflation to 2%, Forbes Advisor reported. It was during that meeting that the central bank raised its federal funds rate by a quarter-point to a new range of 4.75% to 5%. There's a chance that the Fed will slow its rate of increases, or pause them altogether.
Many housing experts expect the Fed to put on the brakes, which could lead to much lower mortgage rates by the end of the year.
"Long-term rates have already peaked. We expect that 30-year mortgage rates will end 2023 at 5.2%," the Mortgage Bankers Association said in a statement earlier this year.
Take Our Poll: Would You Move for a Job That Paid You a $10,000 Signing Bonus?
A similar assessment was provided by Neda Navab, U.S. region president at real estate brokerage Compass Inc.
"There have been signals that mortgage interest rates may be at or near their peak, given recent encouraging news around inflation and a corresponding drop in the U.S. Treasury yields that help set mortgage rates," Navab told Forbes. "A sustained drop could push mortgage rates into the 5% range late in the second quarter or in the second half of 2023, but that's definitely not guaranteed."
Others are taking a wait-and-see approach to find out how certain events play out, including the banking crisis and debt-ceiling debate.
Meanwhile, would-be home buyers will keep an eye not only on mortgage rates but also on home inventory, which remains low. In an April 9 blog for HousingWire, housing data analyst Logan Mohtashami said he is hopeful that "April is the month we see the seasonal inventory increase."
"Mortgage rates in the previous economic expansion ranged between 3.25%-5%, and inventory had slowly been moving lower and lower," Mohtashami wrote. "Last year we had the biggest mortgage rate spike in history, and it did create more inventory for us, but it couldn't get us back to 2019 levels."
More From GOBankingRates