5 Things You Should Never Settle for When Buying a House, According to Experts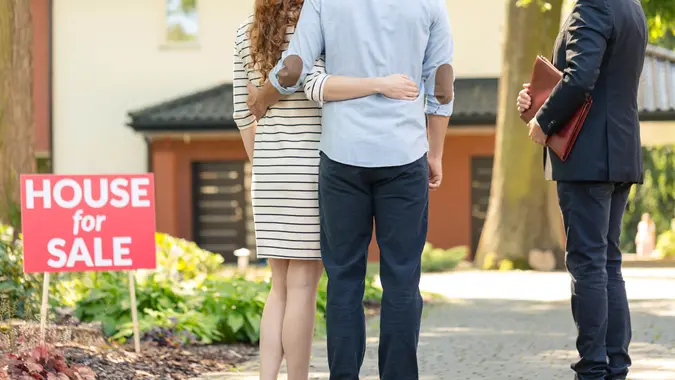 KatarzynaBialasiewicz / Getty Images/iStockphoto
When you're looking to buy a new home, you're likely excited about a fresh start but may be confused about some aspects of the process. If you're not careful, you could end up with more than you bargained for.
Here are five things you shouldn't settle for when buying a house.
Paying for Numerous Things To Get Fixed
"I look for 'good bones,'" discloses Tom Brickman from The Frugal Gay. Brickman, who owns up to 30 properties at any given time, advises you not to settle if there is a major structural issue. Plumbing, electrical, foundation, roof, windows and doors are all things you need to inspect when considering a home purchase. 
Adulting Is Easy's Lauren Keen Aumond also stresses the importance of looking at the foundation of a house before moving further. You may see cracks, or the house may not look level. A home's foundation keeps moisture out and keeps your house warm during the winter. It also protects your house from shifting, which causes an uneven look. Foundation repairs typically start at $2,000 and can cost up to $25,000, depending on the situation.
Non-Permitted Add-ons 
Another critical thing to watch out for is any add-on you notice during a walk-through or mentioned in the house listing. Residential zoning laws may have limits, such as how many square feet a house can be or if you can add an extra bathroom due to plumbing restrictions. Aumond shares, "A big mistake often made here in Florida is assuming buyers can do a complete remodel in a flood zone, which is illegal according to FEMA."
Purchasing a home with an unauthorized add-on can make it hard to find homeowners insurance and a reputable mortgage lender. You may also be on the hook to fix the work if you should sell later in the future. You can find authorized structural changes by visiting your local government's community development division.
Exotic Financing Options 
The ability to secure a home loan is one of the key factors to purchasing a home. The loan amount usually dictates where you can live geographically and the space your home can be. If you're not qualified for as much as your dream home is, you may seek exotic financing.
One type of exotic financing is an adjustable-rate mortgage (ARM). This type of home loan doesn't have a fixed interest rate as a conventional mortgage does. An ARM can start off with reasonable, or even lower than usual, monthly payments, which makes them appealing. But ARMs also come with risks. These risks can include your monthly payment ballooning past your original budget, making things tight or even financially impossible.  
Brickman says in these times, it's important to not get emotional about being unable to secure the property and bite off more than you can chew. Instead, just walk away. Emotions can drive you to make financial decisions that aren't the best, like purchasing a home you can't afford. "Whenever I lose a property, I know it simply wasn't the one for me."
Absurd Fees 
When it comes to the fees associated with your potential home, power up your negotiating skills. "Real estate agents have started adding an MLS fee, which I always ask to get removed," states Aumond.
Ask the title company to inquire about fees they have and ask to have the unnecessary ones removed. Check to see if there are fees your loan provider failed to discuss with you.
Homeowner Restrictions 
Home owner associations (HOAs) are private organizations that manage the upkeep and rules of a neighborhood, subdivision or condominium. All residents who live in the community pay fees to live there, commonly known as HOA fees.
HOA fees are spent by a governing board made of select residents to be used for neighborhood needs, such as maintaining the landscaping and upkeeping public amenities like a pool and trash services. HOAs can also determine what colors you can paint your home and levy fines if you're not compliant. Both Aumond and Brickman advise to stay away from HOAs if you want to have complete control over your property.
In summation, you might not be able to find everything you're looking for in your next home, but don't settle when it comes to repairs, fees or financing options that seem too good to be true.
More From GOBankingRates