Can't Afford To Live in America's Most Expensive Cities? Consider These 10 Affordable Suburbs Within 30 Miles Instead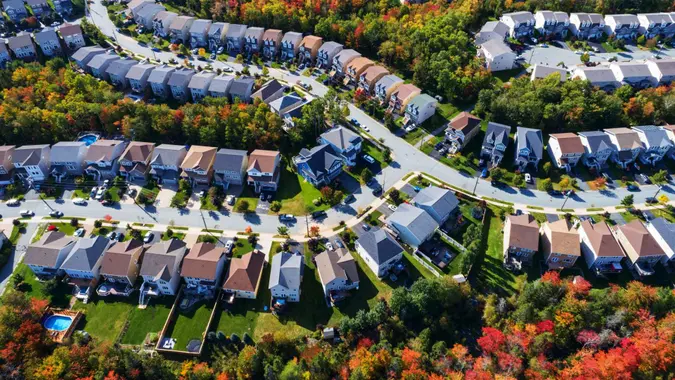 shaunl / Getty Images
The U.S. suburbs used to be where house hunters would go to find a wide selection of affordable homes, but that's not necessarily the case right now. A recent study from real estate researcher Point2 found that even homes in suburban communities can be priced much higher than nearby cities.
See: 5 Expensive Renovations Homeowners Always Regret
Find: Demand for Gold is Up, Here's Everything You Need to Know
For example, homes in the Charleston, S.C. suburb of Sullivan's Island have median prices of $1,400 per square foot — 385% higher than the median price in the city. Another 17 suburbs have home prices that are 100% to 212% higher than in nearby cities, the study found.
Part of this has to do with people fleeing the cities for suburban areas during the COVID-19 pandemic. This trend swelled suburban populations and pushed up home and rental prices in the suburbs.
Doug Ressler, manager of Business Intelligence at Point2 parent company Yardi Systems, pointed to New York City as an example.
"The worst of the pandemic precipitated a mass exodus from New York City, and many of the expats wound up in Connecticut and didn't go back," Ressler told GOBankingRates in an email. "Around 50,000 people who moved to the state during the crisis have put down permanent roots, based on U.S. Postal Service data."
But even with more competition for suburban homes, you're still better off buying in a suburb than the city. Point2 analyzed the 20 most populous and expensive U.S. cities — 16 of which are located on the coasts (e.g. Los Angeles, San Francisco, Seattle, New York, Boston, Miami and Washington, D.C.).
The study determined that 603 of the 777 suburbs within a 30-mile driving distance of the hottest housing markets are priced below the main city's median, based on prices per square foot. In 11 suburbs, the price per square foot is 60% to 65% lower than in the city. Sixty-seven have median prices 50% to 59% lower than in the city.
The East Coast dominates the list of affordable suburbs, with 95 of the top 100 most affordable suburbs located outside of New York, Boston, Miami, and Washington, D.C.
Here's a look at the 10 most affordable suburbs in the U.S. based on comparable suburb-city prices, according to the Point2 study:
| | | | |
| --- | --- | --- | --- |
| Main City | Suburb | Pct. Difference Suburb vs. City | Price Difference Suburb vs. City (per square foot) |
| Miami | Medley, Fla. | -65% | -$291 |
| New York City | Emerson, N.J. | -62% | -$367 |
| New York City | Lodi, N.J. | -62% | -$366 |
| New York City | Mount Vernon, N.Y. | -62% | -$365 |
| Washington, D.C. | Huntingtown, Md. | -62% | -$311 |
| Washington, D.C. | Walford, Md. | -62% | -$309 |
| New York City | Moonachie, N.J. | -62% | -$362 |
| Seattle | Boulevard Park, Wash. | -61% | -$350 |
| Boston | Lawrence, Mass. | -60% | -$387 |
| New York City | Passaic, N.J. | -60% | -354 |
More From GOBankingRates