How Much It Costs to Own These Fairy-Tale Homes

9 min Read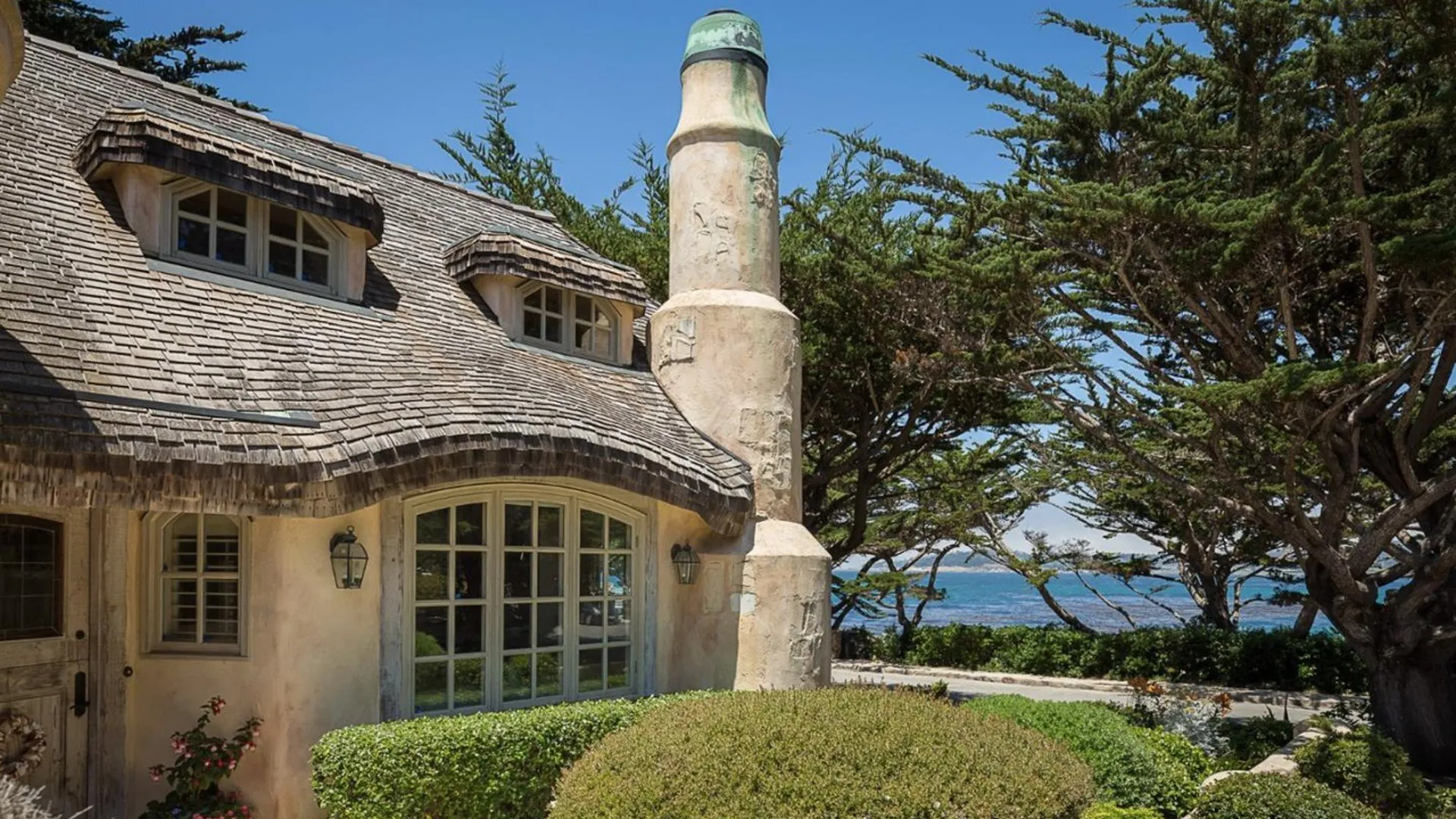 A Forest Home on 4 Acres in Atlanta
Price: $1.9 million
Details: 5 bedrooms, 4.5 baths
Feel worlds away from the big city in this 4-acre retreat bordering the East Palisades Unit of the Chattahoochee National Recreation Area. Treat your eyes to green forest views out every window of this fairy-tale cottage whether you're cooking dinner with friends in the modern kitchen or waking from sweet dreams in one of the five oversized bedrooms.
But why stay inside? Relax by the main floor walkout pool, challenge your spouse to a game of tennis on your private court or kick back with a glass of sweet tea in the whimsical gazebo. The custom-built French Normandy-style home brims with special features like a two-story foyer, antique wood beams and Savannah brick floors. Buy in Atlanta while you can — home prices are going up.
A Stone Castle in Dallas
Price: $1.1 million
Details: 4 bedrooms, 4.5 baths, 4,810 square feet
Write your own fairy-tale ending when you roll up to this stonefront Tudor-style home in the Bluffview neighborhood of Dallas. Fairy-tale homes like this one are built for sharing good times with friends and family. Prep your meals in the Viking chef's kitchen and pair it with a vintage from the chilled wine cellar. Let the party flow out onto the lush lawn and fire pit, secluded from the world outside by a tall privacy fence and mature xeriscape.
The home also rolls out a downstairs guest suite with walk-in shower, fitness room, game room and study. The Bluffview neighborhood ranks as one of the top neighborhoods in Dallas with home values more than 200 percent higher than the city as a whole and a crime rate averaging 60 percent lower.
A Tidy Tudor in Philadelphia
Price: $395,000
Details: 3 bedrooms, 1.5 baths, 1,896 square feet
Tucked into a community of English Tudor Cottages built in 1928, this storybook cottage intertwines modern living with graceful historic architecture. Located in the Bala Cynwyd neighborhood, the cottage homes sweep you back to "once upon a time" while still being within a mile of amenities that include 1,400-acre West Fairmount Park, home to museums, cultural venues, Japanese gardens and lush outdoor spaces.
The 1,896 square foot three-story Tudor snuggles into a lush landscape that looks like a snippet of an English countryside. Inside, savor natural touches like stone and wood flooring, a wood-burning fireplace and French doors combined with upgraded appliances, countertops and flooring.
If You Can't Move, Then Travel: 15 Fairy-Tale Destinations Worth the Price Tag
An Elegant Brick Tudor in Milwaukee
Price: $369,000
Details: 4 bedrooms, 2.5 baths, 2,344 square feet
The Big Bad Wolf won't be blowing down this storybook cottage built of brick in Shorewood, one of the most livable communities in the state of Wisconsin. Low crime, above-average education and a strong economy add to the happily-ever-after factor of this house that surrounds you with style.
Entertain in this two-story, 2,344 square foot charmer that's filled with elegant 1930s features like lead glass windows, vaulted ceilings, hardwood floors and crown molding. A natural stone fireplace and built-in bookcases and cabinets hearken back to days of yore, but the fully upgraded home rolls out all the modern energy-saving convenience. Even millennials can daydream about a fairy-tale ending to their housing search — Wisconsin is one of the more affordable places for millennials to buy a home.
A Storybook Beach House in Carmel, California
Price: $5.4 million
Details: 2 bedrooms, 2 baths, 1,632 square feet
Gaze out over the Pacific from inside a curvaceous cottage set among dream homes in charming Carmel. Enjoy California living at its finest with Carmel Beach just across the lane. Get the best view of sunsets from the living and dining room beneath a soaring vaulted ceiling. Viewing nooks, fireplaces and spiral staircases tuck into the home's turrets, providing cozy corners and secret passageways essential to fairy-tale romance.
Although this fanciful home looks like it has been tucked within the neighborhood since "once upon a time," it was actually built in the 1990s with all the modern conveniences.
A Golf House on Carmel Point, California
Price: $3.8 million
Details: 3 bedrooms, 2 baths, 2,032 square feet
This fairy-tale home has enchanting spaces throughout for making your own magical tale. Towering trees preside over a neat floral garden set behind a picket fence. Walk through the red door and discover 2,000 feet of enticing spaces. In the early 1900s, the lot was home to the clubhouse of the first golf course on Carmel Point, and this custom home echoes many of the features of "early Carmel," including spaces graced with hardwood flooring, a rock fireplace and endless views of the ocean.
Carmel has dozens of million-dollar homes for sale, but not nearly as many as these cities do.
A Hilltop Hideaway on 5 Acres on Orcas Island, Washington
Price: $1.7 million
Details: 2 bedrooms, 1.25 baths, 2,812 square feet
Savor views that roll out over ponds, gardens and conserved fields in this built-for-entertaining home on Orcas Island. Set on one of the rolling hills at the foot of the Turtleback Mountain Preserve on the 57-square-mile island, the home tucks you into an artist's landscape of picturesque pastures with old apple barns and crisp white yachts dotting Deer Harbor. Live on an island and it will be like living on your own isolated resort.
Take in the view from a peaceful patio offering up plenty of sunshine and panoramic views. Head inside for ambiance featuring open-beamed ceilings, a fireplace, wood-burning stoves and a large cupola skylight. Get the party started at the entertainment pavilion, which has its own kitchen, sleeping loft and dual bathrooms. Do more guests need a place to sleep? A small guest house gives overnight visitors their own space.
A Fairy-Tale Cottage in Portland, Oregon
Price: $624,999
Details: 4 bedrooms, 2 baths, 2,936 square feet
This cute cottage in the Bridlemile neighborhood of Portland is drenched in storybook charm. Plus, schools with average test scores 84 percent higher than the national average and a crime rate lower than 66 percent of the cities in Oregon might sound like the perfect setting for a happily ever after. In Portland, home prices and the cost of living is rising, so buy while you can.
Towering trees preside over the home's green one-third acre that rolls out forested views from every room. The cottage oozes 1942 charm with French doors, a brick patio and a spacious floorplan of nearly 3,000 square feet.
A 1920s Storybook Cottage in Boise, Idaho
Price: $899,900
Details: 4 bedrooms, 2.5 baths, 3,670 square feet
Filled with enchanting spaces, this 1923 fairy-tale cottage has "once upon a time" written all over it. Step through the door beneath a fanciful curved roof and enter 3,670 square feet of luxury that will have you living happily ever after. Prep meals in a charming country kitchen, serve them up in the formal dining room and, afterward, cozy up next to a glowing fire framed by a custom mantle of intricately carved wood and granite.
Make the occasion special with a vintage from the 1200-bottle wine room that is completely climate controlled. At the end of the day, soak in a claw-foot tub, relax in an infrared sauna/steam shower and step out onto a heated Italian marble floor.
A Hillside Home in Portland, Oregon
Price: $799,000
Details: 3 bedrooms, 4 baths, 3,406 square feet
Hillsdale ranks in the top 10 of Portland neighborhoods according to AreaVibes, and this swanky Tudor-style home delivers a storybook lifestyle to enjoy it to the fullest. Wake in the morning in the 200-square-foot master suite beneath vaulted beam ceilings, and check out expansive views above the treetops. Enjoy views from the oversized soaking tub in the third-floor master — even the dual closets have windows.
The home brims with scenic spots that include balconies, a deck and lush terraced garden. The 1927 home's 3,406 square feet roll out spacious rooms for entertaining and plenty of cozy nooks for curling up with a good book.
A Charming Creekside Cabin in Columbus, North Carolina
Price: $675,000
Details: 3 bedrooms, 3 baths, 4,020 square feet
Tuck away in the woods in a log cabin on 7.68 acres and you'll feel more than seven miles away from the Columbus downtown area. Inside, enjoy storybook touches like a stone fireplace, stained glass windows, antique brick floors and cypress paneling. Glassed and screened decks let you enjoy the view of woods and lush landscaping at any time of year.
Outside, access horse trails that are part of the Collinsville Equestrian Trail Association, dine out on the open deck or relax in a gazebo or on a covered bench swing to soak up the scenery.
Try Out the Cabin Lifestyle: 13 Best Secluded Vacation Homes for Your Money
A Unique Storybook Home in Ventura, California
Price: $779,000
Details: 3 bedrooms, 2.5 baths, 2,329 square feet
Exotic archways, curved walls and architectural flourishes make this 2,329 square foot charmer one of the best fairy-tale homes in the Ventura area. Tucked against green open space and shaded by large Eucalyptus trees, you'll feel secreted away in a world of your own.
A brick courtyard and scenic garden hideaways make ideal spots to enjoy the Southern California weather. Inside, enjoy elegant touches in this 1950s-built storybook cottage with floor-to-ceiling enclosed bookcases, chandeliers and two wood-burning fireplaces. A decorative tile stairway leads up to the second floor master suite.
A Historic Landmark Home in Ventura, California
Price: $1.1 million
Details: 4 bedrooms, 2 baths, 1,702 square feet
Settle into the J.Hoover Love House, built in the Mediterranean Revival architectural style in downtown Ventura. Walk to the beach just a half-mile away or stroll to the city's theaters, shops and restaurants. Inside, the Arts and Crafts Movement interior features stained glass windows, rich wood floors, a large brick fireplace and floor-to-ceiling French doors. The country kitchen features an antique O'Keefe stove. A separate greenhouse and garden area make it easy to grow your own herbs and veggies. A stand-alone guest house has its own small kitchen.
About the Author