Gen Z Women's No. 1 Financial Goal Is Saving for a Home: How To Make It Happen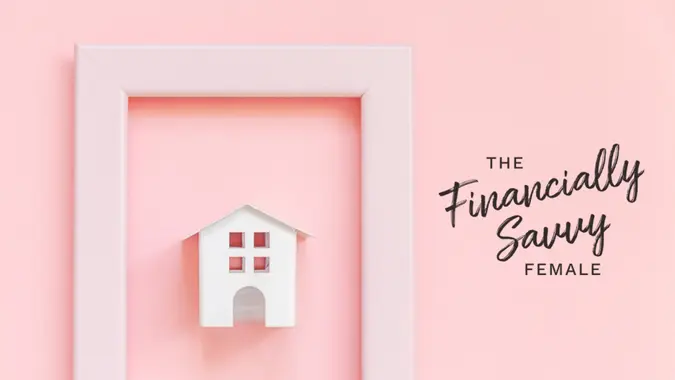 Iuliia Zavalishina / iStock.com
Homeownership is one of the rare instances where women are on the winning side of what's becoming a growing gender gap. Recent research from LendingTree shows that single women own more homes than men in nearly every state in America — and plenty more want to get in on the action.
Of course, not all single women are young and not all young women are single, but a new GOBankingRates survey of more than 1,000 women shows that the 18-24-year-olds among them prioritize saving for a home as their top financial goal.
While the dream of homeownership is alive and well among Gen Z women, they face imposing obstacles. High inflation, rising interest rates, soaring housing costs, stagnant wages and pay disparity stand in their way.
Here's how they could rise above those challenges and further widen the growing homeownership gender gap.
Prioritize Building Credit as Much as Saving
In the end, you need two things to buy a home — money and credit. Use the time you spend saving the first to improve the second. This way, when you do save enough money for a down payment, your credit will be good enough to make lenders compete for the opportunity to float you the difference.
"Before seeking pre-approval for a mortgage, potential buyers should work to increase their credit score," said Allyson Waddell, a Gen Z woman, agent success manager and primary blog editor at RealtyHop. "Women can pay off some of their outstanding debt or open a first or second credit card to increase their credit amount and lower their credit usage."
Also, if you're buying in the near future, you should expect to get stuck with an unimpressive interest rate, even if your score is good. By building a long and strong credit history now, you'll be well-positioned to refinance for a better loan when rates finally drop in the future.
Housing Market 2023: Is a Double-Digit Drop in Prices Coming?
Consider Unconventional Living Arrangements
If you're young, chances are good that you're relatively unattached — at least enough to give you the flexibility to consider alternative living scenarios that might not be practical for more established families.
"While many homeowners purchase property alone or with a partner, potential buyers can get creative and entertain other ideas," said Waddell. "Communal living may not be for everyone, but those with a strong network of like-minded individuals who also wish to own property can purchase a larger home or plot of land if they combine their home-buying efforts into one."
Moving Back in With Mom and Dad Isn't the Only Option
In 2022, Credit Karma research revealed that about 30% of Gen Z adults live at home with their parents or other relatives — more than at any time since the Great Depression. The study fueled the well-established sanctimony of older pundits who caricature today's youth as listless and lazy. But the critics ignored the study's other key finding — one in three Gen Zers who do move out spend half their income on their rent or mortgage alone.
But moving back into your childhood bedroom isn't the only way to use familial relationships to save money on housing.
"While multi-generational living is more popular in other parts of the world, Gen Z women may consider working with their families to purchase property that multiple family members can occupy," said Waddell. "Potential buyers can consider how teaming up with other people in their lives who can contribute to a down payment and mortgage payments will make homeownership more affordable."
The Right Rent-To-Own Deal Can Eliminate Tall Barriers
In 2022, Homelight published a long and comprehensive outline of the many pros and cons of renting to own. The conclusion was that while both the buyer and seller assume some risk, crediting today's rent payments toward future ownership can benefit both parties if the deal is structured right.
"The traditional mortgage process was designed in the 1940s when the norm was a male breadwinner with steady W-2 income," said Adena Hefets, CEO of the rent-to-own platform Divvy Homes. "Today, the majority of home transactions are female-led, and more and more young women aspire to own a home. But the overall system is stacked against today's younger buyers, as well as people of color, who are more likely to lack long periods of income history and are increasingly non-salaried."
Hefets helps buyers use the rent-to-own model to bridge those gaps. "Unlike the S&P 500 or other savings options, they can live in their investment while also saving for a down payment each month," she said. "After three years, they'll have up to 10% saved to roll into a conventional mortgage and they'll be closer to their dream of homeownership faster."
Transitional Neighborhoods: Location, Location, Location
Christian Norman, founder and CEO of Georgia-based property investment firm Christian Buys Houses, says that when shopping for places to live, "comparison is the thief of joy."
"If you start your home-buying journey by looking for the best house in the most popular neighborhoods, it won't be long until you start feeling disappointed," he said. "So look for houses in transitional neighborhoods instead. Transitional neighborhoods are the places in your city where home prices aren't very high because the surrounding area needs some work. But because of the neighborhoods' proximity to desirable landmarks, it won't be long until home values begin to rise. If you're willing to put in sweat equity on your first house in a neighborhood that has potential, not only will you have your first home, but you'll also have a ton of equity down the road. And that equity will give you the capital you need to buy the house you really want."
For example, the Department of Housing and Urban Development offers extraordinary financial incentives for buyers who choose designated "revitalization areas," where you can buy a home for 50% of its appraised value — or even for as little as $100.
More From GOBankingRates