Housing Market 2023: Why Women Are Paying More for Their Homes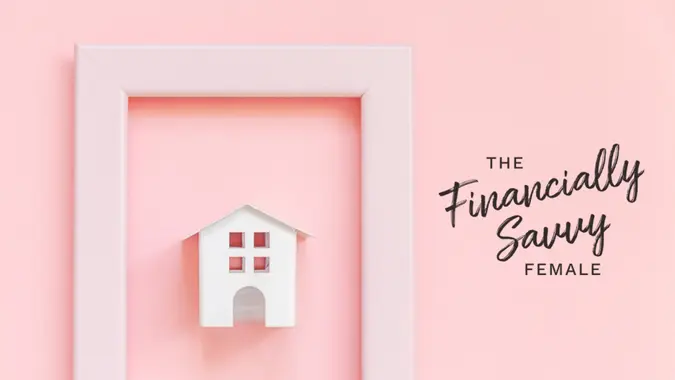 Iuliia Zavalishina / iStock.com
Buying a home is a major life and financial milestone, but women often get the short end of the stick in the process. According to research conducted by Jerry, single women pay 2% more than single men when buying homes, and sell their homes for 2% less, resulting in an extra cost of $24,000 for single women in the home-buying and selling process relative to men. In addition, women have 0.04% higher mortgage rates than men on average and may pay up to $5,100 more than men over a 30-year fixed interest loan period. In today's "Financially Savvy Female" column, we're chatting with Lynda Vittes, senior director at Jerry, about why women are paying more for their homes and what they can do about it.
Are there steps women can take to ensure they are getting a fair price when buying or selling a home?
Buying a home as an individual can be financially challenging, regardless of gender, but single women are negatively affected by this more than men. Research found that single women pay 2% more when buying homes and they sell their homes for 2% less. That means that if a woman has just sold her home for slightly less than a man might have sold that same house for, she is also at a disadvantage financially when looking to buy. The most important thing women can do to ensure they are getting a fair price, whether they are buying or selling, is research.
When putting your home on the market, look at comparable properties on the market and those that have recently sold in your neighborhood. Understand market conditions. The same goes for buying a home. Understand the value of the home you are looking at compared to the listing price and the offer you are considering making. If possible, get a pre-offer home inspection to learn of any hidden expenses you may incur later as a homeowner.
Whether you are buying or selling, make sure you are working with people you can trust and who have your best interest in mind. Licensed real estate agents — and buyers' agents, who specialize in serving those buying a home, in particular — can help homebuyers negotiate the lowest possible offer for the home they wish to purchase. Similarly, sellers' agents, licensed real estate agents that specialize in home sales, can help ensure the seller receives top dollar for their home.
Some women also prefer to work with a woman agent who may best understand her needs and unique challenges. Taking recommendations from people in your network is a good idea. If you don't know anyone who has recently gone through the buying and selling process, ask for referrals before you start working with an agent.
Doing your research into the market and the people you work with are two good ways to set yourself up for success when it comes to fair pricing. With these two factors in place, approach selling your home and buying your next one with confidence knowing you are armed with what is needed to get and pay a fair price.
What can women do to secure the best mortgage rate possible?
According to the study, women pay on average 0.04% higher mortgage rates than men. While the gender pay gap is narrowing, women still earn less money than men on average. As a result of making less money, women need to borrow more. This leads to higher interest rates due to lower credit scores on average. While 0.04% may seem insignificant, it can add up to paying $5,100 more over a 30-year fixed interest loan period, based on the median home price.
Having a good understanding of current mortgage rates and shopping around for the best rate helps ensure you will not overpay for your mortgage. Ultimately, your rate will be determined by your income, your credit score, the length of the loan and your down payment. If the best available mortgage rate at the time you purchase a home is higher than what you would like, know that you are not stuck with this rate for the duration of your homeownership. Interest rates can change from time to time, like they did during the pandemic, or a homeowner's situation can change. If your income or credit score recently increased, or if average interest rates drop, you can re-shop your home loan to see if a better mortgage rate is available to you. If you find a better option, you can refinance your home loan for a lower overall interest rate or a decreased monthly mortgage payment.
One more thing women should keep in mind when planning to buy a home…
One of the biggest challenges for single women is saving enough money for a down payment. The larger the down payment, typically, the lower the interest rate. Additionally, most lenders require homebuyers to purchase Private Mortgage Insurance (or PMI) if their loan-to-value (LTV) is higher than 80%, which also adds to the higher cost of buying a home. PMI can add $50 to $70 to your monthly payment for each $100,000 borrowed.
Women should plan to save enough to make a 20% down payment on a new home in order to avoid PMI. It's never too soon to start saving for a down payment. A best practice is setting up a separate savings account and having a fixed dollar amount, for example $100, automatically transferred from each paycheck into your "down payment" savings account. Pretty soon, you won't even notice a smaller paycheck.
However, saving for a down payment isn't always easy. The good news is there are plenty of down payment assistance programs to help women get into a home for less money down. First-time and single-income home buyers may qualify for a Federal Housing Administration (FHA) loan that only requires a 3.5% down payment. The Department of Veterans Affairs and the USDA may also offer loans that may require no down payment at all. Women should check their eligibility to see if they may qualify for an FHA, VA or USDA loan.
GOBankingRates wants to empower women to take control of their finances. According to the latest stats, women hold $72 billion in private wealth — but fewer women than men consider themselves to be in "good" or "excellent" financial shape. Women are less likely to be investing and are more likely to have debt, and women are still being paid less than men overall. Our "Financially Savvy Female" column will explore the reasons behind these inequities and provide solutions to change them. We believe financial equality begins with financial literacy, so we're providing tools and tips for women, by women to take control of their money and help them live a richer life.
More From GOBankingRates