4 Historic Lighthouses You Could Buy Cheap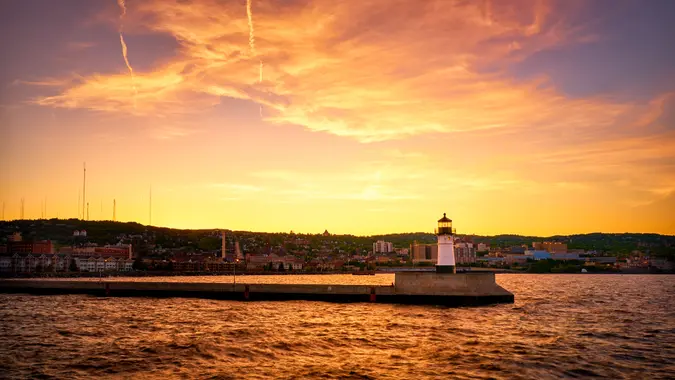 LIKE HE / Getty Images/iStockphoto
If you want to relocate to the keeper's dwelling of a giant cylindrical structure that guided ships to safety in pre-GPS times on some barren stretch of rocky coastline, you can make that dream a reality. Most of America's lighthouses are no longer necessary but are too impressive and important to knock down, so the government will sell you one if you can be a good steward.
If you can maintain a lighthouse, you can live in one for less than you might think. 
The Government Has More Lighthouses Than It Can Handle
The National Historic Lighthouse Preservation Act of 2000 (NHLPA) facilitates the transfer of historic lighthouses to qualified stewards to preserve their condition and legacy. So far, the NHLPA program has transferred around 150 lighthouses to new owners, giving away about 80 and auctioning off another 70.
In 2023, the General Services Administration is transferring a record-high 10 lighthouses. Six will be given away to federal agencies, local governments and nonprofits.
The other four will be sold at auction to the general public throughout the summer, with bidding starting on June 20.
If you assume you can't afford beachfront property, consider that opening bids start at just $10,000 — winning bidders have become lighthouse keepers for that little in the past — with required deposits starting at just $2,000.
If you're looking to own a piece of history on the water — and the coolest house in town — place a bid on one of these lighthouses on RealEstateSales.gov.
Fairfield, Connecticut: Penfield Reef Lighthouse
Starting time: June 20 at 11 a.m. CT
Minimum bid: $50,000
Required bid deposit: $10,000
Located in the Long Island Sound, the Penfield Reef Lighthouse stands 51 feet tall. Its octagonal tower sits atop a two-story, 1,568-square-foot keeper's quarters. The historic structure, which is listed on the National Register of Historic Places, was built in the Second Empire style and went into service in 1874. In 2015, workers restored the property's exterior to reflect its 19th-century appearance.
Located in the Sound's most treacherous passage, several boats run aground on the reef and rocks there every year even today.
Stratford, Connecticut: Stratford Shoal Lighthouse
Starting time: June 20 at 11 a.m. CT
Current bid: $50,556 as of June 21
Required bid deposit: $2,000
The Stratford Shoal Middle Ground Lighthouse Station is situated on a horseshoe-shaped pile of large anti-erosion stones called riprap. It marks the dangerous gravel Stratford Shoal in the middle of Long Island Sound, halfway between the Connecticut and New York coasts. If you place the winning bid, your new home will be a gray granite, three-story dwelling with a 35-light tower protruding from the south facade. The building has a basement and two floors.
The 28-foot x 28-foot dwelling originally contained a living room, kitchen, supply room, sitting room and five bedrooms, but it is currently in "deteriorated condition" due to deferred maintenance.
Cleveland, Ohio: Cleveland Harbor West Pierhead Light
Starting time: Aug. 1 at 10 a.m. CT
Minimum bid: $25,000
Required bid deposit: $10,000
Accessible only by boat, the Cleveland Harbor West Pierhead Light marks the entrance to the Cleveland Harbor with help from a small metal beacon on the east breakwater.
The harbor's breakwaters were built between 1904 and 1909 to protect the channel from prevailing westerly winds. At the same time, in 1908, officials allocated $45,000 for two "light-stations" to mark the channel's entrance into the harbor, enabling the construction of the West Pierhead Light. A watch room with a circular lantern sits atop a four-story structure with a basement, a first-floor galley, second-floor living quarters and unoccupied third and fourth floors.
Chassell, Michigan: Keweenaw Waterway Lower Entrance Light
Starting time: Aug. 1 at 2 p.m. CT
Minimum bid: $10,000
Required bid deposit: $5,000
Located at the end of a U.S. Army Corps of Engineers breakwater in Michigan's Houghton County, the Keweenaw Waterway Lower Entrance Light was built a little over a century ago in 1919. Marking the southern end of the Portage River and the entrance to Keweenaw Bay, the lighthouse — which earned a spot on the National Register of Historic Places in 2014 — towers 68 feet above the sea and contains roughly 1,000 square feet of interior space.
Also known as the Portage Entry Light, the property is up for auction because the previous steward could not comply with NHLPA requirements.
More From GOBankingRates