I Finally Hit a $100,000 Net Worth — Should I Buy a House?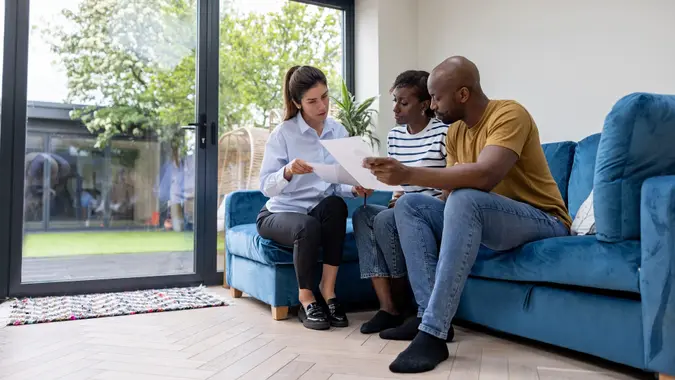 andresr / iStock.com
The road to homeownership has been arduous lately for many Americans. With the current housing market, including soaring mortgage rates — which have been hovering around 8% — low inventory and rising prices, many homebuyers have been left on the sidelines. Yet, hitting a financial milestone, such as reaching a $100,000 net worth, might trigger some Americans to take a leap of faith and consider buying a house despite the arduous current conditions.
Still, even if you feel that you're financially ready to make this huge purchase, experts say there are many factors to consider before jumping into it.
"Setting goals and corresponding financial milestones is an excellent, and key, component of personal finance management," said Kyle Enright, president of Achieve Lending. "But the way to look at these milestones may be slightly different than just setting a net-worth goal before buying a house."
No Magic Number
Whether it's wise to make the step to invest in a house for yourself when you hit that milestone depends on several factors, and some experts said that there is no magic dollar figure that signals "buy" when it comes to a home.
"You have to do all the math," said Bobbi Rebell, CFP, founder of Financial Wellness Strategies and author of "Launching Financial Grownups: Live Your Richest Life by Helping Your (Almost) Adult Kids Be Everyday Money Smart."
Ideally, Rebell said that includes having 20% down so you can avoid needing private mortgage insurance (PMI).
"It is also important to make sure you can comfortably cover the payments at the current interest rate. While many expect rates to fall in 2024, there are no guarantees," she added.
Make Sure You Can Also Cover the Other Costs
Beyond the net worth number, experts said that potential homeowners need to look at, and be confident they can cover, all costs of home ownership.
And that includes many commonly overlooked costs, such asescrow payments, home repairs and maintenance, property taxes, PMI, additional insurance and decorating, according to Achieve's Enright.
"With these factors in mind, prospective homeowners should develop a month-by-month budget based on their short- and long-term goals," said Enright. "Buying a house may be a major one, but there will be others, whether it's retirement, sending kids to college, taking vacations, buying a new TV or just making sure there's time to pursue a favorite hobby or exercise every day. In building the budget around those goals, consumers will have a much better idea of whether — and how much — homeownership makes sense for their lives."
Buying a House Isn't for Everyone
Another big and crucial question is whether buying a house really fits your lifestyle.
As Enright noted, buying a house is not for everyone — regardless of whatever level of net worth attained — for many reasons.
For instance, someone who needs to move frequently for work may find it very difficult and very expensive to own a home.
"The American Dream of home ownership also can come with stress," he said, adding that an Achieve survey found that 29% of homeowners said homeownership makes them feel anxious and/or stressed, while more than a quarter of respondents said the cost of owning a home is a burden and they would rather rent.
Jay Zigmont, PhD, CFP, founder of Childfree Wealth, echoed the sentiment. According to him, when you hit $100,000 net worth, that tells three things: You have little or no debt, you have an emergency fund, and you have additional money for a down payment — all of which provided a strong foundation for home ownership.
Yet, he noted that when you get to that financial milestone, you can buy a house, but you don't have to.
"Buying a house is about a lot more than just having cash on hand. Be sure that buying a house fits your lifestyle and it is something you feel will make you happier. Don't get pressured into buying a house just because you have cash on hand to do it," said Zigmont.
Don't Wait
Finally, other experts said that it's a huge misconception that you need to have "a ton of money" to buy a house and that home buyers should not wait to hit a specific number in their bank account.
"Average home prices in the U.S. are hovering around $400,000, and there are tons of loan programs that would allow you to put down as little as 5% — $20,000," said Doug Greene, owner and operator at Signature Properties.
According to Greene, if you wait to save $100,000, you will be waiting for a really long time.
He suggested that homebuyers find out "how much house they can afford," save up the 5% down payment plus more for closing costs, and then save up to an additional 3% for the rainy day fund. Once you have that amount in your savings account, you can start making offers, he said, adding that, of course, good credit, job history and other factors will influence your loan, but it's much better to get in now than to wait for your savings account to reach a higher number.
"I'm a huge advocate for taking advantage of borrowing in real estate, and many people are surprised just how little is needed to close on a loan," he said. "So don't wait! Buy that house now with less than $100,000 in your account. And in five years, you will look back at all of the great things that came of it: 5% annual appreciation, loan paydown, tax benefits from interest, reinvesting additional funds and forced appreciation."
More From GOBankingRates