10 Homebuying Costs You're Not Budgeting Enough For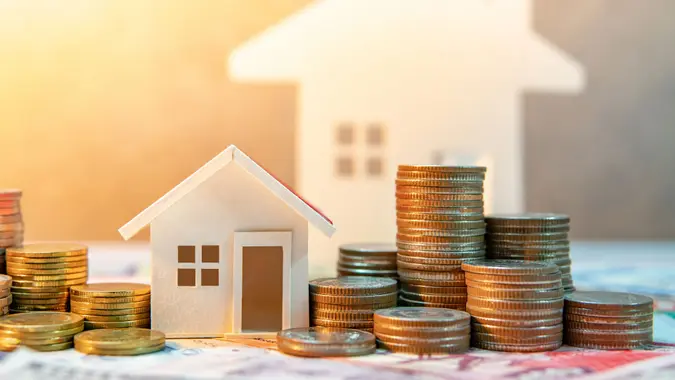 Zephyr18 / Getty Images/iStockphoto
Buying a home requires a lot of cash — possibly more than you realize. It's important to be prepared for every expense that may come your way, so you don't have to back out of the sale or quickly find yourself house poor.
GOBankingRates recently surveyed homeowners to find out where they spent more money than expected during the buying process and the areas they noted were — taxes (46%), maintenance and repair costs (39%), closing costs (36%), insurance (35%), down payment (29%) and moving costs (23%).
Want to make sure your budget covers all the bases? Here are 10 home-buying costs you don't want to underestimate.
Property Taxes
No matter where you live, you'll be required to pay property taxes. Kristen D. Conti, broker-owner at Peacock Premier Properties, based in Englewood, Florida, said property taxes can be a major expense in her area, as there are caps on homesteaded properties, but none for second home and/or vacation homeowners.
"Once you close on a home and complete the paperwork required to homestead it, your taxes cannot go up more than 3% per annum, as long as you maintain the exemption and live in the home," she said. "However, as the new buyer, your taxes will be based on the millage rate and the current closing price — called market or just value."
She said your lender will qualify you based on the taxes at the time of closing and place the appropriate funds in escrow. However, it's possible the taxes will increase with the property value, creating a shortfall you'll be responsible for paying.
While her example is specific to Florida, this is a situation that could happen anywhere — especially with a vacation home — so you'll want to conduct research and talk to your lender before making an offer.
Closing Costs
Even buyers with a great lender often don't put aside enough funds for closing costs, Conti said.
"Financing is complicated and it's easy to get glazed over when reading a good faith estimate," she said. "I always recommend to my buyers that they budget 20% more for closing costs than they think they need."
She said this is important to ensure you can satisfy all loan prerequisites.
"They forget that different lenders and products have different requirements for what they want to see in the bank account at closing and what is needed to fund those taxes and insurance escrows," she said.
Homeowners Insurance
Legally speaking, you're allowed to own a property without homeowner's insurance, according to the Insurance Information Institute. However, you probably won't be able to get a loan without it.
"Homeowners insurance protects your property and possessions against damages and liabilities," said Denis Smykalov, real estate broker at Wolsen Real Estate, based in Miami. "The cost of insurance varies based on factors such as the property's location, value and coverage options."
He recommended shopping around for quotes from different insurance providers to find one that fits your budget.
Homeowners Association Fees
"If you're purchasing a property in a planned community or a condominium, you may be required to pay monthly or annual HOA fees," Smykalov said. "These fees cover expenses like maintenance, landscaping, community amenities and shared utilities."
Before making an offer, he advised researching any HOA fees attached to the property and their impact on your budget.
Home Improvements
It's possible your new home won't be turnkey — at least not in your opinion. However, upgrades cost additional money.
"If you plan to make any renovations or customize the home to your preferences, it's essential to budget for these costs," Smykalov said. "Whether it's a kitchen remodel, bathroom upgrade, or cosmetic changes, factor in the expenses of materials, labor and permits."
Home Warranty
The last thing you want is to close on your new home and have a major appliance — or other system — promptly break. This is where a home warranty can save the day.
"While optional, purchasing a home warranty can provide peace of mind by covering the repair or replacement of major systems and appliances," Smykalov said. "The cost of a home warranty can vary depending on coverage, deductibles and the provider you choose."
Private Mortgage Insurance
If you're taking out a conventional mortgage with a down payment of less than 20% of the purchase price, you'll likely be required to take on PMI.
"There can be exceptions or ways to avoid PMI, but it is typically required," said Shelby McDaniels, national director of business development for home lending at Chase Home Lending. "PMI usually requires monthly payments, but the entire cost can be paid upfront as well, depending on your lender and the insurance company."
She said PMI typically equates to around 0.5%-1% of the loan amount.
"You can usually request to have PMI removed once your outstanding balance reaches 80% of the original loan amount," she said.
Additional Earnest Money
"Earnest money is a deposit made by the buyer to demonstrate their seriousness and commitment to the transaction," said Elizabeth Bryant, broker associate at Baird & Warner, based in Libertyville, Illinois. "It is typically held in escrow and applied toward the purchase price at closing, so it doesn't change the price of the home."
She said it's important to budget for earnest money because it is an upfront expense that can range from a few thousand dollars to a significant percentage of the purchase price.
"In today's highly competitive seller's market, homebuyers are often putting down a larger amount of earnest money to stand out," she said.
Delayed Closing or Possession
After finding your dream home, you might have to wait a bit longer than expected to move in.
"Buyers facing competition in multiple-offer situations can make their offer more appealing to sellers by offering a later closing date," Bryant said. "If buyers have to stay in temporary housing for a longer period due to a delayed closing or possession, they incur additional housing costs such as monthly rent, utilities, storage fees and any associated fees or deposits required for the temporary accommodation."
Professional Movers
You might rely on friends and family to help you move, but if not, you'll likely need to hire professional movers. Bryant said this is an expense homebuyers are routinely unprepared to handle.
"Moving companies are short on people and trucks, and it is not inexpensive endeavor," she said. "If the transaction has a late closing or delayed possession, the buyer may need to move their belongings twice — first into temporary housing and then into their new home — which also doubles moving costs."
More From GOBankingRates
Methodology: GOBankingRates surveyed 1,004 Americans aged 18 and older from across the country between May 26 and June 5, 2023, asking nineteen different questions: (1) When do you expect to buy your next house?; (2) How much do you plan to spend on your next house?; (3)How much did you spend on your current house?; (4) How much (as a percentage of the home cost) did you put as a down payment?; (5) How much is your monthly mortgage payment?; (6) What is the most you are willing to spend on a monthly mortgage payment in your current financial situation?; (7) How long did it take to save for your down payment?; (8) When you bought your house, did you pay more than your originally planned budget?; (9) How much do you spend on yearly maintenance for your house?; (10) When buying your current house, which costs were more expensive than you expected? (Select all that apply); (11) How much do you have saved in an emergency fund for house repairs/maintenance?; (12) What is holding you back from buying a house? (Select all that apply); (13) How much did you spend on home renovations in the last year?; (14) Do you expect a housing market crash to happen in the next two years?; (15)Do you think that homebuying will become easier or harder over the next 10 years?; (16) Are you currently using real estate/buying properties as a way to build wealth?; (17) How much did you spend on your vacation home?; (18) Where would you most want a vacation home?; and (19) Which of these fast-growing big cities would you consider relocating to?. GOBankingRates used PureSpectrum's survey platform to conduct the poll.