2023's Housing Correction Could Be The Largest Since Post-WWII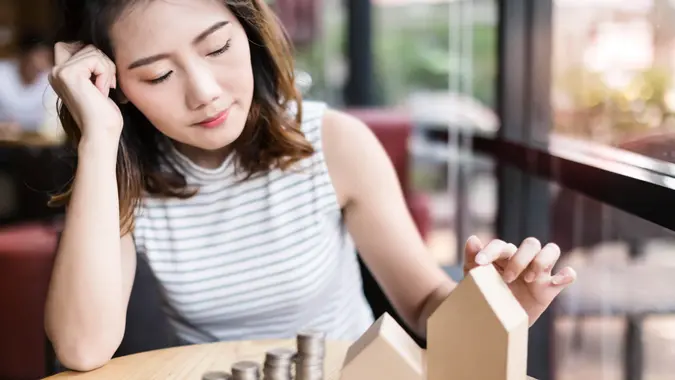 Punyhong / Shutterstock.com
If you have been waiting for prices to drop to buy a house, 2023 could be your year. However, the fall in housing prices doesn't bode as well for current homeowners — or the overall U.S. economy.
Housing prices in October 2022 were 38.1% higher than they were at the start of the pandemic in March 2020, based on Fortune's figures. However, they started to fall in November 2022, with prices down 2.4% from the peak in June 2022, according to the Case-Schiller National Home Price Index. Experts are predicting another 10% to 15% drop by the second or third quarter of 2023, according to multiple sources.
Several other factors point to a further home price correction. U.S. home construction fell for the third straight month in November, Reuters reported. Single-family housing starts fell by 4.1% in last fall, according to a Commerce Department report.
Additionally, institutional homebuyer YieldStreet reduced buying levels by 90%, while Blackstone-owned Home Partners of America also slowed their purchases. "We're pretty much on pause across all [home buying] strategies," Tejas Joshi of Yieldstreet told Fortune.
Despite Housing Price Drop, Real Estate Supply Remains 'Relatively Low'
As Macro Trends Advisors founding partner Mitch Roschelle told Fox business, supply of homes is still "relatively low," with a 3.3-month supply on the market.
Uncertainty about the economy and a rise in unemployment could hasten the housing market downturn, creating the largest housing correction in the post-World War II era. The current correction stands as the second largest in the post-World War II economy, behind the housing market crash and mortgage crisis of 2008.
To put it into perspective, even a 20% drop in housing prices through 2023 would not put home prices back at their pre-pandemic level.
"[W]hat we're doing is we're giving back perhaps at most, a third or a quarter of the gains that we realized," Roschelle told Fox Business. "But that doesn't help somebody who just bought a house at the top of the market and now has something that's lost 10%."
Those buyers may be stuck where they are for the time being. Alternatively, they can consider renting their property or making home renovations that will increase their home's value before a sale.
More From GOBankingRates