Housing Market 2023: 5 Predictions for September, According to Experts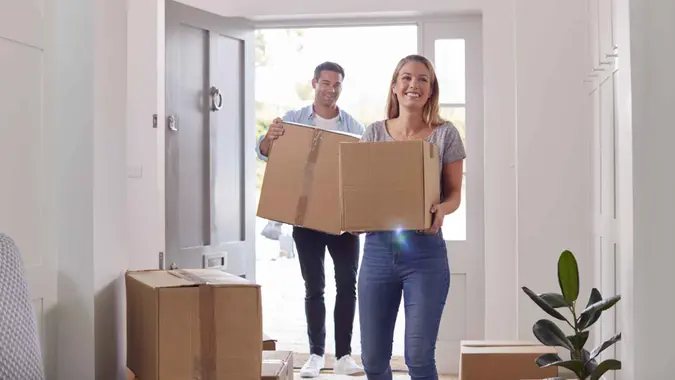 monkeybusinessimages / Getty Images/iStockphoto
The American dream of homeownership has taken a backseat for many due to a slew of factors so far this year. Inflation, record mortgage rates and very low inventory have been paving an arduous road for potential homebuyers.
See: 5 Reasons the Housing Market is Reversing
Find: 15 Cheapest, Safest Places To Live in the US
Indeed, long gone are the days of mortgage rates at 3%, 4% and 5%. And for the week ending Aug. 24, 2023, the 30-year fixed-rate mortgage reached its highest level since 2001 — at 7.23% — and indications of ongoing economic strength will likely continue to keep upward pressure on rates in the short-term, according to Freddie Mac.
Earlier this week, Zillow revised its forecast of U.S. home prices upward, with the typical home value predicted to rise 6.5% from July 2023 through July 2024. Tight inventory conditions continue to place upward pressure on prices, according to a Zillow report.
But What Will September 2023's Housing Market Look Like?
"If in September 2023 the unemployment rate continues to rise, the expected and possibly final 0.25 percent rate hike may not come from the Fed after all," said Peter C. Earle, economist with the American Institute for Economic Research. In turn, he said, this would probably mean a further decline in mortgage rates, leading a marginal number of prospective buyers to take the leap they wouldn't at current rates.
Yet, Earle added that "the overall prospects for September are 'more of the same,'" featuring high rates, stubbornly high prices and low sales turnover.
Housing Inventory Remains Low
Recent inventory trends have not been particularly buyer friendly, as the number of homes for sale is down compared to last year after several months of slower growth — 6.4% in July. Availability is still roughly only half of what was typical in the 2017-2019 period, according to Realtor.com chief economist Danielle Hale.
"A drop in existing homeowners deciding to list homes for sale, which we measure as newly listed homes, has been an important driver of low inventory," said Hale, adding that the gap between mortgage rates that existing homeowners enjoy on their current mortgages and what's available to today's purchasers has only grown as mortgage rates have climbed. This could keep homeowners on the sidelines.
In fact, homeowners have been holding on to their low mortgage rates. More than 80% of home shoppers looking to buy and sell feel locked in to their current rates, according to a Realtor.com report. In turn, buyers are seeing fewer available homes on the market.
House Prices To Remain Sky-High, Most Likely
The median home sales price as of the second quarter of 2023 is $416,100, according to the Federal Reserve Bank of St. Louis, compared to a median of $322,600 for the second quarter of 2020. This represents an eye-popping 29% increase.
And several experts anticipate this trend to continue due to a confluence of factors.
"Roughly 42% of the Consumer Price Index (CPI) is housing-related, and in my opinion, the Federal Reserve raised interest rates in order to cool inflation, but they failed to take into account the fact that builders, both residential and commercial, are delaying projects due to the high cost of borrowing," said Jackson Simon, general partner of Simon Stevens Residential Fund.
In turn, Simon said that this lack of new supply will make the problem of higher housing costs persist for years to come. The U.S. market could even see a supply issue become the new normal as large-scale developments become unaffordable for investors and developers due to the cost of borrowing.
Remaining Uncertainty Will Linger Around Mortgage Rates
While the July CPI data ticked up — at 3.2% from June's 3% — the overall data over the past couple of months shows improvement regarding inflation trends. But whether it will stop the Federal Reserve from hiking its short-term rate at its meeting next month remains to be seen.
In September, demand and supply will roughly match at a level that could result in low home sales activity and stable prices, according to Hale.
"Although we've seen progress on inflation that is necessary for long-term rates — including mortgage rates — to begin to ease, the uncertainty around whether that progress is sustainable has kept rates elevated and delayed the gradual decline in mortgage rates that I anticipated in the second half of 2023," she said.
The Midwest and Northeast Will Remain Attractive Real Estate Markets
Against the current economic backdrop, Hale said that two major types of buyers have emerged: The first is very sensitive to housing affordability and has the flexibility to seek it out, perhaps because of a long-term remote-work setup.
"This type of homebuyer is interested in affordable markets in the Midwest and Northeast where home prices remain much lower than in other parts of the nation," she said.
And citing Realtor.com's recent Hottest Zip Codes of 2023 report, she said that another type of homebuyer has also been active in this housing market.
"This second type of homebuyer appears to have far less flexibility and is willing to pay a premium for larger homes in closer proximity to major metro areas with strong job markets," she added.
Rental Market Prices Might Soar as Well
There are also cascading consequences for the rental market, according to several experts, who note that low home inventory is forcing more Americans to rent for longer. This, in turn, might result in low inventory in that segment — meaning higher rents.
The turbulence of the current economy — coupled with a tight labor market and rising inflation — all point to a market motivated to continue the trend of renting versus making permanent decisions toward homeownership in an uncertain economy, said Sipho Simela, CEO and founder of Matrix Rental Solutions.
"With many consumers holding off on buying homes and sticking with renting, it's a pattern we've seen before — September often brings a surge in rental applications, adding to the demand for rental places," Simela said. "Because more people are looking to rent, rental prices could start climbing, and that's on top of the fact that there just aren't enough rental properties available."
Making the issue even more complicated, an estimated 44 million Americans with student loan debt will have to deal with the re-emergence of these fees after a three-year hiatus, Simela noted.
"With interest set to begin accruing on education loans Friday, and payments set to resume in October, this will perhaps be the biggest market indicator of how the path to homeownership may look in the coming weeks and months," he added. "My prediction is that renting a home may become tougher on consumer budgets."
Finally, Simela added that the potential equity payoff of being a homeowner only holds true for those financially prepared to make one of their biggest life purchases: buying a home.
"In 2023, the path toward homeownership is not as straight and narrow as it once was. With September on the horizon, all these moving parts will be shaping how things go in the rental market, with demand playing a big role in deciding how prices move," he said.
More From GOBankingRates