Housing Market 2023: In Nearly 1/3 of All Metros, You Need More Than $100,000 Salary To Afford Monthly Payments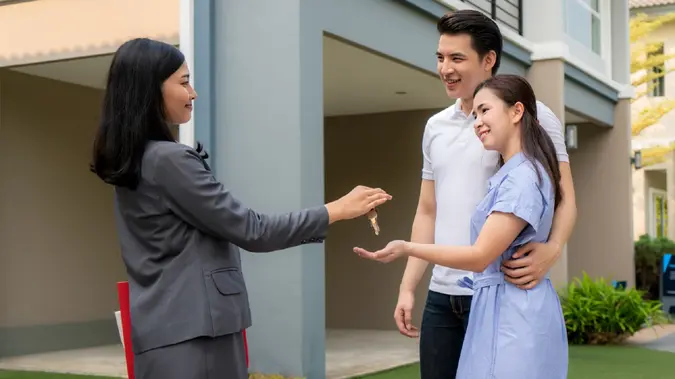 ake1150sb / iStock.com
The typical American worker earns a median income of about $57,000 a year, according to the latest quarterly data from the U.S. Bureau of Labor Statistic. If you double that salary, then congratulations — you can afford to buy a home in about one-third of U.S. metro areas.
That's one of the conclusions reached in a new report from the Joint Center for Housing Studies of Harvard University. The report, titled "The State of the Nation's Housing 2023," revealed what most homebuyers already know: rising housing costs in the United States have pushed homebuying "out of reach for all households but those with the highest incomes."
The study found that from the first quarter of 2022 to the first quarter of 2023, the share of metro areas requiring an annual income of at least $100,000 to afford payments on median-priced homes more than doubled, from 16% to 38%.
In 2022, home prices in the typical metro area required an annual income of $67,000 for payments to be affordable. In 2023, the required income has climbed to $86,000 — a gain of 28% in only a year.
Meanwhile, home prices remain near record highs. The median price for a home in March 2023 was $375,400, according to the Harvard study. Although that was down slightly from $379,300 in March 2022, rising interest rates over the past year have pushed monthly mortgage payments up 30% during that period, from $1,780 to $2,300. 
As MarketWatch reported, when you add property taxes and insurance on top of the mortgage payment, typical homeownership costs are around $3,000 a month. Harvard researchers estimate that you'd need an annual income of $117,100 to cover that cost — up from $97,400 last year.
In some markets, you'd need to earn a lot more than $117,100. For example, in California's San Jose-Sunnyvale-Santa Clara metro area, you'd need an annual income of $454,000 or higher to afford a median-priced single-family home.
These higher costs have taken an increasingly big bite out of household budgets. The Harvard study found that between 2019 and 2021, the number of homeowners spending more than 30% of their income on housing costs rose by 2.3 million — the biggest such increase since 2005-2007.
As a result, 19 million homeowner households, or 22.7%, were "burdened" by monthly housing costs in 2021, the researchers noted. Just less than 9 million households — 10.4% of all homeowners — had housing costs that exceeded 50% of their incomes.
The situation isn't likely to get much better anytime soon, at least until more housing inventory comes on the market. As the Harvard study noted, in the near term, "home prices are unlikely to return to pre-pandemic levels, due largely to the low number of homes available for purchase."
More From GOBankingRates