Why More People Are Paying Cash for Homes in 2023 — Should You?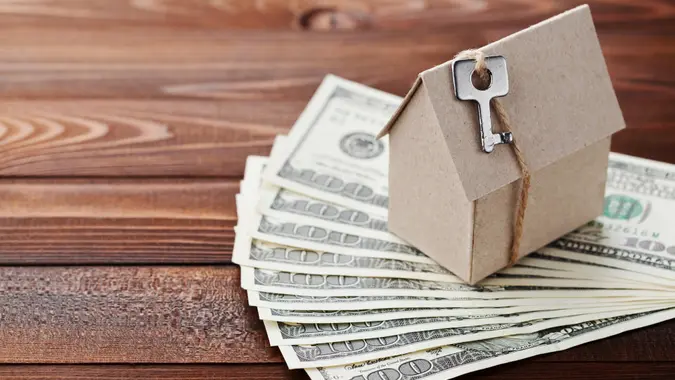 Julia Sudnitskaya / Shutterstock.com
You may not be surprised to read that older generations lead the way when it comes to all-cash payments and large down payments for real estate. Generally speaking, they've had more opportunities to save money and build equity.
The large deltas between generations are worth noting, however, along with some recent spikes in all-cash payments.
Seniors Have the Cash
According to a recent GOBankingRates survey, 28.6% of those 65 and over paid the full amount in cash for the home where they currently reside. That compares to just 12% of respondents ages 55-64, 6% for ages 45-54, 6.8% for ages 35-44, 4.8% for ages 25-34 and 7% for ages 18-24.
The numbers for larger down payments follow a similar pattern, with 17.9% of those 65 and over paying more than 25% but less than 100% for their down payments. That compares to:
Ages 55-64, 3.5%
Ages 45-54, 11%
Ages 35-44, 11.7%
Ages 25-34, 7.6%
Ages 18-24, 6%
Twenty percent remains a magical number for down payments, as paying 20% of the purchase in cash usually means you can avoid expensive private mortgage insurance. According to the GOBankingRates survey, 79% of respondents ages 18-24 put down 20% or less. The number for 25-34 was 75%. That compares to just 43% of respondents age 65 and up.
Check Out: More Americans Can Afford To Buy a Home in These 20 Cities
All that said, percentages of homebuyers skipping mortgages are trending the same way — across the generational board.
"We've definitely seen since the fall of 2022 an elevated level of homebuyers who are paying with all cash," said Jessica Lautz, deputy chief economist and vice president of research for the National Association of Realtors.
According to NAR research data, all-cash payments by younger baby boomers (ages 58-67) have spiked from 22% to 32% year over year. Gen Xers 43-57 saw a year-over-year increase of 8% to 15%. Other year-over-year increases:
The Silent Generation (78-98): Up to 53% from 39%
Older baby boomers (69-77): Up to 33% from 31%
Older millennials (34-43): Up to 7% from 4%
Younger millennials (25-33): Up to 6% from 2%
Lautz attributes these spikes to multiple factors, including an "enormous amount of equity." A decade of home-price growth has many buyers poised to make down payments in the $200,000 range, she said.
"In many markets of the country," she said, "that's enough to put down a substantial down payment."
People Are Willing To Move
Americans are also moving further away on average, with spikes in remote work opening up coast to coast and international possibilities.
"From 1989 to 2021, the typical move was 10-15 miles," Lautz said. "In 2022, the average was 50 miles."
In addition, more homebuyers are heading from urban areas to smaller towns, where lower prices can lead to those higher-percentage down payments or all-cash payments.
Lautz expects these trends to continue over the next few years.
"We will have more retirees in the homebuying market," she said. "In the next three years, every single baby boomer is going to be over 60. Many of them will be well-positioned for all-cash payments."
Baby boomers are already the largest generation when it comes to homebuyers, making up 39% of the current market, per National Association of Realtors data. About 26% of all homebuyers were first-timers per the most recent data, a decrease of about 30% year over year.
If You Can Buy a House With Cash, Should You?
For those who do have the resources to buy a home with just cash, doing so may seem like a no-brainer. Who wouldn't love to skip the loan approval process, avoid fees and increasing interest rates, not have to worry about paying a mortgage each month and own their home outright?
Cash offers are also usually more attractive to sellers, which can help in a competitive market. Plus, all-cash deals usually close much more quickly.
Sounds pretty great, right?
It isn't always that simple, though. Here are a few questions ask yourself:
Will you have enough liquidity after the home purchase? Having no mortgage is great, but you need to make sure there's enough left over to comfortably cover your other needs and wants.
Will you still be on track for your longer-term financial goals, with so much money tied up in your home? You'll want to review areas like your retirement planning, hopes of covering major costs such as college education and more.
Could your money be earning more for you if you invested it elsewhere? Sinking big bucks into a house when you could instead qualify for a favorable mortgage may cut you off from more profitable investments.
Also, don't forget that you'll no longer be able to ease your tax bill with mortgage interest deduction.
More From GOBankingRates