Many People Are Buying Homes With Cash in These Cities — Is There Room for You?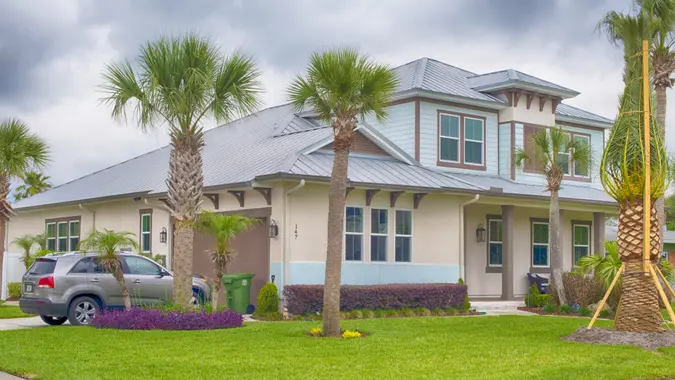 jthomasweb / Shutterstock.com
It has been a difficult housing market for would-be homebuyers in the last few months. The combination of soaring rates, inflation and tight supply has put a dent in many Americans' dream of homeownership.
See: Why Home Prices Are Plummeting in These 6 Cities
Learn: 3 Things You Must Do When Your Savings Reach $50,000
Adding to this situation, all-cash offers for houses are further pricing out would-be homebuyers, especially in certain areas of the country. In some cities in Florida, for example, a whopping half of homebuyers paid cash; in Cleveland, that share jumped to 65.7%, according to Redfin.
In a recent GOBankingRates survey, 8% of homebuyers said they paid cash for their houses. But that number is low compared to Redfin's numbers, which indicate that 33% of U.S. home purchases in April were made in cash.
In turn, many homebuyers have been faced with an added obstacle in their journey, and are finding it even more so in certain cities.
Florida Cities Lead the Way in All-Cash Homebuying
According to Redfin, Florida in particular has seen a huge share of home sales using all cash, with West Palm Beach at 54%, Jacksonville at 52%, Miami at 41%, Fort Lauderdale at 42%, Tampa at 38% and Orlando at 35%.
"Florida is a very strong market right now and people are moving there in droves," said Suzanne Miller, CEO and president of Empire State Properties, a New York City-based boutique real estate brokerage and management firm. "Buyers who can afford to pay cash have a clear advantage over those who [can't]. That's why there are so many communities in Florida where it's impossible to find a house for sale."
Take Our Poll: Are You Planning To Buy or Sell a House This Year?
But it's not only Florida that is experiencing this trend. All-cash homebuyers are prominent in Ohio as well, with the April share of these offers at an eye-popping 65% in Cleveland and 46% in Cincinnati, according to Redfin.
Rounding out the top 10 cities with the highest share of all-cash offers, according to Redfin, are Philadelphia (41%) and Riverside, Calif. (40%).
Why People Pay Cash
According to Redfin, all-cash purchases are common in specific circumstances, namely when mortgage rates are high and when the housing market is competitive, motivating affluent buyers to pay cash to entice sellers to accept their offers. In April, the latest Redfin data available, all-cash home purchases reached their highest level since 2014.
Miller said her clients who pay cash do it for the same reasons they always have: They don't want to pay a high-interest mortgage or they want to avoid any mortgage at all.
"The reason it's become so popular recently is because of the housing frenzy during the pandemic, where if you showed up with cash, you could immediately outbid most other buyers," Miller said. "I believe you are going to continue to have at least 33% or more of homes being paid for in cash as long as interest rates remain high and inventory is tight."
High Interest Rates Spur Cash Buyers
At the start of the June, the average 30-year fixed mortgage rate was 6.79% — near its highest level in 15 years.
"That has pushed monthly housing payments up to a record high and sidelined many would-be homebuyers, especially those who need to take out a mortgage," according to Redfin.
Whether this trend will continue and whether more Americans will continue to be left out of certain unaffordable cities remains to be seen.
If mortgage rates continue to rise, the preference for all-cash transactions probably will rise, said Peter C. Earle, economist at the American Institute for Economic Research.
"And if there is a recession within the next 12 to 18 months," he said, "while the preferential nature of cash-only home sales will increase, the available pool of interested buyers willing and able to undertake them — including among the wealthy — will decline."
More From GOBankingRates