Housing Market 2023: Here's Why Millennials and Gen Z Homeowners Are Turning Starter Homes Into a Thing of the Past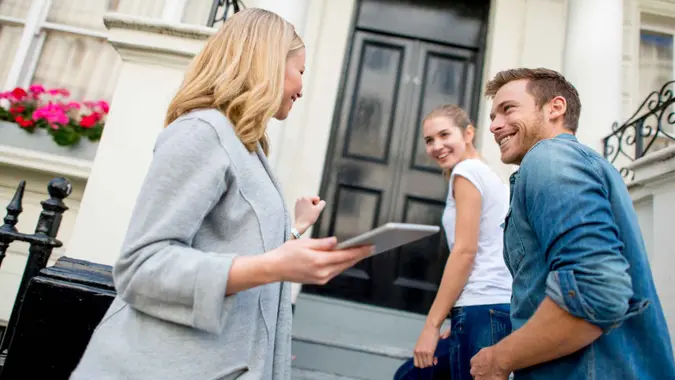 andresr / Getty Images
A starter home is typically how a first-time homebuyer becomes a homeowner and starts building equity. But for millennial and Gen Z buyers, CNBC Make It hinted that buying a starter home may be a thing of the past.
According to data from the National Association of Realtors (NAR), nearly 40% of Americans between the ages of 25 and 44 who bought a home last year plan to stay in the house for at least 16 years.
Jessica Lautz, NAR deputy chief economist and vice president of research, told CNBC Make It that the idea of purchasing an entry-level home, waiting for it to appreciate in value and then selling it after five years has gone out the window. She said this is likely because those who purchased a home last year are now locked into low mortgage rates.
As of July 6, data from Freddie Mac showed that the average interest rate on a 30-year fixed-rate mortgage was 6.8%, up from 5.3% a year ago. Principal economist at CoreLogic, Molly Boesel, indicated 80% of homeowners have a mortgage rate under 4% — and there's little incentive to sell, as previously reported by GOBankingRates.
According to Zillow data provided to CNBC Make It, the typical started home was priced at $179,407 as of May. Zillow defines a starter home as one with one or two bedrooms, one bathroom and 750 square feet to 1,250 square feet of space. However, only 11% of homes sold in the first quarter of 2023 were below $300,000, per CNBC Make It, citing census data.
Zillow reported that competition for affordable, entry-level homes is intense — especially for lower-income families. In 2021, 8 million families were living with non-relatives in a home that they themselves did not own or rent, and most families had an annual household income under $35,000. Zillow stated that the country is short 4.3 million homes, which is why these families are unable to find homes they can afford.
More From GOBankingRates