Housing Market 2023: Why New Home Prices Are Predicted To Plummet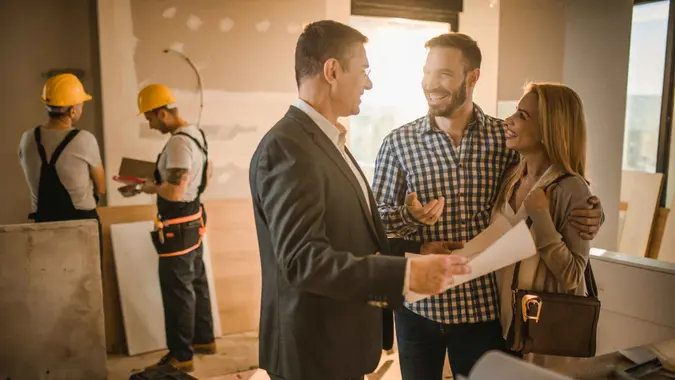 skynesher / Getty Images
High mortgage rates, inflation and low inventory have put a strain on the housing market in the past few months. Compounding the issue, homeowners have been holding on to their low mortgage rates. More than 80% of home-shoppers looking to buy and sell a home feel locked in by their current mortgage rate, according to a recent Realtor.com report. But now, it seems like the trend might be slowly reversing, with supply increasing — which could lower price pressure.
As Bloomberg reported, in terms of supply, "there are growing signs that the picture in 2024 should be better, or at least 'less bad.'"
New Constructions on the Rise
First, Bloomberg noted that because of continued short supply, builders realized "that they were in some ways the only game in town" and have increased production.
Hannah Jones, economic data analyst at Realtor.com, noted that the U.S. housing supply shortage is more than a decade in the making — so while some improvements may be ahead, it will be a long road to recovery.
"As long as buyer demand outpaces home supply, prices will be relatively buoyant and many buyers will continue to struggle with affordability," she said. "New construction has swooped in to offer an alternative for buyers underwhelmed by the low level of existing homes for sale, but affordable inventory continues to suffer."
She added that though housing supply is not expected to improve significantly this year, sustained new construction activity and any improvement in mortgage rates could bring more supply on the market. This would likely take some pressure off of prices.
However, builder confidence retreated in August as rising mortgage rates are nearing 7% and "stubbornly high shelter inflation have further eroded housing affordability and put a damper on consumer demand," according to the National Association of Home Builders (NAHB)/Wells Fargo Housing Market Index (HMI) released Aug. 15.
"The decline in sentiment has to do with an array of formidable barriers to new supply coming into the housing market," said Peter C. Earle, economist, American Institute for Economic Research. "Higher interest rates, growing concern about real estate markets more broadly, and difficulty finding construction workers will make adding to the existing stock of available homes more challenging than in previous business cycles," he added.
More Homeowners Are Starting To Think About Selling
Another factor that could ease prices is that homeowners are starting to warm up to the idea of selling. Indeed, a recent Zillow report found that 23% of homeowners say they are considering selling their home in the next three years (or have their home currently listed for sale), a significant increase from a year ago.
This is up from 19% in the first quarter and 15% a year ago. Among those, four in 10 said they are considering selling in the next year.
Yet, some experts remain cautiously optimistic about seeing a decrease in prices anytime soon.
"The projected increase in housing supply will have an impact on home prices, but that impact may not be as strong as it could be, due to lower demand brought about by continued mortgage rate increases," said Maureen McDermut, realtor, Sotheby's International-Santa Barbara, California.
McDermut explained that back in 2020-2021, there were twin forces leading to record home prices: low housing supply on one hand, and extremely low mortgage rates on the other.
"The demand-based pressure this put on housing prices nationwide was nearly unprecedented. If housing supply increases, but interest rates remain elevated, the price deflation in housing will be felt, but it may not be as impactful as some feel," she added.
Lower Mortgage Rates Could Loosen up the Market
This scenario was echoed by several experts, who said inventory will remain relatively tight for the remainder of 2023 and into 2024. It could loosen up somewhat if interest rates get down to about 5%. If that happens, more potential homebuyers could qualify for financing, according to Dottie Herman, vice chair and former CEO for Douglas Elliman Real Estate.
Herman said while she sees inventory going up next year, there won't be a flood of homes on the market.
"Homeowners who got extraordinarily low mortgage rates during the pandemic will at least listen to an offer whereas a year ago they would only consider an all cash bid. Because of the low inventory, transactions have slowed but prices have not come down," added Herman.
Her advice to homeowners who are considering selling their home is to sell it now.
"Millennials and Gen Z believe in home ownership," she said. "There is demand but very little supply. Construction of new homes is rising and that may be a great option to look into."
More From GOBankingRates