Housing Market 2023: How Buyers Can Stand Out From the Competition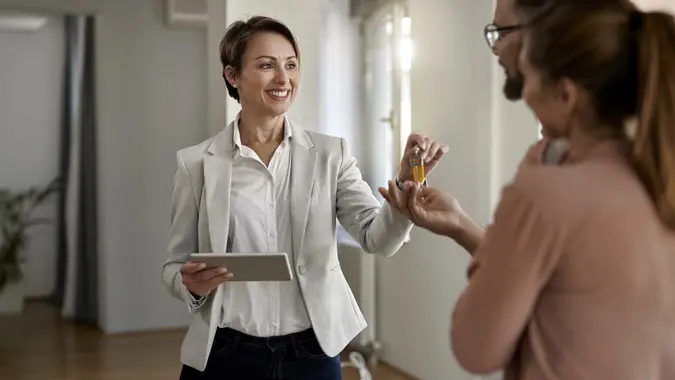 Drazen Zigic / iStock.com
If you are thinking about buying a home this year, it is a good idea to do your homework. As the weather warms up, so does the housing market. Traditionally, spring and summer tend to be very active times of the year for buying or selling a home. 
This year, however, the housing market looks significantly different than it did in 2022 or the years before. There are a lot fewer homes for sale, meaning that potential buyers need to be willing to look at houses that may need a little bit of work.
While mortgage rates hit 20-year highs last year topping 7%, a little bit of relief may finally be in sight. After weeks of increases, 15-year and 30-year fixed-rate mortgages fell slightly in mid-March. According to Freddie Mac, the U.S. weekly average for a 30-year fixed-rate mortgage was 6.6% for the week ending March 16, 2023. For 15-year fixed-rate mortgages, it fell to 5.9%. The decrease provides a much-needed reprieve for potential homebuyers. 
With mortgage rates in a slight decline, more people may be ready to buy. Unfortunately, the problem of low inventory remains, making it hard to find the right home at the right price.
Team Tackney is owned and operated by Geoffrey and Jennifer Tackney, and along with their team, they have sold over $375 million worth of real estate throughout Southern California, focusing on Orange and Los Angeles Counties, and have over 40 years of combined real estate experience. We asked Team Tackney with GMT Real Estate to provide some insight on how buyers can stand out in 2023's competitive housing market. 
Hire the Right Agent
First, Team Tackney recommends that potential buyers take the time to find the right agent. "Who represents you in the home-buying process can determine whether you get the home of your dreams or not." 
They continued, "When interviewing for a representative, ask them about their experience as well as their processes, not only in finding you a home but also in negotiating throughout the escrow period. It also helps if the agent you choose works in the specific area you are looking in. They will often know of homes for sale prior to hitting the market."
Get Approved for a Loan
Next, the duo suggests that hopeful homeowners get approved for a loan. They said, "If you are obtaining a loan to purchase the home then consult a loan officer and get approved for the loan. That means submitting all requested documents and credit checks necessary for an underwritten loan approval. This will demonstrate to any potential seller and their representative that you are serious about purchasing a home and are proactive in the process."
Take Our Poll: How Much Salary Would Buy You Happiness?
Be Willing To Compromise
A huge obstacle for potential buyers in 2023 will be that supply is low. Team Tackney said shoppers should be "open to homes that may need a little TLC. There are 40% less homes on the market than compared to last year at this time. With less homes to choose from it helps to be able to compromise on aspects that could be easily modified following the purchase i.e paint and flooring."
Before You Start
If you are ready to start house hunting, it is important to do your research. The housing market may largely depend on your geographical location. Some areas are expected to remain extremely competitive throughout the year and into 2024. Understanding the trends in your area can help you get the best price on your next home. 
It is always advisable to work with an experienced real estate professional throughout the entire process. A local agent may be able to find your off-market listings or have insider knowledge about the neighborhood that you hope to buy in. Buying a home is no small feat. For many people, it is the largest transaction that they will make during their lifetime. It only makes sense to do your due diligence before jumping in. 
More From GOBankingRates