Mortgage Loan for the Moon? How to Buy Property on Another Planet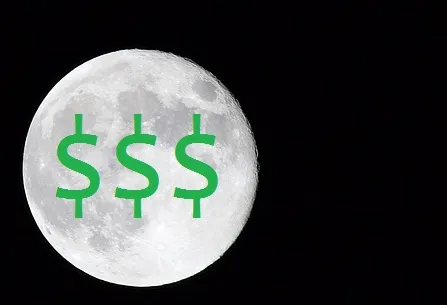 A quiet neighborhood, no overcrowding, a spectacular view — all this and more could be yours if you buy property on the moon. If you're in the market for a bit of the moon to call your own, Dennis Hope is willing to sell it to you — no mortgage loan needed.
Dennis Hope has received attention lately for being featured in a documentary film about awe-inspiring power of the moon, Lunarcy! Hope claimed ownership of the moon in the early 1980s with a letter to the United Nations, in which he stated his intention to parcel off and sell pieces of the moon; he never heard back from the organization. To date, Hope estimates he has sold more than 611 million acres of land on the moon, as reported by US News.
How to Buy Land on the Moon
Those who wish to buy property on the moon, can visit Hope's website www.lunarlandowner.com, or similar sites like www.lunarregistry.com or www.moonshop.com. You can even buy property on Mars and other extraterrestrial real estate markets.
And it won't take a mortgage loan to buy property on mars or the moon, as moon real estate starts at just $29.99 per acre from LunarLand.com. Which is lucky, because it might be hard to convince your lender to give you a mortgage loan to buy property on Mars — or anywhere other than Earth!
LunarLand.com also claims to be the "First and ONLY company to possess legal basis and copyright for the sale of celestial properties." Hope's buyers receive a certificate of ownership, but does such a certificate really represent ownership of a piece in the moon?
Can You Buy Land on the Moon?
Those who opt to buy land on the moon in this way may be disappointed to find out that they have no legitimate or legal claim to their piece of that pie in the sky. In reality, these "Certificates of Ownership" are little more than novelty items, and sellers like Hope have no legal authority to sell pieces of the moon. In fact, Hope's certificates state in the fine print that they are novelty items, reports the New York Times.
But Hope's claim to a legal basis to sell moon real estate could be legitimate, and he cites the 1967 United Nations Outer Space Treaty as proof. The Outer Space Treaty disallows nations from claiming ownership of extraterrestrial property, but it says nothing about individuals' rights to claim property in outer space.
And it turns out some experts agree with him. According to a 2008 article in the Journal of Air Law and Commerce, there could be a precedence for private citizens or corporations to stake their claim, and for nations to recognize those claims to ownership. Plus, the article's authors argue, recognition of lunar land claims could be the best and fastest way to fuel investments in the currently-stalled arena extraterrestrial colonization and exploration.
How to Spot Moon Real Estate Scams (and Other Bad Deals)
The chance to buy property on Mars or the moon bears one of the biggest red flags of real estate scams: It sounds too good (and probably too crazy) to be true. For now, it is, as there is currently no legitimate way to buy land on the moon.
Some real estate scams, however, are not so easy to spot. Real estate scams of lore include selling swampland in Florida, but scammers are constantly coming up with new ways to get would-be investors to part with their life's savings. From forging documents to (falsely) prove ownership, to offering fake foreclosure bailouts, it's best to be careful when putting your money or mortgage loan on the line.
You can protect yourself by following these tips:
See and tour the property first, before renting or buying. With online listing sites and real estate offers, it can be easier than ever to get tricked into paying for property that doesn't exist.
Never wire money or send a deposit without the proper legal documents, which will protect you if that great deal turns out to be a real estate scam. When in doubt, call a realtor or attorney you trust for guidance — you can never be too safe.
Read the fine print, and make sure you understand all parts of the offer. Even if you're getting a mortgage loan through a reputable lender, make sure you understand the terms of the loan. Take the time to do your homework and understand what you're agreeing to.
Beware companies who advise against seeking outside legal help. Mortgage relief companies in particular have a bad reputation for this, warns the Federal Trade Commission:"They promise to handle all the details once you pay them a fee. Then they stop returning your calls and take off with your money."
When it comes to buying property, it always pays to take it slow and keep a level head. Whether you're in the market for a new condo or are just desperate to buy property on the moon, make sure you understand what legal rights (or lack thereof) or obligations come with the deal.
In all, it turns out it's pretty easy to buy land on the moon. Or you could just mock up your own certificate of ownership and print it out at home. It would give you as much claim to moon real estate as anything else, and could even save you some money.
(Image: Matthew Field)