How Homebuying for Boomers Differs From Other Generations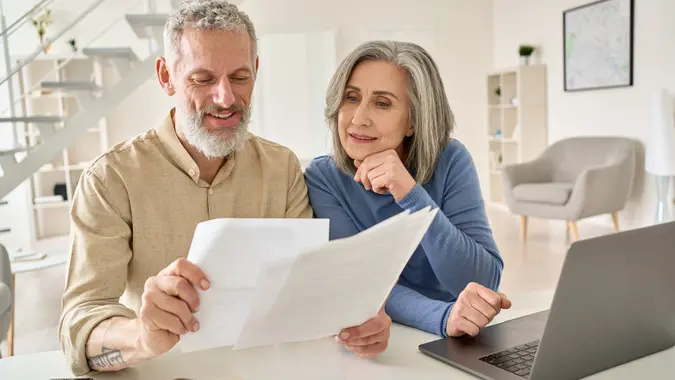 insta_photos / Getty Images/iStockphoto
For the oldest homebuyers, cash truly is king.
According to a new GOBankingRates survey of more than 1,000 adults, people are most likely to put between 5% and 20% down when buying a home across all age groups — except for one.
Twenty percent of baby boomers ages 65 and up paid the full amount in cash — the most of any age group by far. But considering that 30% of the oldest Americans don't own a home, that 20% represents a whole lot more than one in five.
Even when they can't spring for the entire thing, they're willing to spend more to borrow less. Those 65 and older who did finance part of their house were most likely to put more than 25% down.
GOBankingRates spoke with a variety of experts to sort out the study's results and understand why boomers are so unique in how they finance their home purchases.
They've Had More Time To Save
The study showed that boomers were much more likely than younger demographics to have spent more than five years putting money away for a down payment. That, of course, is because younger savers simply haven't had as many years to save.
"Baby boomers are more likely to pay cash for their homes or put a substantial down payment because they tend to be more financially secure than other age groups due to their longer working life and greater savings capacity," said Keith Sant of Kind House Buyers in Tacoma, Washington.
Many Are Downsizing
It's also likely that this wasn't the first home for a large percentage of the older adults surveyed — and they can likely cover the purchase of their new house with the proceeds from the sale of the last with some left over.
"Many baby boomers may have equity from previous homes, which can be used as a source of funds for purchasing another one," said Sant.
More years of equity-building is only part of the equation. Another factor is that those in or approaching retirement are most likely to transition to a more affordable house or location after reassessing their lifestyle and needs compared to when they bought larger family homes.
"In our local area, we see many boomers cashing out and relocating to areas where the cost of living is much lower," said Hubert Miles of Patriot Home Inspections in Johnsonville, South Carolina. "They're downsizing and buying homes they can buy cheap, compared to other populated areas."
They Can Access Their Nest Eggs Without Penalty
The IRS allows penalty-free withdrawals from tax-advantaged retirement accounts at age 59 1/2, which gives most baby boomers unfettered access to their nest eggs — a wellspring of homebuying funds that younger buyers can't yet access.
"As baby boomers approach retirement or enter their retirement years, they often have access to retirement funds and investments that can be utilized for purchasing a home," said Denis Smykalov, founder of Wolsen Real Estate, a firm in Florida with 25 agents who did $80 million in sales last year. "This includes 401(k) plans, individual retirement accounts (IRAs) and other investment portfolios that have been growing over several decades. By leveraging these financial resources, baby boomers can make significant down payments or even pay for their homes outright."
They're Reluctant To Carry Debt Into Retirement
Debt can ruin retirement, and many boomers are likely willing to forfeit a sizable chunk of their nest eggs if it means entering retirement without owing the bank. This is especially true for for housing, which is typically their biggest bill.
"After witnessing economic fluctuations and housing market crises, many baby boomers prioritize owning their homes outright or minimizing debt as part of their retirement planning," said Smykalov. "By paying cash or making substantial down payments, they can reduce the burden of monthly mortgage payments and enjoy a more secure financial position in their retirement years."
High Mortgage Rates Justify Parting With Cash Reserves
When asked about the biggest obstacle to homebuying, the greatest percentage of boomers who want to buy a home and don't already own one cited today's high mortgage rates. 
Younger buyers might settle for an expensive mortgage because they know they can refinance in the coming years. Older buyers don't have that luxury — but big down payments of more than 25% can earn them lower interest rates and cheaper loans here and now.
Generational Attitudes Might Influence a Preference for Cash
People 65 and up came of age when homeownership was the most definitive measure of success and excessive borrowing was less common and acceptable. Many have likely carried those notions into their later-life homebuying journeys.
"Generational attitudes play a role in this dynamic," said Miles. "Baby boomers grew up during a time when saving and homeownership were highly valued. They tend to prioritize homeownership as a long-term investment and view it as a measure of financial security. Consequently, many choose to pay in cash or make larger down payments to minimize their mortgage debt and secure a more stable future."
More From GOBankingRates