How Much House Can I Afford on a $100K Salary?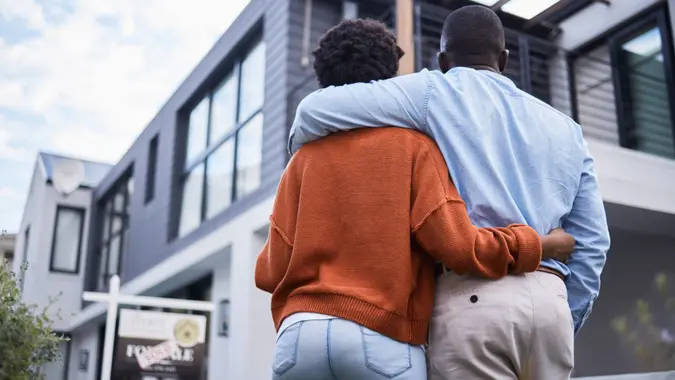 PeopleImages / Getty Images/iStockphoto
When your salary hits $100,000 a year, psychology might be the biggest threat you face as a homebuyer.
Stores price $100 items at $99.99 because the extra digit makes the leap feel greater than the value of a penny. Similarly, crossing the $100,000 salary threshold could give you reckless confidence in your newfound buying power.
"Jumping from a five-figure to a six-figure salary may seem like a huge leap," said Ryan Carrigan, CEO of MoveBuddha. "But when purchasing a house, it is important not to make it about what you have. Instead, make it about what you need."
Even so, a nearly 30% jump above the median national household income will leave you with no shortage of eager real estate agents to choose from. However, income is just one consideration when buying a home on any budget.
Start by Nailing Down Your Maximum Monthly Payment
Instead of focusing on a house's price, concentrate on identifying the monthly payment you can afford. Everyone's number will be based on the individual buyer's unique circumstances, but there are formulas for developing a rough estimate.
The 28/36 Rule
"There's a pretty basic rule called 28/36," said Travis Wells, a real estate investor, broker and owner of Exclusive Housing. "What this means is that only 28% of your gross income — meaning income before taxes — should go toward your mortgage and 36% of your income should go toward your other debts, such as car loans, credit cards, etc." Here's how that would look with a $100,000 salary:
Maximum Monthly Payment: 28% of $100,000 is $28,000. Divide that by 12 and you get a monthly payment of $2,333.
Maximum debt to income: 36% of $100,000 is $36,000, or $3,000 per month allotted for non-housing debt.
"Just remember, these are maximum qualification standards, so it isn't being suggested to push the upper limit," said Wells.
The 30% Rule
Many experts say the upper limit is actually two percentage points higher at 30%, which gives you a little more buying power.
"Following the 30% guideline, your monthly housing expenses would be around $2,500," said Dustin Singer of Dustin Buys Houses. "This assumes a monthly gross income of approximately $8,333 — $100,000 divided by 12. Keep in mind that this amount includes not only the mortgage payment, but also property taxes, insurance, and possibly homeowners association fees."
Singer points out that even with this more forgiving calculation, your debt-to-income ratio still cannot surpass 36%.
$100K Salary Gets You Roughly to the Middle of the Pack
So now that you know that you can probably afford something close to $2,500 a month if your finances are healthy, what sale prices should you be looking for when you begin your search?
According to Zillow, the median U.S. home value is $339,084, which should be close to your price range's sweet spot once you earn a six-figure salary.
"Assuming other factors such as creditworthiness and debt-to-income ratio are favorable, someone with a $100,000 salary could potentially afford a home in the range of $300,000 to $400,000," said Boyd Rudy, team leader and associate broker with MiReloTeam Keller Williams Realty Living. "However, regional differences in real estate prices will have a significant impact on the actual purchasing power."
$350K Means Different Things in Different Places
Depending on where you want to live, $350,000 could get you a mini-mansion or it could get you laughed at. To add some perspective, property inspection software firm Inspection Support Network used Redfin data to calculate the median square footage of a hypothetical $350,000 home in cities nationwide.
According to Motley Fool, the median American home is 2,014 square feet. But you can double or even triple that depending on where you decide to lay down roots — and you don't have to settle for some backwater to enjoy palatial living space
Here's a look at the median square footage for a $350,000 home in 30 American cities of all sizes:
Small Cities
High Point, North Carolina: 3,125
Allentown, Pennsylvania: 3,241
McAllen, Texas: 3,365
Lansing, Michigan: 3,398
Edinburg, Texas: 3,431
Waterbury, Connecticut: 3,465
Hartford, Connecticut: 3,804
Syracuse, New York: 3,889
Rockford, Illinois: 4,795
Dayton, Ohio: 5,556
Midsize Cities
Cincinnati, Ohio: 2,756
Huntsville, Alabama: 2,800
Greensboro, North Carolina: 2,917
Pasadena, Texas: 2,941
Winston-Salem, North Carolina: 2,991
Little Rock, Arkansas: 3,125
Buffalo, New York: 3,125
Rochester, New York: 3,465
Killeen, Texas: 3,535
Akron, Ohio: 4,023
Large Cities
Omaha, Nebraska: 2,823
Louisville, Kentucky: 2,823
Oklahoma City: 2,846
Milwaukee, Wisconsin: 3,125
El Paso, Texas: 3,182
Memphis, Tennessee: 3,302
Indianapolis, Indiana: 3,333
Tulsa, Oklahoma: 3,365
Cleveland, Ohio: 4,930
Detroit, Michigan: 6,604
More From GOBankingRates